Panic selling continues to halt the stock market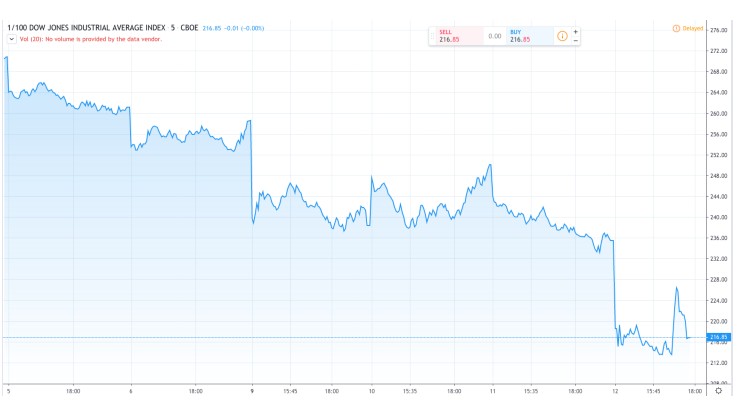 The S&P 500 is near its 2018 depths, while the Dow can be bought at mid-2017 prices.
Trading on the three main American stock indexes — the Dow Jones Industrial Average, the S&P 500 and the NASDAQ — were temporarily halted again Thursday morning after hitting the 7% loss threshold built into stock market protocol.
Traders and investors took a 15-minute break, like they did Monday, before resuming market activity. The safety mechanism, verified by Reuters, is meant to give market participants a quick timeout to check their emotions and regain proper perspective.
Panic selling in context
The panic selling in the midst of the coronavirus pandemic has slashed the Dow down to levels slightly below the depths of the December 2018 correction. This means that investors can now buy the index at mid-2017 prices.
The problem is that after plummeting more than 27% from its peak, the Dow has shown no signs of bottoming yet. The S&P 500 has dropped 26%, but has not yet eclipsed the low of December 2018.
The week after the Dow hit its 2018 low, it rebounded 7% and went on to recover nearly 21% in just two months' time — clawing back more than 85% of the way to its previous high. A new all-time peak was set just over six months after the low.
What to do next
Markets that crash quickly often see significant rebounds from their lows before any further panic selling, if there will be any. That's what happened in 2001 and 2002. Even after the steepest drop of the Great Recession in October 2008, there was a rebound of nearly half the points lost in the Dow over that month and a half.
That's something to consider for anyone who might be wanting to sell stocks.
Meanwhile, there are those who are interested in buying stocks at a "discount." There are generally two approaches to take: "Average in" as stocks continue to drop by buying at levels you're comfortable with and buying more if stocks drop further, or wait for the rebound to begin before buying.
Picture: TradingView screenshot of the DJX