"I paid off $6,000 in debt in 4 months by selling roaches online"
How one man turned creepy crawlers into a lucrative side hustle.
Our new series highlights success stories from real people who've managed to dig themselves out from under a lot of debt in a short time. Answers are edited for length and clarity.
Name: Jeff Neal
Debt amount: $6,000
Type of debt: Personal loan with an APR of 27%
Time to payoff: 4 months
Payoff strategy: Side hustle of selling Dubia roaches online
Why did you need to take out a personal loan?
In 2016, my family was expanding. My wife was pregnant, and we already had two little kids, so we needed a minivan. I found a nice deal on Craigslist, which was great! However, I needed to take out a $6,000 personal loan to cover the expense. This was fine, except for the 27% interest rate on the loan. If I made just the minimum payments for five years, the total loan cost would have been over $12,000. This was unacceptable to me, and I needed to pay it off ASAP.
What was your family's financial situation at the time?
I'm a project estimator for an industrial painting contractor, and my wife is a stay-at-home mom. My salary is enough for us to cover our expenses plus save a little each month. But we still needed to be mindful of our spending. We clipped coupons, patiently waited for sales and bought kids clothes and toys at yard sales and the Salvation Army. This was how we were able to cover our expenses and put money aside for savings.
How did you get into selling roaches online?
I'm your prototypical side-hustling millennial. I tried setting up a vending machine route, buying and reselling Legos and even sifted through Craigslist for menial labor gigs. This included helping people move, mow lawns or remove yard debris. Then I got into websites. But selling roaches wasn't my first online venture.
I tried selling women's shoes, binoculars, coupons and baby thermometers. But each one had its own unique problem for why it didn't work, and I ended up wasting a lot of time and money trying to make them work. Luckily I'm stubborn, and through all of that trial and error, I was finally able to piece together a side hustle that did work: selling roaches.
The reason selling roaches online worked is because it has high search volume and low competition. This means there's a decent amount of people searching for roaches online, and there isn't a lot of other websites competing for these search terms. You can imagine that women's shoes and baby thermometers have a decent amount of people searching for them — but you're competing against Walmart, Target and Amazon.
How did you find a supplier for roaches?
This was challenging, because there aren't a lot of people breeding Dubia roaches. But I screened a few eBay sellers and found someone willing to outsource their Dubia roaches for me.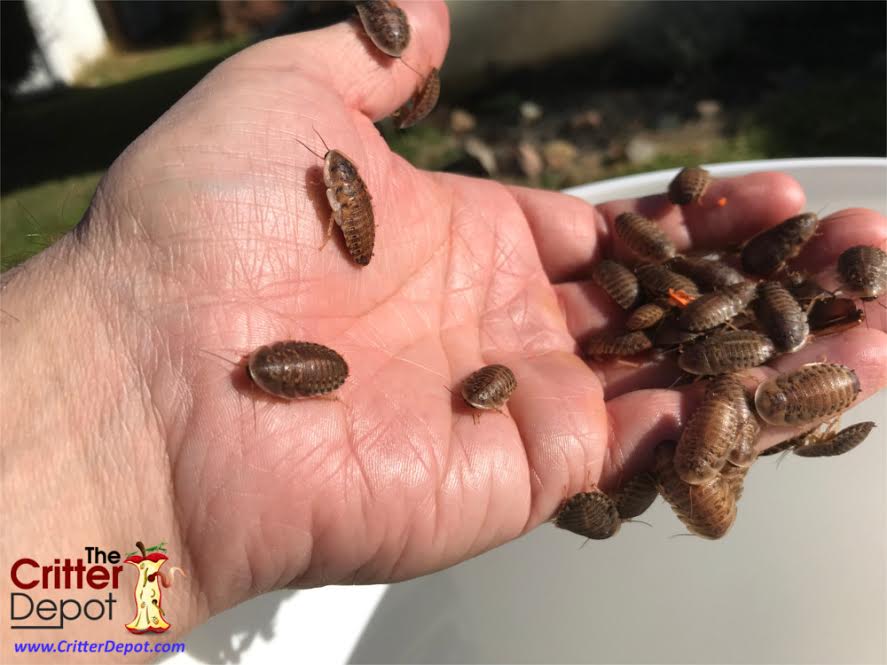 How did you advertise your roach-selling side hustle?
I paid a freelancer $300 to design a logo, and I set up a Shopify store in a night — something I wouldn't have been able to do without the experience from my other side-hustle flops.
After the store was set up, I started promoting these Dubia roaches through reptile forums. Then a few sales started coming in. And a few more sales came in. Then people who bought these roaches ran out, because their reptiles ate them all, so they had to buy more. So selling roaches generated a lot of repeat buyers.
Did you have a timeframe for when you wanted to pay off the debt?
ASAP — but I was hoping in a year. You can imagine my surprise when I was able to pay off the debt in four months.
Since you've paid it off, what are your new financial goals?
My financial goal right now is to save $30,000 a year so that I can retire in 20 years. The only debt my wife and I currently have is our mortgage. But the interest rate is so low, it makes more sense to put the excess money in stocks and crypto and earn more interest off those investments.
What advice do you have for others struggling to pay off their debt?
Here are three tips for other individuals looking to pay off their debt as quickly as possible.
1. Make more money.
This sounds obvious, but it's the easiest way to get out of debt. And you don't need a second job to make more money. You can find gigs on Craigslist. Tell your neighbors you'll mow their lawn, or wash their car, or walk their dog. Sell stuff that you don't use. Drive for Uber.
You have to create the mindset of maximizing your time to make more money. Did you spend eight hours watching TV this week? Instead, spend eight hours offering your time in exchange for payment.
2. Invest that money.
Paying off high-interest debt like credit cards is important. But if your debt has a low interest rate, then your money could earn more by being invested.
In 2019, the S&P 500 had an average return of around 30%. That 30% return will serve you much better than paying off debt with a 4% or 5% interest rate. Sure, last year was a great year for the S&P 500. But the average return for the past 20 years was around 8%, which is still greater than a 4% or 5% interest rate on debt.
3. Track your spending.
This will show you where your money is going. And once you know where your money is going, you'll see where you can save an extra $100 a month — which is then an extra $100 you can use to pay off debt or put into an investment vehicle.
What did you learn from this experience?
After all my failures, I realized it's very hard to make a side hustle work. I continue to improve and grow my Shopify store, so that it can help me reach my financial goals. My wife and I still track our expenses and continue shopping at the Salvation Army — all for the purpose of investing more and building a greater nest egg.