How one couple paid off $18K in student loans in less than a year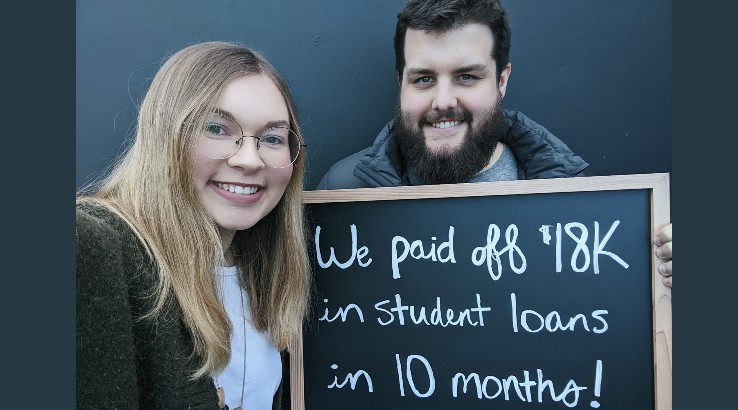 These self-proclaimed foodies are proof you can tackle your debt head-on and still indulge here and there.
Our new series highlights success stories from real people who've managed to dig themselves out from under a lot of debt in a short time. Answers are edited for length and clarity.
Name: Cassidy Horton, freelance writer
Age: 26
Debt amount: $18,000
Type of debt: Student loans
Time to payoff: 10 months
Payoff strategy: Intentional spending, avoiding lifestyle creep and selling my car
I graduated with my MBA when I was 22 years old. Fresh out of college, I had one mission in mind — pay off my $18,000 in student debt as soon as possible. Thankfully, my husband was on board. His desire to be debt free was just as strong as mine, so we devised a plan to make it happen.
How much money were you making at the time?
My husband and I were both fresh out of college and working entry-level jobs when we started paying off our debt. I made $32,000 a year and he made $43,000.
These were decent salaries. But by the time our employers took out mandatory retirement contributions, health insurance premiums, HSA contributions and monthly parking fees, our combined take-home pay was $4,000 a month. (I was bringing in $1,700 after taxes and he was bringing in $2,300.)
How'd you pay off your debt?
Here are the concrete steps we took to pay off $18,000 in student loans in 10 months:
1. Created a budget
First things first, we created a budget. I know budgets are boring. But I'm a firm believer that you don't know where your money is going unless you have one.
After doing some research, we decided to use You Need A Budget (YNAB) — a budgeting tool aimed at helping people get out of debt and stop living paycheck to paycheck.
Before YNAB, I had no idea what we were spending our money on. If we wanted to buy something, we'd check our bank account balance and if the money was there, we bought it. We didn't give it another thought.
Creating a budget shined a light on our spending and helped us pinpoint areas where we could do better. I had no idea those random Amazon purchases were adding up to $150 a month.
I also had no idea we were credit card floaters, which meant we were using this month's paycheck to pay off all the credit card charges we racked up last month. We always paid off our balance in full, but this explained why I still felt guilty about buying things. We didn't actually have the money for it!
2. Prioritized our spending and cut the excess
My husband and I are self-proclaimed foodies. We love trying new restaurants on the weekend. We look forward to treating ourselves to a nice meal after a long day. And if we travel somewhere, there's no doubt we'll eat our way through the entire city before we leave.
Dining out is important to us, so we made room for it in our budget by cutting out all the extra expenses we didn't care about.
We stopped buying random purchases on Amazon. I adopted a minimalist lifestyle and stopped buying clothes and random housewares. We canceled unnecessary subscriptions to Birchbox, Hulu and Dollar Shave Club. I learned to trim my own hair instead of going to the salon every few months.
These were all extra expenses we could do without. Cutting them from our budget made room for us to focus on our debt.
Wondering what our budget looked like after we nixed all the extra spending? Here it is:
Our monthly income and expenses
| | Income | Expenses |
| --- | --- | --- |
| Salary | $4,000 | |
| Rent | | -$750 |
| Groceries | | -$450 |
| Dining out | | -$355 |
| Car loan | | -$305 |
| Utilities | | -$150 |
| Miscellaneous expenses | | -$150 |
| Cat expenses | | -$100 |
| Car insurance | | -$95 |
| Cell phone bill | | -$75 |
| Car fuel | | -$55 |
| Subscriptions | | -$15 |
| Total income and expenses | $4,000 | -$2,500 |
| Leftover money | $1,500 | |
If you look at our expenses above, you'll notice that we spent $805 on food each month (more than rent!). Some people would say that's absolutely crazy, but for us it was intentional.
3. Avoided lifestyle creep
When my husband and I got married, we were a one-income family. He had just started working full time and I was still going to graduate school. We learned to live on his income. As a result, we were able to save most of my take-home pay once I got my first full-time job.
Trust me … I wanted a nicer apartment, more vacations and a brand new wardrobe, but I wanted to be debt free even more than that. When temptation struck and I wanted to inflate our lifestyle, I reminded myself how free I'd feel once the debt was gone. It worked every time.
4. Sold one of our cars
Once we created our budget and trimmed expenses, we were able to throw about $1,500 a month toward my student loan debt. We were making progress, but I knew we could do more.
My husband and I each had our own cars. Mine was mainly collecting dust in our driveway because we carpooled to work most days. So we sold it. It was the same car I'd had since I was 16, so it wasn't worth much. We got $3,000 for it and put every penny toward my student loans.
We're proof that you can still have fun while you pay off debt — even if you don't have a fancy job. You just have to be intentional with your spending, make room in your budget for the things you enjoy and cut out as many "extras" as you can. It may not feel like much, but every little bit you save adds up over time.
Photo source: Cassidy Horton