Finder is committed to editorial independence. While we receive compensation when you click links to partners, they do not influence our content.
Overtone hair treatment review
I gave up harsh dyes for a healthy hair color alternative.
Even brunettes can go bright without bleach.
Anyone who's dyed their hair an intense shade like red or purple will tell you: It fades fast. After just a few shampoos or dips in the pool, your color — and hard-earned cash — washes down the drain, and you're left with the dreaded trifecta: dullness, dryness and damage.
I'd stopped coloring my naturally dark brown hair a rich auburn years ago because the upkeep became too much. So I was intrigued by Overtone's new line of semipermanent coloring conditioners made for brunettes, no prelightening required. The product is packed with hair-healthy ingredients like coconut oil and shea butter — and, most important, no ammonia.
I put Overtone's Coloring Conditioner in Vibrant Red to the test to see if it could give me the mermaid hair of my dreams and hold up through one hot summer.
Shop Overtone now
Overtone coloring conditioner review
First impression
My first thought when I opened the jar was: Wow, that's red! I'm talking straight-up fire engine. Other color-depositing products I've tried look subtle and develop after applied to your hair. So I was a little nervous about how this would turn out.
Also, I wasn't wild about the strong rosemary and mint scent that reminded me of calamine lotion.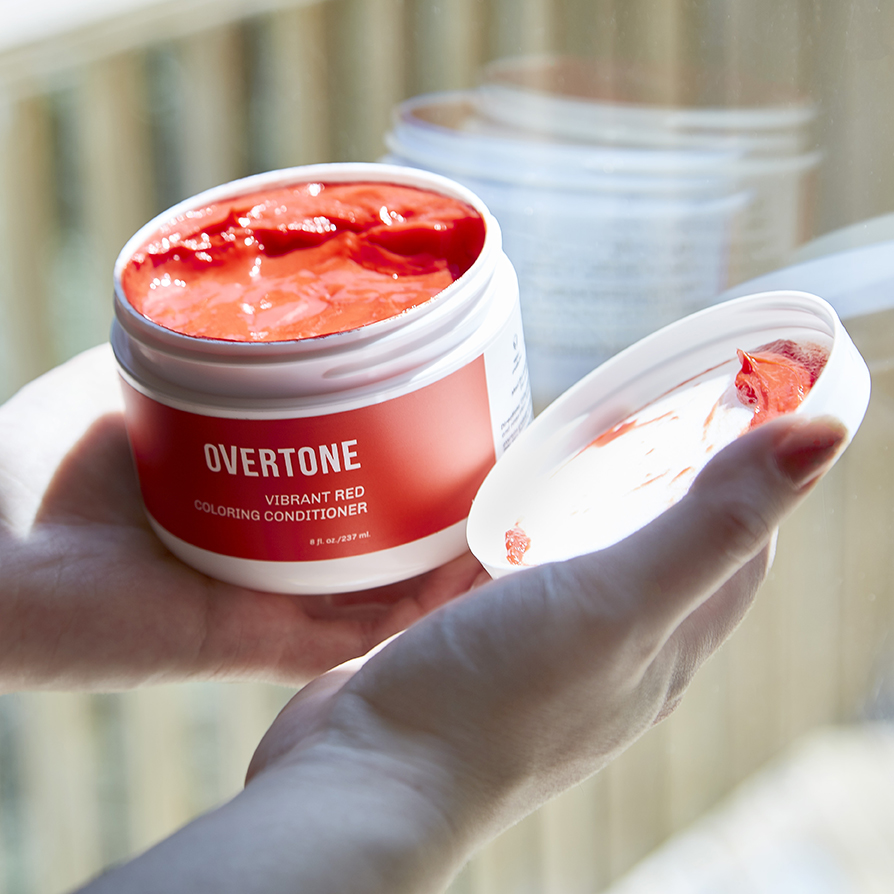 I'm glad I read the packaging before hopping in the shower, because I assumed I'd apply it after shampooing. While you can use it in the shower, Overtone says you'll get brighter results if you apply it dry.
I used almost half of the jar to coat my thick, waist-length mane. The product consistency is thick, so dripping was minimal. Still, I wore an old T-shirt and stood in my shower so it wouldn't stain my bathroom floor.
After working the conditioner into my hair piece by piece, I let it sit for 15 minutes and then rinsed with cool water.
My hair before using Overtone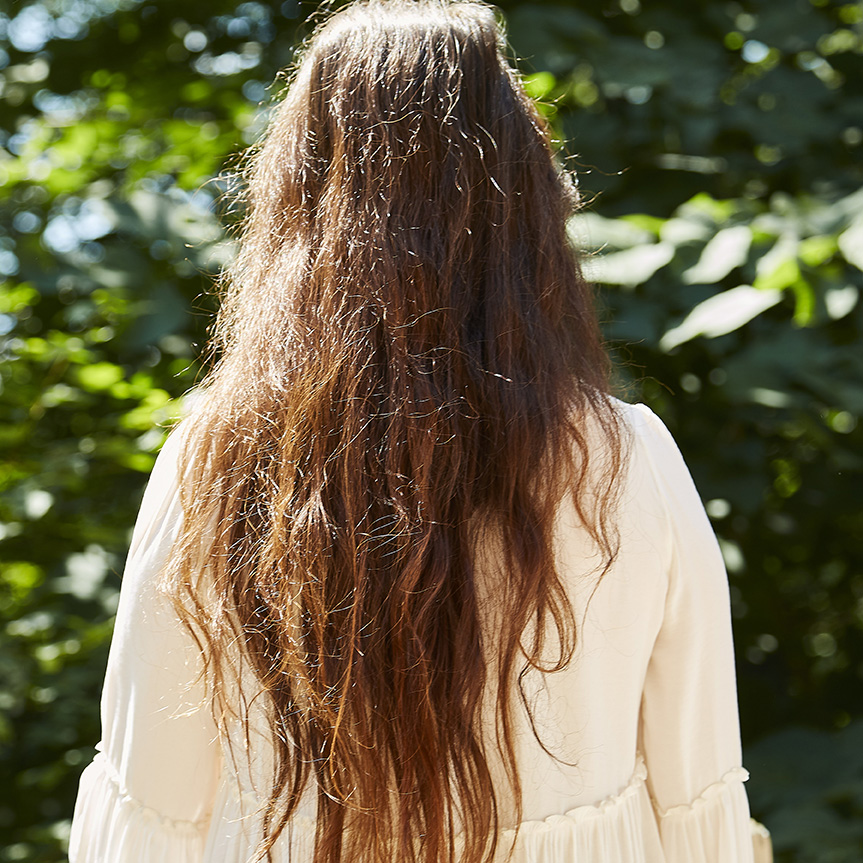 The verdict
Not going to lie: As I glopped the product on my hair and checked my reflection, I feared I'd end up looking more like Bozo than Ariel. But as soon as I rinsed, my cherry-stained strands looked promising — even soaking wet.
After blow-drying, I was even more impressed: My faded brown mop had transformed to flowing ruby-red locks. It was the rich true red I'd hoped for!
After using Overtone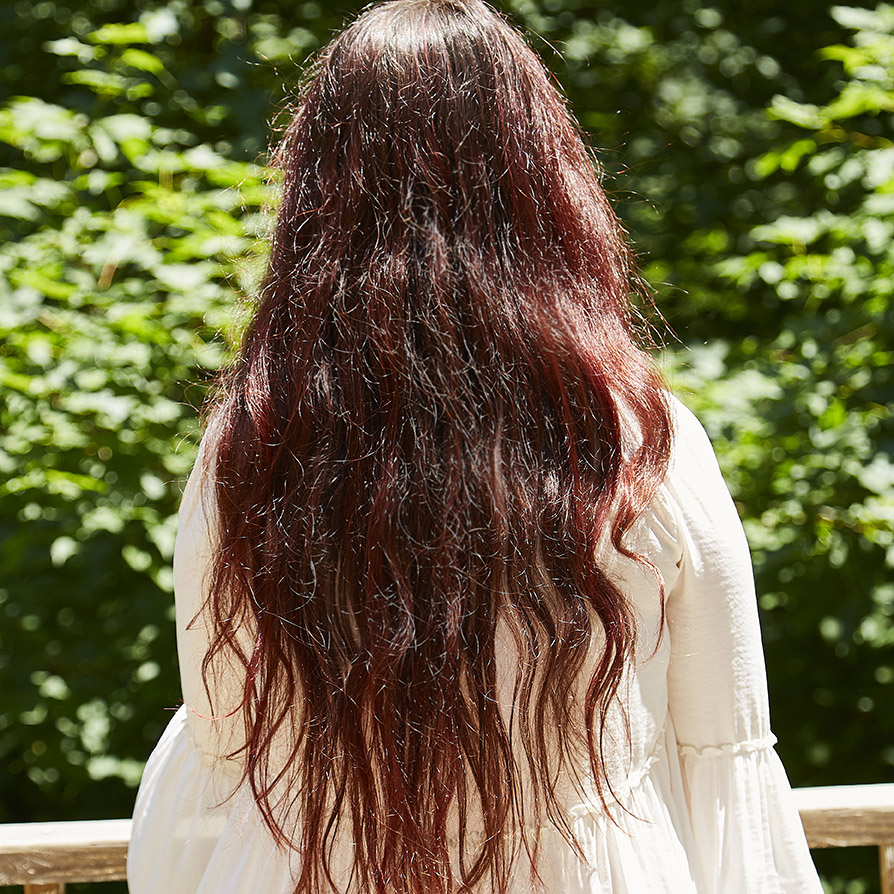 My hair felt silkier and so much more manageable. I blow-dried it in half the time, and my waves looked smoother and more defined than usual.
Because I applied this to the top layer of my hair only, it resulted in a subtle balayage effect that I love. However, it didn't blend the errant grays I have at my crown, and it could've applied more evenly. But that may be my fault: I applied it fairly haphazardly and didn't saturate the underside of my hair.
Overall, it looks almost like I used a permanent dye! It kicked up my color with a punch of red that's striking, but not cartoonish.
The tone is on the cooler side, but it's not purple. And it's definitely more pigmented than other color-depositing and gloss treatments I've tried.
One week later
After three shampoos and a dip in the pool, my color was still vibrant! Even after a day of chlorine and too much time in the sun. While its initial luster faded slightly, my hair still had a warm red tinge.
Tips for using Overtone conditioner
If you try Overtone's Coloring Conditioner, follow these tips for best results:
Do a strand test to make sure you like the color before committing to it.
Saturate your roots and the underside of your hair for even, all-over color.
Wear gloves, because this product does stain.
Dab your hairline and part with barrier cream, like plain conditioner or petroleum jelly, to prevent staining your skin.
To find the right hue for you, shop by shade and then choose a level based on your current hair color.
Pastel
Intense color for prelightened shades of platinum blonde
Vibrant
Intense color for platinum to dark brown hair
Extreme
Richest color available for all hair color levels
For Brown Hair
Pigments specifically made for dark hair
Shop Overtone now
Bottom line
Overtone Coloring Conditioner is an easy solution to go bright without frying your hair. Plus, the brand makes a line of daily conditioners to maintain your shade, so you won't have to keep recoloring it.
While no semi- or demipermanent can match the lasting power of a permanent dye, it's still a solid alternative to rock a fun burst of color and preserve your hair's integrity.
Hair color inspo
Need some inspiration? Take a cue from these bold looks created with Overtone Coloring Conditioner.
Image: Overtone Instagram

Image: Overtone Instagram

Image: Overtone Instagram
Top Overtone deals for July 2021
Frequently asked questions