New mobile pay startup OV Valet looks to dethrone Apple Pay; is it better?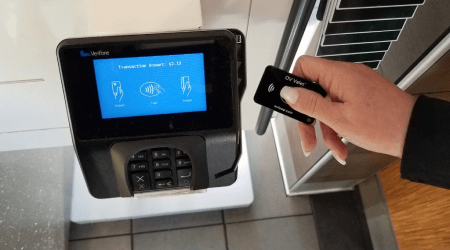 OV Valet is iPhone compatible and works in places where Apple Pay doesn't.
A new mobile payment startup that's aiming to replace current mobile payment options like the popular Apple Pay was just launched by OV Loop, a company run by the former technology heads behind Samsung Pay. Called OV Valet, the new payment method uses the same technology Samsung once leveraged for Samsung Pay.
How does OV Valet work?
The idea is simple: OV Valet is a small key fob that houses your credit card information. After loading your credit card info onto the fob, you can check out at the store – or restaurant – by holding the fob against a point-of-sale (POS) card reader and pressing a button.
Aside from the checkout method, the biggest difference between OV Valet and existing mobile payment systems is compatibility. Unlike Apple Pay, OV Valet is compatible with traditional magnetic strip readers in addition to contactless near field communication (NFC) systems. This means that if you're at a retailer that has an old-fashioned card-swiping POS reader at checkout, you could still pay with your OV Valet in many cases.
OV Loop claims that the OV Valet is compatible with 94% of businesses around the world, with systems that rely on NFC alone available in less than 50%. Current figures from the National Retail Federation note that roughly 6 in 10 US retailers accept NFC payments.
OV Valet pros and cons
While it aims to compete with Apple Pay and similar payment options, OV Valet differs in form, bringing with it some unique pros and cons.
Pros
Greater acceptance. OV Valet can communicate with existing magnetic strip readers as well as NFC readers.
Security features. In the event you lose your fob, you can lock its use from the OV Valet app.
Phone not needed for purchases. Once set up, you can use the OV Valet to make purchases without the need of your phone nearby.
Phone agnostic. The OV Valet app works with Apple and Android phones.
Cons
A separate device. The OV Valet is a small key fob designed to attach to your keychain. Like with any small device, this makes it susceptible to misplacement.
Only two cards active at a time. While you can load multiple credit cards onto the OV Valet app, only two cards can be used with the Valet fob at a given time.
Requires charge. The OV Valet fob runs on a rechargeable battery that lasts four months in between charges.
Bank support unknown. OV Loop hasn't announced participating banks yet. Like with other mobile wallets, the OV Valet may not work with all banks and credit cards.
If OV Valet's retail coverage is as advertised and the startup courts enough participating banks, this new mobile payment system could prove promising. The OV Valet is particularly attractive for consumers who don't live near retailers that support the latest NFC technology.
But the traditional mobile wallet's strength has been in its ubiquity. Nearly everyone has a cell phone and we rarely leave the house without it. How effective the OV Valet can become will depend on how easily consumers can get their hands on one, and whether they want to carry around another device.
As of this writing, OV Loop is halfway to its funding goal of $50,000. As we get closer to launch – assuming OV Loop reaches its goal – we'll bring you more information about card support and how the OV Valet works in practice.
Photo: Supplied