Your options if you can't pay estimated taxes today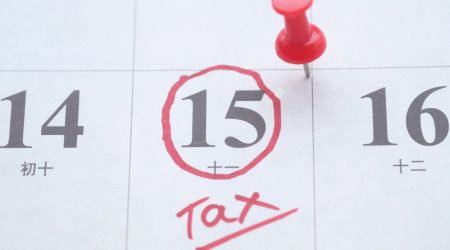 Quarterly estimated tax payments are due to the IRS by September 15th. Here's what to do if you're short on cash.
The third quarterly estimated payments for 2020 are due by September 15th — only two months after the July 15th deadline for Q1 and Q2 payments. If you're short on cash or scrambling to come up with enough, here's what you need to know, including the consequences of not paying and alternative options you can use.
What happens if I pay late?
Generally speaking, the amount of estimated taxes due for the quarter will be considered unpaid taxes until the IRS receives your late payment, which means you'll incur a penalty and have to pay interest on the unpaid amount. So it's likely in your best interest to pay as much as you can as soon as you can to minimize your penalties and interest charges.
The standard IRS penalty is 0.5% per month (or any part of the month), up to a maximum penalty of 25%, and the interest rate for the second half of 2020 is 3% per year, prorated by the number of days unpaid.
In most cases, the IRS will calculate the amount of your penalty and interest, and let you know via a mailed letter.
If you've been directly affected by a casualty, disaster or unusual circumstance, you can request your penalties and interest be waived, though the IRS must approve a waiver.
What happens if I pay less?
Similarly to paying late, the portion of estimated taxes remaining after your underpayment will typically be considered unpaid taxes, so penalties and interest will accrue on that amount until you're all caught up with your estimated tax payments.
However, if your income is irregular over the course of the year, you may be able to adjust your estimated tax payments unevenly as well. You can find out how to do it by reading the instructions for IRS Form 2210.
What happens if I don't pay?
As with paying late or underpaying, you'll face similar penalties and interest for skipping a payment unless you meet any of these conditions:
You owe less than $1,000 in taxes when you file your return.
Throughout the year, you paid the smaller of these two amounts:

at least 90% of your taxes for the current year
100% of your tax liability for the previous year
If you don't fall into either of these categories, you could still get a break from the IRS if:
You were a victim of a casualty, disaster or other unusual circumstance.
You retired after age 62 during a tax year when estimated tax payments applied.
You became disabled during a tax year when estimated tax payments applied.
You can use Form 2210 to find out if you'll owe a penalty.
What to do if you can't make your estimated payment
If you can't make your estimated tax payment, don't panic. You have a couple of options.
You can pay later and be charged the normal penalty and interest rates.
You can set up an installment plan with the IRS to break your payments out into more manageable chunks and cut your penalty rate in half to 0.25% per month.
You can adjust your tax withholding if you or your spouse have a W-2 job. With this method, you can have enough taken out from your regular paycheck to cover any income that's subject to quarterly estimated payments. All you have to do is fill out a new W-4 form with the employer that states how much tax to withhold from each paycheck.
You can borrow money to pay the IRS if the interest rate on the new loan is less than the penalty and interest charged by the IRS and you expect to be able to pay it off. For a full year, the IRS penalty and interest currently comes to 9%, or 6% on an approved installment plan. Depending on your credit score, you might be able to do better with a credit card balance transfer offer, but many personal loans will charge a similar interest rate.
Who has to pay quarterly estimated payments?
Anyone with income not subject to tax withholdings is required to make quarterly estimated tax payments if they expect to owe at least $1,000 when they file their tax return. This often includes income from:
Self-employment
Interest
Dividends
Alimony
Rental income
That said, you don't have to make quarterly estimated payments if you're a US citizen or resident and didn't have a tax liability for the previous year, according to the IRS.
Photo: Getty Images