Here are your options for cruising before the end of 2020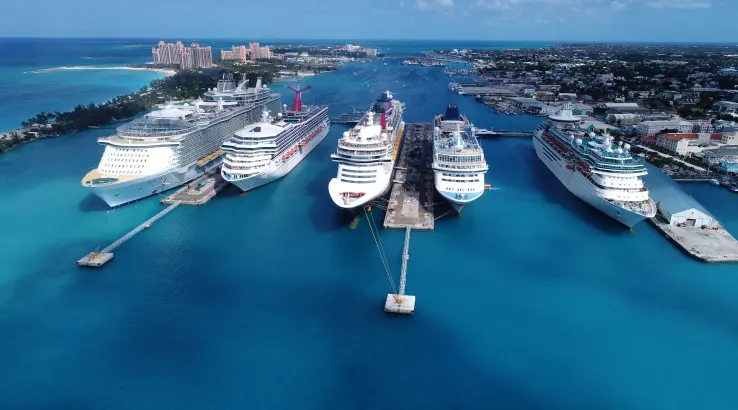 Updated October 12th after Carnival Cruise Line updated its sailing schedule.
The CDC's No Sail Order expires November 1st. These cruise lines will welcome you aboard.
On November 1st, the CDC's extension of the No Sail Order is set to expire, so cruise lines that carry over 250 passengers are allowed to take to the seas again. But that doesn't mean anchors away for everyone. Eight US cruise lines are planning to relaunch in 2020, but not until December.
Here are your options for a 2020 ocean cruise
If you're itching to hit the seas, we can understand — quarantine has left travelers anxious for the days when they can explore the world again. But before you book a cruise, read up on CDC guidelines for traveling during COVID-19 and understand that it won't be business as usual — social distancing still applies, and you'll be required to wear a mask in environments where it's not possible to stay six feet away from your neighbor.
These cruise lines are planning to sail in 2020, disembarking from ports in the US:
| | Resumes | More Info |
| --- | --- | --- |
| American Cruise Lines | December | It's got tickets available as soon as December 5, 2020, departing from Jacksonville. This is a small ship cruise line that carries fewer than 250 passengers per ship. |
| Carnival Cruise Line | December | Only ships from Port Miami and Port Canaveral will sail in 2020. Cruises disembarking from all other ports have been canceled through December 31st. |
| Disney Cruise Line | December | You can book cruises that disembark as soon as December 7th. Disney Cruise Line canceled all cruises through December 6th. |
| MSC Cruises | December | Most of its cruises are set to resume on December 1st, departing from Miami and going to the Caribbean and the Bahamas. |
| Norwegian Cruise Line | December | Some cruises will resume on December 1st. However, cruises on the Norwegian Star, Norwegian Spirit and Norwegian Dawn are canceled through March 2021. |
| Royal Caribbean | December | Most ships will start cruising on December 1st. Royal Caribbean suspended all sailings through November 30, 2020. |
| Silversea | December | Five of this luxury cruise line's ships are set to resume sailing in December, including the Silver Shadow, the Silver Spirit, the Silver Muse, the Silver Whisperer and the Silver Moon. |
| Virgin Voyages | December | Richard Branson's cruise line is set to sail again on December 2nd, departing from Miami. |
Keep in mind that your booking could be canceled or rescheduled, depending on how the pandemic progresses. If you do decide to book a 2020 cruise, be prepared to alter your plans in case the cruise line ends up canceling later on.
Good to know: All of these cruise lines are allowing people to change or cancel without penalty, though you may receive a future travel credit instead of a refund. For example, Virgin Voyages is allowing all passengers to choose between a full refund plus 25% future credit or a 200% future credit when they cancel at least 48 hours before disembarkation.
Safety precautions during the phased reopening
Members of the Cruise Lines International Association have all committed to a plethora of safety precautions to keep COVID-19 at bay. All of the cruise lines listed above have agreed to these precautions except American Cruise Lines, which has fewer than 250 aboard, is sailing at 25% capacity and is following its own set of protocols.
100% testing of all passengers and crew members. Nobody that tests positive will be allowed to board.
Mandatory masks in designated areas. You'll be required to wear a mask when social distancing isn't possible.
Social distancing. This'll feel familiar to what you've experienced on land, with distancing required in public areas, on private islands, in terminals and during shore excursions.
Ventilation. Cruise lines will be installing enhanced filters wherever possible to help increase the amount of fresh air onboard.
Bolstered medical facilities. Each cruise line has developed a risk-based response plan, including isolation and quarantine spaces and advanced arrangement for private medical facilities and shoreside quarantine in the event that a passenger is affected.
Passengers that don't abide by the cruise line's safety requirements during shore excursions won't be allowed to re-board the ship.
As always, stay home if you feel sick or have come into contact with COVID-19 in the last 14 days. When in doubt, talk to your physician about whether or not it's safe for you to cruise.
Photo: Getty Images