Finder is committed to editorial independence. While we receive compensation when you click links to partners, they do not influence our content.
Udemy review & latest deals
An online course provider offering thousands of courses.
Udemy is a US-based, global online learning marketplace, where learners and teachers from around the world can sharpen their skills and learn about new subjects. They advertise more than 100,000 online courses taught and curated by experts.
Choose from subjects ranging from design, business and music and learn entirely online and on demand. So you can learn at your own pace, on any device. But users say the pricing can be confusing and the courses aren't accredited — so it's not best for earning a degree.
See our latest May 2021 deals from Udemy below:
What types of online courses are available?
Udemy advertises that it offers 100,000 online courses in various languages. Courses are short and designed for personal improvement — not official accreditation or degrees. Its courses focus on building skills or learning a new craft. It's most popular category of courses include:
Business
Design
Development
IT and software
Marketing
Music
Personal development
Photography
How do I sign up for an online course with Udemy?
To sign up for a course with Udemy, choose the category and click on the course you want.
After reading through the details and requirements of the course, click the red Add to cart button.
It will recommend another course to add to the cart. If you choose to bypass the upsell, click Go to cart.
Click Checkout and enter your name, email and password. Uncheck the box to avoid getting marketing emails from Udemy.
Click Sign up. It will bring you back to your cart. Click Checkout. Enter your billing info, or choose to pay with PayPal and click Complete payment.
You can begin the course whenever you choose and complete it at your own pace.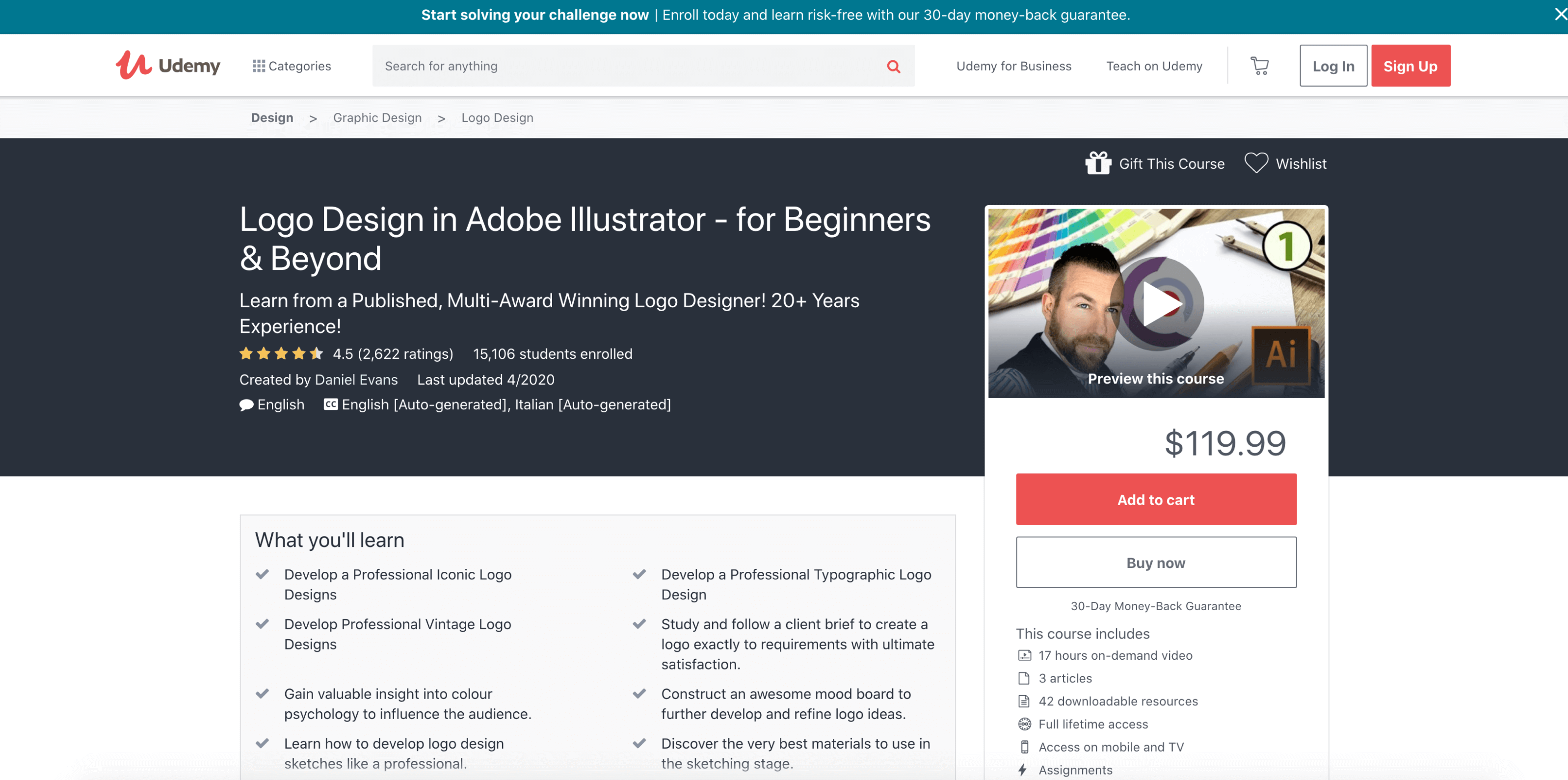 What fees and prices can I expect with Udemy ?
You can find Udemy courses from $10 to $350 — but they run specials and discounts so often, users claim they rarely pay full price. Students can sometimes receive a discount as high as 94% on a class. Remember though, these courses don't provide official certification or credits towards a degree.
Does Udemy have an app?
Yes. Udemy offers many of its online courses on its app, so you can watch offline. Listen to courses with podcast-style audio or watch with Chromecast or Apple TV.
Pros and cons of Udemy
Pros
Self-paced learning
Frequent discounts on course fees
App-based platform lets you learn on the go
Wide selection of courses to choose from
Cons
Courses are not college accredited
Lack of official accreditation means no funding is available
No official instructor qualification process — anyone can lead a course
What sets this brand apart?
Since its launch in 2010, Udemy has been making waves in the online learning space. It's different from traditional online courses in that virtually anyone can become an instructor and create a course, without offering any credits toward a degree. Because of this, there is a massive amount of information available through Udemy's learning platform — priced affordably for most individuals and businesses alike.
What do people say about this brand?
Most online reviewers say they're happy with the quality of the content offered through Udemy courses, as well as the convenience of being able to progress at their own pace. A few customers said they've requested refunds and were pleased with the quick response and hassle-free experience.
A few customers experienced system glitches that caused them to lose courses they already paid for, creating a hassle. Others recommend always holding out for one of Udemy's frequent sales, because courses are marked down by huge margins.
What is Udemy's history?
First launched in 2010 by Eren Bali, Udemy was rejected for funding 30 times in a row. Bali decided to bootstrap and launch the company anyway, which proved to be a success. Within a few months, the company raised its first venture funding.
In 2014, Bali was named one of Forbes' "30 Under 30" of "the brightest stars in 15 different fields under the age of 30." In February 2019, the company announced that Gregg Coccari would step in as the new CEO.
How can I contact customer support?
Contact Udemy customer support by submitting a support ticket online or using the live chat feature.
What about social media?
Check out Udemy's Facebook page for course suggestions and snippets from instructors on the latest course offerings. And you'll find free tutorials and content for students and instructors on its YouTube channel.
Udemy also as an Android and iOS app, but note that all purchases made through its iOS app go through Apple and are subject to all Apple payment, use and refund policies.
Bottom line
Udemy can be a great option for any individual wanting to expand their knowledge, as well as businesses looking to provide employees with helpful and interactive learning materials. If you're an instructor, you can create your own course and make some extra cash, too.
More guides on Finder