Finder is committed to editorial independence. While we receive compensation when you click links to partners, they do not influence our content.
Working from home coronavirus guide: Businesses, families, individuals
Whether you're a business or an individual, employer or employee, parent or partner, during the coronavirus pandemic, you're going to have to work from home. Here's everything you need to know to do it successfully.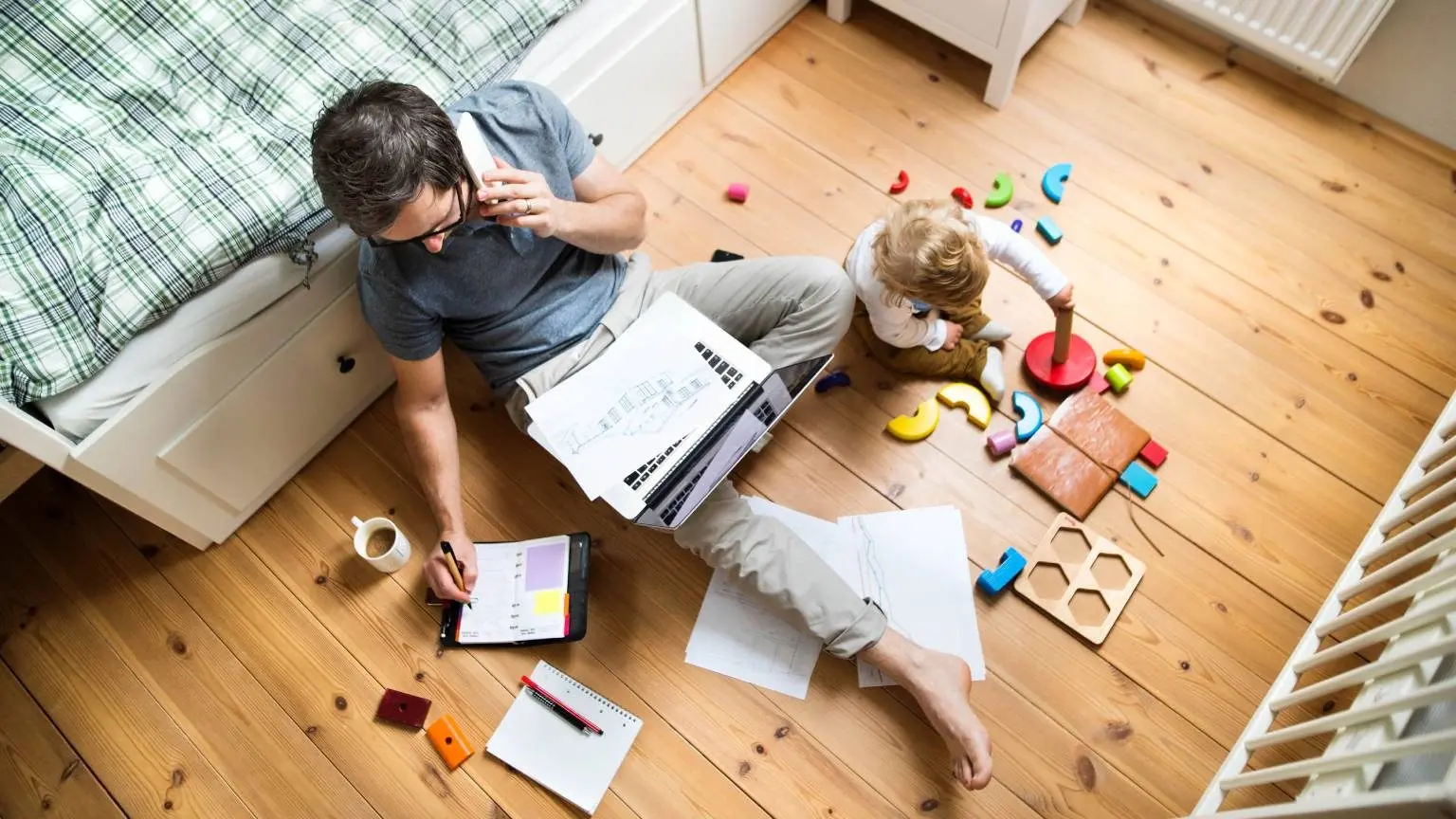 Just like that, the vast majority of workers around the world have found themselves working from home. Most business owners have also found themselves with their employees working from home. And many of us, including yours truly, are working from home with kids in tow, carrying home schooling notes with them.
And it all happened in little more than a week as the coronavirus pandemic coughed and sneezed its way throughout the world. There hasn't been much time to prepare.
As such, there's no shortage of challenges to overcome to set yourself up to work from home, especially as your situation is unique to your home and lifestyle, or as a business owner, the jobs required of your staff.
However, we're here to help. On this page you will find general guides to setting up your home office or the homes of your employees. We also have broader advice on how you can stay productive, sane and healthy when working from home.
Stay positive; you can do this.
Working from home checklist
There is no singular golden working from home checklist that fits every situation. The optimal environment varies slightly depending on the type of job you do. However, there are a key few ingredients you should try and tick off on your working from home checklist. (Take it from someone who has done it for two decades!)
You'll find guides for some of these below; we're working hard to complete more and get them live for you as soon as possible.
A good monitor: The larger the screen, the more multitasking you can do. The better the resolution, the less eyestrain you'll suffer.
Comfortable office chair: Not all of us are on new legs; an ergonomic, adjustable chair with plenty of backside cushioning will minimise the aches and pains.
Fast Internet: You'll be surprised how a modern router upgrade, a better plan or even some tricks to maximise bandwidth can help your Internet speed.
Webcam: Teleconferencing has become a standard requirement for employees working from home.
A powerful enough desktop or laptop: The "enough" depends on the software your business uses. Some are demanding of PC or Mac power, others are not.
Headphones or speakers: You must be able to block out distractions, especially if there are kids in the vicinity.
Desk: Even if it's something small that gets you off the kitchen table, a desk gives you a chance to distance yourself from other household members.
Software: Your home PC may not have all the software of your office laptop. You might need Microsoft Office, Zoom, Skype, Chrome, VPNs, antivirus and, yes, even Spotify.
Mobile phone: Likely you already have one, but for hotspotting, staying contactable when away from your desk and multitasking, you may want a new phone or upgraded phone plan.
Printer/scanner: Not all workers will need one, but if you do, the trick is to find a printer that won't cost you an arm and a leg to refill with ink.
Essential working from home guides
In the wake of the COVID-19 outbreak, Finder has produced several articles across multiple topics. We have a coronavirus hub page with a satellite view of everything you need to know. On this page, we're burrowing down into the work from home requirements. Here is an overview of what is available to you; you can find more information and tips further below.
11 tips to successfully work from home as an employee
Waking up, eating, sleeping, relaxing, parenting and working all in the same place isn't everyone's cup of tea. It's likely not your cup of tea. But in these testing coronavirus times, like it or not, you're going to have to do some work from home.
I've been working from home for almost two decades and one of the most common things I hear from friends and colleagues is, "oh, I could never work from home". That suggests there will be quite a lot of adjustment for many of you.
With that thought in mind, I'd like to offer the following 10 working from home tips that I try (not always successfully) to apply each day.
1. Start early
My dad has a saying that I've found to be very true as I've emerged from out of his shadow: "One hour before lunch is worth two hours after." The biggest mistake you can make working from home is to assume you can sleep in and work late. After all, it's not like you need to account for transit, right? (Well, only as you transit from the fridge to the desk!)
It's much harder to stay focused as the afternoon approaches when working from home as opposed to in an office. The weather improves. You get more peckish. Your body yearns to go for a walk or exercise. Kids get home or, if they're already at home, start getting cabin fever. The 9 to 5 just may not be as effective at home for you as it is in the controlled environment of a workplace.
I like to get up and get stuck into a few hours of work before 9am and then give myself some space during the middle of the day to take a breather and recoup, or to take the pressure off performing at the end of a day.
2. Improve your Internet speed
This may seem obvious, but everything is bottlenecked by broadband Internet. When you're working from home, productivity needs to be maintained no matter what else is going on in your home (or the street). You can't find yourself needing to engage in a video conferencing meeting at a time when everyone else in the house is on a different Netflix feed.
An obvious starting point is to compare broadband plans and to see what else is available on the market. While getting something new installed may take some time, it could also be possible to upgrade your existing plan with the same ISP to a faster category in the interim. It will cost more, but that investment could be worth it.
There are other options available to you outside of upgrading your ISP. Many people use underpowered routers to distribute their Wi-Fi around the home. Older models work on slower 802.11 standards (such as a, b and g) rather than the newer n and ac standards of most current-day technology. Your router could be bottlenecking your speed, so check what else is out there.
There are also ways to improve Wi-Fi speed in your home through the placement of your router and the connectivity of your Internet of Things devices. And in a worst-case scenario, you can back up your home broadband with a good mobile broadband plan. Then you can always hotspot using 4G to get around any congestion issues in a pinch.
3. Don't multitask with entertainment
You'll be tempted to double dip while working from home, to get your work done and catch up on the latest episode of your favourite TV show at the same time. Or to have a YouTube video running in a little window, filled with people faceplanting and bellyflopping.
I highly recommend not doing this. Squash this temptation flat. Even at lunch, leave the TV off. Your half-hour break will quickly stretch to 45 minutes if that's how long an episode takes to finish. You don't have the strength to press pause. No one does! Not to mention that at home, you've got to clean up after preparing food, which tends to happen after the TV show has ended.
However, after work, go for it! You can compare your Internet TV streaming options here.
4. Walk and work
In an office environment, you tend to do a lot of movement relative to what you do at home. You might even rack up thousands of steps just getting to work on your commute. Then you go to meetings, walk about talking to colleagues and even just go out for lunch and coffee. All of that goes out the window at home unless you force it.
I have set up a little 1,000-step walk around the block that takes about 5 to 10 minutes and I do this once every 90 minutes or so. This activity does wonders for your longevity through the day and can break the cabin fever you get staying in your own home. I then time this in with phone calls I need to make, or at a time when I'm due to check in-company messaging or emails, so it's not "wasted" time.
5. Headphones
There can be plenty of distractions at home that you rarely experience in a workplace. That has become even worse now that many of us are working at home during coronavirus alongside kids thanks to the closure of schools. Be it your children, your partner in the kitchen, the next-door neighbour's dog, the people renovating across the road, garbage trucks or whatever, the domestic experience can be quite distracting.
So, get some good quality, even noise-cancelling headphones, and block it out. Here's a guide to Bluetooth headphones you can use.
6. Set realistic goals
Working from home requires far more discipline that working from an office. Psychologically, it's your place to unwind and relax. All your chores and those odd jobs around the house that you can usually ignore are now in your face. You'll think, "I should really get those sheets washed while the sun is out", for example.
This problem exponentially increases if your partner is also working from home or you have children.
It's therefore important to set realistic goals each morning and to be flexible in how you can achieve them. This ties into the aforementioned "start early" strategy, but extends beyond that. I like to start with about five hours of work to do in any given day. That's because an additional three hours of work always finds its way into any other given day and you therefore have room to accommodate it.
An unplanned long phone call from a client, that sudden Zoom meeting your boss just requested, a government press conference that impacts your business and needs to be analysed, one of your children vomiting all over their bedroom floor and developing a fever… stuff just happens.
This approach allows you to set a goal and then, when something suddenly comes up, for you to reschedule it without overburdening your day.
7. Be available
Unless you're a sole trader, chances are you're working with other people even if you're doing so remotely. You could be working with hundreds of people simultaneously through intra-company services like Slack, or even just over good old-fashioned email. Nothing makes a boss or colleague question your productivity more than not responding quickly.
While it's important to set goals and stay focused by keeping distractions to a minimum, when working from home it's also smart to keep one eye out for messages from colleagues or employers. Ignore everything else if you need to, but not those. Even if your response is, "Can I call you back in an hour? Just under the pump finishing this report."
I've found that modern businesses are a lot more trusting of your productivity at home than old-school employers. A good rule of thumb is just to be cognisant of the trust level your employer is putting in you and don't break it.
8. Keep communication channels separate
At work, you get work calls and you get work emails. At home, you get communication from your work and from everywhere else in your life. If every time you press send-and-receive or pick up your phone your non-work landscape is getting downloaded, it will distract you. It's a shame your friend Jane is "totally freaking out right now", but that's a conversation for another time.
Make sure you're accessing your work emails through a separate email client so they don't mix. And on your mobile or desktop, turn off notifications for your social media channels. If you simply cannot block it out, perhaps try a separate work mobile phone altogether.
9. Be computer smart
Perhaps one of the most daunting prospects you will face working from home is dealing with the lack of any IT support. If your email stops working, or you can't remember the Wi-Fi password or everything suddenly freezes, no-one is going to come up the hallway and fix it for you.
The best way to keep ahead of these issues is to have a powerful, recently built computer. Your old desktop that the kids use for school projects, or that is only used for Amazon shopping and emails, may get you into trouble. You will likely need to install new software that you use for work that requires more power than your computer is used to. It could drag it to a crawl. If you're not using the latest Windows or Mac OS, these could simply not install at all.
You will also no doubt have to multitask, with lots going on at one time on your computer. This requires not just power, but also memory (also known as RAM). You may need more hard-drive space to hold that new software. Then if it's something like an Adobe product you need to use, graphics cards come into the equation. Old monitors can be horrid on the eyes, too.
With all that in mind, now could be the time to buy a new laptop or to upgrade your desktop computer. Alternatively, you may want to get some new antivirus software and see if it can audit your computer for gremlins slowing it down. It's also worth familiarising yourself with places like the Whirlpool forums or Stackoverflow. Here you can workshop IT problems with community members that are eager to help.
10. Define your space and its rules
There's a saying, "don't mix business with pleasure". That mantra is never truer than when you're working from home. Do your best to define and cordon-off your workspace from your living space.
In times like the coronavirus pandemic, that can obviously be quite challenging. For example, you may have suddenly found yourself working on the kitchen bench in an apartment. But that's where your distractions are, where a child can put yoghurt-covered little fingers all over your keyboard when you go to the toilet; where you must push all your paperwork to the side just so you can eat.
It might be worth considering other temporary measures. For example, shifting the two kids into one room so you can dedicate the other to your office, parking the car on the street and setting up in the garage, buying a small desk that fits in your bedroom. Be creative.
Once you have that space, create its rules and stick to them. For example, Mummy is not available for snack requests between 9am and midday. When the door is closed, Dad is working. If the doorbell rings, I'm not getting it. And so forth.
11. Don't overwork
Stop laughing; if you're new to this work from home thing, you may be wondering how you could ever find yourself overworking. But when your work is always there with you – not sequestered away in a distant office – you'll be surprised by how often you lean towards doing it.
Suddenly you will find yourself answering emails at 9pm at night, or telling your kids, "I've just got to get this job done" in the middle of a Saturday. Or even just skipping or reducing your lunch break day after day.
This behaviour turns happy homes into sad houses. It ruins relationships. It crushes your health, your spirit and your mental wellbeing. And it does it slowly, so you don't see it happening.
That's why it's important to nail the other tips I've listed above. That is an unhealthy side-effect of working from home that sneaks its way into your daily routine, then your weekly routine, then your life, before you know it. So be aware of it and be watchful.
What are the benefits of working from home?
Using home as a work base is simply not an option for some professions, but many employers are adopting a flexible approach when it comes to work-life balance. More and more companies have started opening themselves up to a new structure where employees can work from home either full-time or on an as-needed basis. The big question, though, is will it be beneficial for you?
There seems to be a divide when it comes to the option of working from home. Many people believe they'll get nothing done and feel isolated working alone, while others maintain they will be happier and more productive working away. We take a look at the benefits of working from home to help you decide if a more flexible working arrangement is right for you.
---
---
---
---
---
Are there any downsides to working from home?
As with everything in life, working from home comes with pros and cons. There are plenty of benefits, but you should also consider the negatives before speaking to your boss about a more flexible working schedule. Some things to consider when making your decision are:
Isolation: Some people really enjoy the social dynamic of a working environment. Since work can provide a location to meet others and make friends, removal from this environment can be depressing for some. Whether or not you will feel lonely working from home will ultimately depend on how often you intend to do it, your personality, your relationships with co-workers and your accessibility to resources to keep in touch.
Distraction: Many people feel less distracted being in control of their environment and working in their own space, but this is not the case for everyone. Workers with young children, for instance, may find they're continually interrupted if no-one else is available to mind them. Some people also have difficulty separating home from work and may be tempted to use some of the time in the day to take care of other responsibilities. Things to consider are your own self-discipline, as well as who else will be home with you.
Missing out on developments: Things can happen very quickly within the working environment and without being there in person, you may find yourself missing out on important updates. If you're working from home, speak to your boss about trading emails or instant messages to ensure you're staying in the loop.
Working hours: While working from home can present you with the option to work better-suited hours, some people have a tendency to overwork in this scenario. You may feel the pressure to prove yourself and your abilities in this new arrangement. You also may not register it's 5pm in the same way you would in an office environment when everyone is packing up to go home. If you do decide to work from home, ensure you're sticking to your regular hours and set yourself an alarm to let you know when it's time to clock off.
So, should you work from home?
At the end of the day, the decision to work from home for at least part of the week will come down to your individual needs. Well, unless you're reading this during the coronavirus lockdowns, in which case working from home isn't a choice at all.
However, in general, if you're less concerned about the social aspects of a working environment and feel you have a good level of self-control, working from home can have some really positive impacts on your work-life balance and overall wellbeing. If you tend to feel lonely without the company of others or find yourself easily distracted, you may want to stick to your current working arrangement.
More guides on Finder