Finder is committed to editorial independence. While we receive compensation when you click links to partners, they do not influence our content.
Tweak your mobile apps to use less data while on the move
With mobile apps using more data, plus limited data plans, it's easy to hit your limit.
Many popular mobile apps are making a move to the cloud, and streaming Netflix, Amazon Prime and Spotify can be quite data-intensive. When using a Wi-Fi connection, there's no issue maxing out usage on these apps, but a mobile connection is an entirely different ballgame. Take a look at our tips to use less mobile data and make the most of the data you have available.
Update apps on mobile data only
Downloading a single app uses around 20MB or more of your data, and around three times as much if you download a game. With this in mind, it's essential to use Wi-Fi-only when you download apps. Luckily, there's a simple way to do this.
For Android users
Open the Google Play Store, open the menu and click on Settings. Within the Settings menu, click on Auto-update apps and select Auto-update apps over Wi-Fi only.
For iOS users
From your home screen, open the settings menu and click on iTunes & App Stores. Once there, drag the Use Mobile Data slider to the left to disable it.
Check video quality settings
Streaming an app uses a lot of data, so if you do plan on streaming on the go, it's worth tweaking the settings to avoid losing your month's allowance in a single day.
Adjust your settings with Netflix
When using the Netflix app on a mobile device or tablet, to limit your data usage, you can either limit your account to watch on Wi-Fi only or choose lower video quality to save data. To do this, access the app settings in the menu and choose your type of cellular data usage. These range from off to higher definitions, which may use over 1GB of data per hour.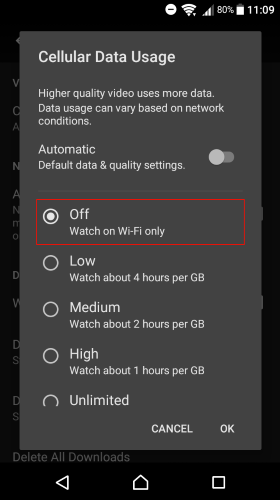 Adjust the settings for Netflix to reduce your mobile data usage.
Restrict Chrome data usage
Depending on how much you use your browser, this may or may not have a significant effect – but every little counts, right? If you'd like to see your browser (Chrome specifically) use less data, open the settings menu by clicking on the three dots in the right-hand corner. Then scroll down and turn Data Saver on. This nifty little trick can help you save up to 35% of your data!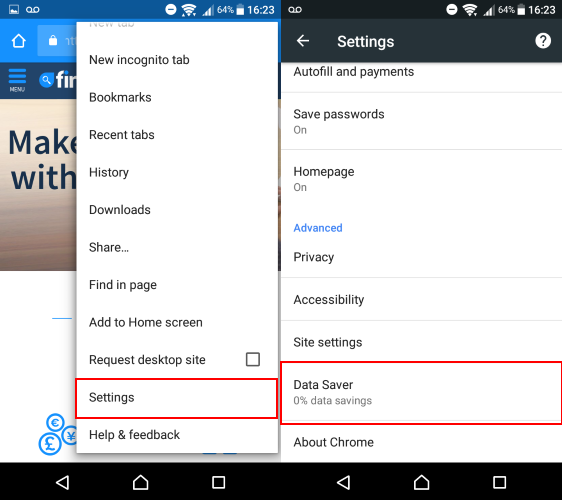 Google Chrome's data saver can reduce the app's usage by 35%.
Cache App data
Caching – which means pre-downloading – data on apps can save you data when on the move, so keep an eye out for it.
Google Maps
Open the menu and select the Offline Maps menu item. In the next page, you can create your own maps, but also enter the settings to choose whether you want to download maps over Wi-Fi only, update preferences and storage options. This can be an excellent option if you don't have much data available on your phone and use Maps a lot.
Spotify
Spotify offers a similar caching service by allowing you to download songs – but only if you have the premium subscription. To do this, open the Settings pane and select offline mode to listen to your downloaded songs on the go.