Finder is committed to editorial independence. While we receive compensation when you click links to partners, they do not influence our content.
How to read a credit card statement
Everything you need to know to read and understand your credit card statement.
If you want to keep track of your credit card spending, make timely repayments and flag any errors, it's essential to understand how to read your credit card statement. As most credit card providers use a similar layout on their credit card statements, you can use this guide to understand how your credit card statement works and what you need to pay attention to.
Key features on your credit card statement
Below we've outlined the major features of your credit card statement.
1. The statement period
Your statement period is often listed in the top of your statement. If you wish to make use of your card's interest-free days, understanding your statement period can help. One common mistake many credit card users make is assuming that interest-free days apply from the purchase date. In reality, while credit cards offer up to X number of interest-free days, the exact number of days depends on your statement cycle and when you make the purchase.
For example, let's assume that your card provides up to 55 interest-free days, and the statement period in question is from 27 February to 26 March. The interest-free period for this statement period would end on 23 April. In this example, if you make a purchase on 27 February, you can make use of 55 interest-free days, and if you make a purchase on 26 March, you get 28 interest-free days.
2. Payment due date
You can find the payment due date on the top-right hand corner of your statement. The payment due date is when you need to have made at least the minimum repayment. You can also pay the minimum or more before this date. However, you are charged a late fee if you pay it after the due date. Paying after the due date can also leave negative marks on your credit score, impacting your chances of approval if you apply for another card in the future.
If you're having trouble paying your bill by that specific date, you can request to move the due date. For example, you might prefer that it falls shortly after your payday. If you're struggling to repay that month, you can also request an extension. Most banks offer financial hardship assistance, so contact your card issuer directly to discuss your options.
3. Minimum amount due
Your statement might list the minimum amount due. When using a credit card, you are required to pay a minimum amount each month. An example minimum repayment might be the greater of either 2% of your outstanding balance or $5. If you pay less than the minimum repayment, you could also face additional fees. While you have to meet the minimum, it's ideal that you pay as much as possible each month. Interest accrues on unpaid balances each month, and if you only pay the minimum amount, it takes longer to repay your balance in full. The longer it takes to pay off your balance, the more you pay overall.
4. Overdue
If you don't pay your credit card bill or pay less than the minimum repayment, the amount you're yet to repay might be detailed in an "overdue" section of your statement. The longer you have an overdue account, the more you are charged in late payment fees. Remember, overdue credit card bills collect fees and interest that increase your debt, and negatively impact your credit file. Overdue statements are a red flag to lenders and could reduce your likelihood or approval when applying for a future card or loan.
5. New charges
This is a summary of the total amount of money charged to the card during the statement period. Look at the new charges to make sure the total amount matches up with the transactions you've made, as this helps ensure that there aren't any errors on your statement (such as fraudulent transactions or double charges).
6. Payments/Refunds
This is the total of all the payments made towards the card and any refunds, during the given statement period. Some refunds can take a few weeks to process. If you can't locate the refund on your statement, you might need to contact your bank or the organisation issuing the refund to make sure that it has gone through correctly.
7. Closing balance
The closing balance refers to how much you owe towards your credit card account in total. If you pay more than you owe, this figure goes into negative. While you're only obligated to pay the minimum repayment each month, you should aim to pay as close to the closing balance as possible. If you pay the closing balance in full, you can avoid interest. You may also qualify for up to a certain number of interest-free days on purchases.
8. Transactions
This list details all of the transactions you make on your card during that statement period. It should include the transaction date, its reference code, the type of transaction and the dollar amount. Again, it's wise to look over your transaction history to ensure you haven't been charged incorrectly or fraudulently in the previous statement period. Most credit cards also come with mobile apps, which allow you to check your transaction history, so you don't have to wait for your statement to arrive to check these details.
9. Daily rate
While banks usually present the interest rate as an annual percentage, it may be charged on your transactions daily. You can use the daily rate to see how much your balance collects in interest each day, including purchases, balance transfers and cash advances. Apart from cash advances, most transactions usually don't start accruing interest until after the statement period ends, though.
10. Reward Points
You can expect these details only if you use a rewards credit card or an Airpoints credit card. If you do, your statement can also inform you of points earned during the statement period, the total number of points in your account, and the points redeemed during this period. You can also monitor how many points you earn through your online rewards programme account and Airpoints account balance.
11. Credit availability
Your credit limit and credit available might be detailed at the top of the page. If you exceed this limit during a statement period, you might incur additional charges.
Back to top
How to manage errors on your credit card statement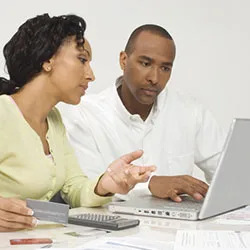 While your credit card statement should usually be accurate, there are some instances where you might spot an error. If these errors go unreported, they could harm your credit history and reduce your likelihood of approval when applying for future credit, which is why it's essential to keep an eye on your credit card statement.
If you spot an error on your credit card statement, it's wise to get in contact with your card provider to report and resolve the issue. If you do this quickly enough, the errors might not even make it to your credit file. The simple steps you can follow to report and fix an error on your statement include:
If you spot a purchase you haven't made, contact your card provider immediately.

In some cases, the responsibility to prove you haven't made the purchase is on you, so make sure you have the relevant receipts and evidence on hand.
If you feel you've been a victim of identity theft or if your card has been used for fraudulent transactions, you should also contact the police.

If any errors make it to your credit file, you have to contact a credit reporting body like Equifax, illion and Experian individually to order a copy of your credit file.
See our guide on how to lodge a credit card dispute with your bank for the contact details and steps you need to report an error on your credit card statement.
Your credit card statement might seem like just another bill to deal with at the end of every statement period, but it's important to look over it rather than just paying your bill each month. Understanding how your statement works not only ensures that you make timely repayments and avoid collecting interest but also helps you spot any errors on your statement and resolve them before they impact your credit file.
Back to top
Frequently asked questions
Pictures: Shutterstock.