Compare Fibre Broadband Plans
If you want the fastest available broadband service, you want an ultra-fast broadband (UFB) service. Here's everything you should consider before choosing a plan.
Compare fibre broadband plans
How does FTTH UFB work?
As with other technologies used in the Ultra-Fast Broadband NZ project, FTTH (Fibre To The Home) is designed to offer high speed Internet access to homes and businesses across New Zealand. In the case of FTTH, this is achieved using a full optical fibre connection directly into your premises, ending in a network termination device from which you get your actual broadband service.
Initial plans for the UFB called for the vast majority of the UFB to utilise FTTH, though this was later deemed infeasible. FTTN is now the primary technology used to connected most Aussie households to the UFB.
The big advantage to a full fibre connection is that it allows for the highest possible speeds delivered with more consistent performance, plus it provides an upgrade path to meet future broadband speed requirements. The challenge with FTTH is that it is more expensive to roll out. In the case of deployment to certain building types such as apartments, running full fibre can be very complex, further raising the installation cost. These costs have lowered over time, but they're still significant.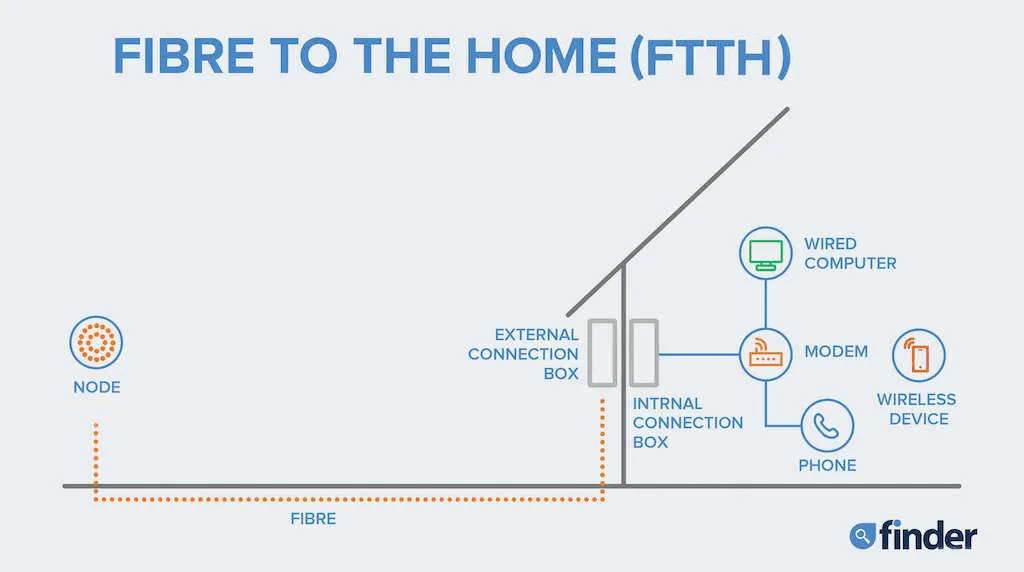 FTTH an FTTP are interchangeable
How fast is FTTH UFB?
There are a variety of FTTH UFB plans available to end consumers, with most providers offering at the very least an entry level Basic UFB connection with theoretical maximum speeds of 12Mbps down and 1Mbps up. The second most common tier is labelled Standard and offers theoretical maximums of 25Mbps down and 5Mbps up, typically for a slightly higher price.
In the faster speed categories the two most common configurations are Standard Plus with a theoretical maximum of 50Mbps down and 20Mbps up and Premium with a theoretical maximum of 100Mbps down and 40Mbps up. Other configurations, such as 100/100 plans, are also offered by some subscribers. As the wholesaler, UFB co does offer plans of up to 1Gbps down to its retail partners, but we're yet to see any consumer plans at that kind of speed.
It's important to remember that the above speeds do not reflect real-world performance. Factors such as network congestion affect the speeds you'll actually see on your home devices, which is why UFB providers now display the average speeds customers can expect during the peak hours of 7:00PM to 11:00PM as a better indication of typical download speeds.
How can I compare FTTH UFB plans?
Speed
Because FTTH UFB connections are all-fibre from the exchange to your premises, speed is a primary comparison point both across different UFB speed tiers and between various UFB providers.
If your online needs are very modest indeed and you have little to no interest in streaming video or having multiple people online at the same time, an entry level Basic (UFB12) FTTH UFB plan could suffice for your needs. If you have more users in your home or want to do more intensive online activities – or just don't want to spend time waiting for downloads to finish – then the faster plans are obviously of more appeal.
Since the introduction of stricter guidelines for advertised UFB speeds, it's now possible to compare different broadband providers on the quality of their service during the busiest hours of 7:00PM to 11:00PM. Network congestion can lead to dramatic variations in performance from provider to provider, so comparing peak-hour speeds is every bit as important as considering which UFB speed tier to go with.
With the capacity to offer more speed, you may also find that your data needs intensify. This, along with speed, is a core criteria for properly comparing FTTH UFB plans.
Cost
The cost of an UFB plan is determined by both the speed and the data quota associated with that plan. Higher-speed plans typically include larger download quotas, which makes sense given that the faster that you can access online resources, the more of them you're likely to use. So the cheapest UFB FTTH plans will typically only run at the lowest speed tiers with limited data provisioning, while more expensive plans will have larger data quotas and operate at higher speeds.
Will I need a new modem for FTTH UFB?
Because FTTH connections end in a network termination device, you don't strictly speaking use a modem at all to connect to the UFB via fibre. Instead, you end up with a device housing an Ethernet port which you can connect to a router, although that router will need to meet some specific requirements to operate properly. If you've got an existing modem-router of recent vintage it may be capable of connecting via Ethernet to an FTTH UFB connection, but we'd advise checking with your ISP of choice. Many will provide an UFB-compatible Wi-Fi router as part of a contract plan.
What other extras should I look for?
Increased competition in the UFB space has led many broadband providers to pack in extra goodies with their services. These include entertainment options such as VodafoneTV subscriptions as well as 4G backup services for guaranteed connectivity in the event that your UFB connection goes down. You'll also find that many providers will throw in a free modem-router with their UFB plans provided you commit to a fixed-term contract.