Sign up to TunnelBear for free today and start browsing anywhere, anytime.
About TunnelBear
Founded in 2011 in Toronto, Canada, TunnelBear believes that the internet should be private and free, and have been backing this up by producing a beautifully designed, easy to use VPN service for the last few years. They've gotten great reviews from PC World, Lifehacker and the Huffington Post amongst others, and are a very popular VPN, in part due to their free offerings and clever Twitter promos. Plus their design is fantastic! I particularly enjoyed the Meet the Team section of their website, in which all of their staff are characterised as bears, but then perhaps I'm too easily pleased.
---
---
TunnelBear deals and discount vouchers – September 2020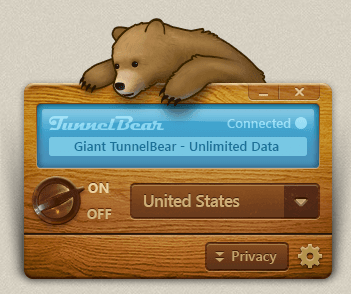 Sign up for a FREE account today to enjoy unrestricted browsing
from Tunnel bear
A VPN provider commended by Lifehacker, PCWorld, Macworld, Yahoo News and the Wall St Journal.
View details
---
What are TunnelBear's pricing and plans?
The best thing about TunnelBear, except for that sweet little bear that features in all of its branding, is the fact that they're the only VPN provider who work on the freemium model. Basically, they offer their stuff for free to an extent, and then you have to pay to get more. In their case they offer TunnelBear for free each month, with a limit of 500MB of data – now it's true that this isn't very much, but users can also get a free 1GB with a handy promotion, keep reading for details.
For now, however, here are details of the TunnelBear prices and plans:
Note: all prices are in US dollars
| Plan | Little Bear | Giant Bear | Grizzly Bear |
| --- | --- | --- | --- |
| Price | Free | $9.99 per month | $4.99 per month |
| Data transfer limit | 500 MB | Unlimited | Unlimited |
Prices last checked August 2017
What are the benefits of using TunnelBear?
It's free to an extent, that's pretty cool. Plus if you use the Little Bear free service, each month you can get an extra 1GB of data simply by asking for it on TunnelBear's Twitter page. That's right. Go on Twitter, ask for more data, and they give it to you, completely free! Now 1.5GB is still not very much data, especially if you're streaming videos, but if you're not intending to use the VPN to stream, then this is an incredibly cost effective way to access VPN.
How do I setup TunnelBear?
Simply download the little app from their website, log yourself in and welcome to the world of anonymous, location free surfing.
What operating systems can you use TunnelBear on?
As you would probably expect, Tunnel Bear is available on all devices including Windows, Mac, iPhone, iPad, and all Android phones.
---
TunnelBear Pros and Cons
Pros
Free version with 500MB per month for light users
Universally loved
Adorable and hilarious website…
Cons
…that seems to favour jokes over actually helpful information.
The big pro, again, is that it offers a free service. So if you only want to use the VPN a little, then here you can get it without paying. Their website doesn't give a lot of information, so it is difficult to say how many servers or countries they operate in, but their reviews seem to suggest good coverage.
Back to top
What is a VPN and how does it work?
Ever been browsing the web, clicked on a video only to be greeted with a message that reads:
"This content is not authorised for your location."
Frustrating, isn't it? Thankfully, you don't have to put up with it any longer. A Virtual Private Network (VPN) is an internet service that provides, amongst other things, a way to trick the internet into believing that you're somewhere that you're not. It does this by running your devices Internet Protocol (IP) address, through a separate IP address that can be in another country. It's a popular service with many benefits, including increased security and freedom from tracking.
Back to top
Frequently asked questions