---
Do I need travel insurance when going to the United States?
The United States is a popular holiday destination for Kiwis, but it can also be an expensive one – especially if something goes wrong.
Travel insurance can protect you from a range of costs including lost luggage, cancellations and medical expenses. And when you consider that it costs $750+ for one night in a US hospital, but only $98.51* for a travel insurance policy, the difference of $652.61 is nothing to sneeze at.
The average cost of a policy for a two-week trip to the USA is $57.29* for a 26-year-old. This policy includes cover for unlimited overseas medical and hospital expenses.
*Travel insurance prices last obtained on April 2018. Prices subject to change.
**Cost of hospital bed based on WHO Department of Health Systems Financing (2011) estimates.
---
What does travel insurance cover in the USA?
Now that we've got your attention, let's talk about what's generally covered with travel insurance and what's not.
Medical bills. Even a short trip to the doctor can be costly with a visit to a GP costing between $150 and $200. Having a travel insurance policy can protect you against a range of medical costs including the following:

Ambulance transportation
Repatriation
Medical evacuation
Medical and hospital costs
Emergency dental expenses

Hospital cash allowance. This is not the same as overseas medical expenses protection. It provides you with a daily allowance to pay for things like phone calls home and hospital food.
Personal liability. Your insurance covers your legal liability in situations where you are liable for bodily injury or property damage to a third party. Some basic policies end their level of cover here.
Lost cancellation fees and lost deposits. If unforeseen circumstances, such as losing your job or a death in the family, force you to cut your trip short or cancel it altogether, this cover can help you recover cancellation fees or prepaid deposits which you otherwise wouldn't be able to recover. Most travel insurance for USA policies have this feature.
Luggage delays. If an airline or tour company misplaces your luggage for an extended period of time, you'll receive the funds you need to buy emergency clothing and toiletries.
Luggage and personal effects if lost or stolen. If your luggage and personal belongings are lost, stolen or damaged, you'll be reimbursed for the cost of their repair or replacement.
Delays. If your journey is disrupted due to circumstances beyond your control, you'll receive a benefit payment to cover the costs of additional meals and accommodation expenses.
Accidental death benefit. Your loved ones will receive a benefit if you die as a result of an injury sustained during your journey.
Stolen credit cards. If your credit cards are lost or stolen on your holiday, you'll be covered for the cost of their replacement and for any loss you suffer due to their fraudulent use.
Lost travel documents. If your passport or other important travel documents are lost or stolen, you'll be covered for the cost of their replacement.
Alternative transport expenses. If unforeseen circumstances delay your trip and you're unable to arrive at a pre-arranged event (for example, a wedding) on time, you'll be covered for the cost of alternative transport expenses.
---
How much does travel insurance for the US cost?
Policy costs depend on a couple of factors including age, length of travel and any risky activities you might be planning, for example skiing, skydiving or going on a cruise.
For example, if you're a 26-year-old travelling the US for a week, policies can start from as little as $45.56** which covers unlimited medical. Throw in cancellation and luggage cover and this can work its way up to $57.82** and with lite ski cover it can go up to $134.67**.
Below is a map of the average cost of travel based on age and destination.
Disclaimer.
Please note that the prices above are designed to provide an average of the cost of all policies available on finder.com.au for the destination. For a more accurate quote, please
use the engine above
. Enter your travel details to view all available prices and policies.
**This based on the lowest cost obtained for a 14-day policy to the US as of August 2018.
How can I find cheap travel insurance to the USA?
The cost of travel insurance for the Unites States varies based on lots of things like how old you are, what activities you'll be doing and what level of cover you choose. But to give you some idea of cheap policies, we ran some real quotes using the profile of a 25-year-old Kiwi going on a 14-day trip to the USA. Here are the cheapest we found among the brands on Finder:
---
What type of cover and extras do I need?
Generally, travel insurance policies for the USA are either single or annual.
Single-trip travel insurance. This covers one trip and one trip only, generally up to a maximum of 180 days.
Annual travel insurance. If you head to the US or overseas regularly, annual travel insurance policies can cover your year's worth of travel. To make this policy worth it, you need to make roughly 3.5 overseas trips a year. While it's a money-saver for frequent travellers, the downside is that individual trips are capped at 30 and 90 days.
With all these options, you can get cover for singles, couples, families and groups.
Types of policies are then further broken down into basic, standard or comprehensive policies. These are on a tiered system in terms of cover and cost, with basic policies generally only covering medical expenses and being the cheapest options and comprehensive policies including lost luggage, personal effects and cancellation for a premium.
What else might I need cover for in the USA?
General travel and sightseeing are included in most travel insurance policies, but there are exclusions you may need to consider adding on as extras before you leave. This can include the following:
Ski insurance. Planning to hit the slopes? Ski insurance can cover you for lost or damaged equipment (hired or owned) and reimbursement for unused ski passes.
Cruise insurance. This covers you for medical treatment and evacuation should you experience an illness or injury on the cruise.
Golf insurance. This includes cover for the loss, theft or damage of golf equipment that you either own or have hired. If accidental injury or sickness means you are unable to play, the cost of your unused green fees are also covered.
Do I need rental car insurance in America?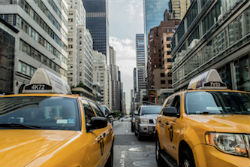 If you rent a car in the USA, travel insurance can cover you in the following ways:
Rental excess charges
The cost of returning your rental vehicle to the company if you are unable to drive
Make sure your policy has rental excess cover if you're driving. While the company you're hiring the car from will offer you insurance for third-party and motor damage, you will be charged the cost of the excess if the car is damaged, stolen or involved in an accident. Make sure you compare travel insurance policies with rental excess cover.
Is your credit card travel insurance enough?
Some credit cards offer complimentary travel insurance if you pay for your trip with the card. This may sound enticing, but be aware that there are limitations to free credit card travel insurance. The following are some drawbacks of credit card travel insurance:
A cap on some benefits including overseas medical cover.
Exclusions for some adventure activities. Skiing and snowboarding activities are usually excluded.
High excess charges. Some credit travel insurance policies can charge up to $500 in excess when you make a claim.
Remember to declare your pre-existing medical conditions
When applying for travel insurance for your trip to the USA, it's essential that you disclose any pre-existing medical conditions you have. If you fail to do so and a pre-existing condition results in a claim, your insurer will most likely refuse your claim.
Every year, you'll hear cases of travellers who have piled up huge medical bills in the USA because they weren't covered for a pre-existing medical condition. Check with your insurer to determine whether cover is available.
Some conditions, such as diabetes or allergies, are automatically covered, while others can be covered after assessing your individual circumstances.
Certain pre-existing conditions are excluded from cover. If you assume that your condition is covered and you are hospitalised overseas, the cost to you could be substantial.
---
Who can you contact in an emergency?
If you find yourself in an emergency situation in the USA, some helpful contacts include the following:
National emergency hotline. You can reach this service by calling 911.
Your travel insurer. Your travel insurance brand will have a 24/7 helpline for claims and medical emergencies.
New Zealand Embassies and Consulates. You can find the contact details of New Zealand Embassies and Consulates in the USA as shown below.
---
Frequently asked questions
*Disclaimer: The offers compared on this page are chosen from a range of products finder.com/nz has access to track details from and is not representative of all the products available in the market. Products are displayed in no particular order or ranking. The use of terms 'Best' and 'Top' are not product ratings and are subject to our disclaimer. You should consider seeking independent financial advice and consider your personal financial circumstances when comparing products.
Picture: Shutterstock