Finder is committed to editorial independence. While we receive compensation when you click links to partners, they do not influence our content.
Term life insurance
What is term life insurance?
Term life insurance is a type of cover that provides a payment:
To your loved ones if you pass away during the 'term' of the policy (for example, before the age of 90)
To you, if you have been diagnosed with a terminal illness and are not expected to live for longer than 12 months
Term life insurance provides cover for your family and anyone else that is financially dependent on you in the event that you pass away or are diagnosed with a terminal illness during the 'term' of your cover or before what's known as the expiry age.
What happens at the end of my policy term for term cover?
There is no cash payout or 'surrender cash value' in term life insurance. You pay a premium to have cover in place and if the term ends or you cancel your policy, you do not receive payment.
Do I need term life insurance in New Zealand?
Despite New Zealand being a developed country, as many as 71% of Kiwis are underinsured, with around 49% of the population with no life insurance cover in place at all (Insurance Business NZ, 2020; Risk Info NZ, 2018). Most people are quick to insure their car or home before taking out life or income cover for themselves with 88% of New Zealanders having car insurance in place.
Why is this the case? People argue that it is because the benefits of term life insurance are less tangible to something like car insurance, with others who choose to push the thought of needing life insurance to the back of their mind. When asked why they don't have life cover in place, many people respond with one of the following:
"I don't really need it." Do a test and see if you have any needs that could be serviced by cover.
"Nothing will happen to me." While sudden death isn't likely, think of what would happen in that event.
"Life insurance is too expensive." There are ways to get cheap cover that allows you to make a small sacrifice for greater peace of mind.
"It's just too complicated." Yes, it is a detailed product. However, it's easy to speak to with adviser to clear up issues.
"It's only for families with kids." Not true, there are options for couples as well. Singles can take advantage of products like income protection and TPD.
Back to top
When is a good time to take out cover?
This really depends on your situation and what you would need to cover in the event of your death. Some key triggers that lead many Kiwis to take out cover or review their existing cover include buying a house, getting married and having their first child. These events may not apply to you but it is still worth considering "living insurance" that provides a payment if you suffer a major illness or injury and do not pass away.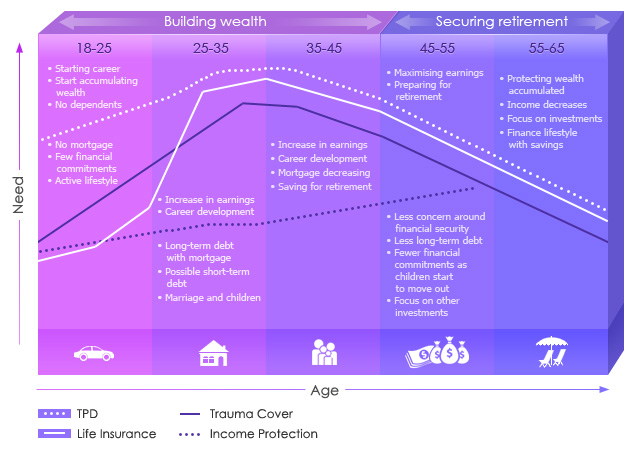 What expenses can term life insurance cover?
Replacing an income for your partner or family that would be lost if you were to die
Covering mortgage or rent payments
Covering your child's education
Covering other personal debt, i.e. car loan
Childcare if your spouse had to return to work
Funeral costs and financial planning
Everyday living expenses
How much is it going to cost me?
The amount you pay for coverage depends on a number of factors including;
Your age – the older you are the more you pay
Your occupation – greater risk occupations may mean you pay a higher premium
Gender – rates vary between genders at different ages
Pre-existing medical conditions – it depends on the nature of the condition and current treatment
Frequently asked questions from our users
Can I bundle term life with other types of cover?
Term life insurance can also be combined with other types of "living insurance" TPD Insurance and Trauma Insurance – these provide a lump sum payment if you become disabled or suffer a traumatic event such as stroke, cancer or heart attack.
---
Can I get cover without having to do a medical exam?
This depends on your situation and if you have had any medical complications in the past. There has been significant changes in recent years to how applicants are assessed and insurers are much more willing to tailor cover to people that have a pre-existing condition.
Most life insurance companies will require you to complete a short medical questionnaire when applying for cover. If you meet their entry requirements, you can usually apply for cover without having to undertake a medical exam or provide details of your medical history.
Most direct insurance brands allow you to apply for cover entirely online or over the phone if you meet these entry requirements.
---
More questions