Finder is committed to editorial independence. While we receive compensation when you click links to partners, they do not influence our content.
Stoozing: Create free money with credit cards
It sounds strange to use a credit card to make money, but that's precisely what strategies like stoozing aim to do.
What is stoozing
Stoozing is a way of using credit card introductory offers to make money. By taking advantage of balance transfer and purchase rate deals, savvy consumers can pocket "interest earnings" when they shift interest-free credit card finances to a high-interest savings account. Here, we look at credit card stoozing and whether the "free money" is worth the effort.
How does stoozing work?
There are two ways to stooze. One option takes advantage of balance transfer offers, while the other focuses on purchase rate offers. We've outlined both strategies in detail below.
1. Transferring your credit card balance to a high-interest savings account
This option uses a balance transfer offer as an interest-free cash advance. The credit card issuer transfers a percentage of your credit limit into a high-interest savings account. If you repay the balance before the end of the balance transfer period, any interest you earn from the savings account (minus credit card fees) is profit. This method requires the following steps:
Open a high-interest savings account. Some savings accounts have no set-up, maintenance or withdrawal fees, but make sure you check before opening an account. They may reward you with bonus interest for a limited period, or every month when you meet ongoing conditions. If you're not going to make regular contributions to the savings account, an introductory-rate product is more rewarding. You can apply for a second, and third high-interest savings account to keep receiving the new customers' initial rate.
Find a balance transfer card. When you apply for a balance transfer credit card, the financial institution asks you to enter the account's details from which you want to transfer the balance. Here, some allow you to enter the details of a savings account. Alternatively, you can contact the credit card issuer over the phone to request a cheque.
Earn interest on the balance. When the bank processes the balance transfer and makes a payment to your nominated savings account, you start earning interest on the balance.
Please note, with this type of stoozing, the balance transfer transaction may be processed as a cash advance. In this case, a cash advance fee applies and the transaction may not be eligible for the balance transfer rate, which makes the whole process worthless!
2. The purchase rate method of stoozing
The second stoozing method is to use a credit card, in conjunction with a savings account. This option is more straightforward than the balance transfer method but requires more discipline. The steps involved are:
Open a high-interest savings account. If you don't already have a savings account, open one so you can start to grow the balance and earn interest on your money.
Apply for a purchase rate card. Bear in mind, the longer the purchase rate period is, the greater the opportunity to earn interest on your savings.
Use your credit card for all purchases. Instead of spending your own money, start using the card. Put the money you would typically spend into the savings account, so it contributes to your interest earnings.
Make all the necessary credit card payments. You need to make the minimum repayment each month, usually 2–3% of the balance. The repayments will increase the more you spend, but so does the interest you earn on your savings.
Pay off the credit card. At the end of the purchase rate promotional period, you withdraw enough money from the savings account to pay the credit card in full. Any money that remains is a bonus.
This type of credit card stoozing allows you to avoid cash advance fees, making balance transfer stoozing more trouble than it's worth given current interest rates. However, it still requires a solid budget and a high discipline level to avoid additional charges or credit card debt.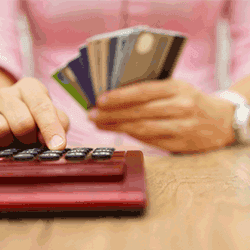 Pitfalls of stoozing
Stoozing can easily become a liability. If you're thinking of trying out one of the credit card stoozing methods outlined, make sure you consider these common issues.
Cash advance transactions. Cash advance transactions attract cash advance fees and high rates of interest. They are usually not eligible for balance transfer offers or other interest-free promotions. Check with the credit card company about how it processes transactions before you proceed. If it's a cash advance, the cash advance fee may put you in the red.
Transaction restrictions. Not all credit card companies allow transfers from a credit card to a savings account. You need to contact the credit card issuer directly to confirm whether it is an option.
Eligible purchases. purchase rate credit cards don't cover all credit card purchases, for example, many consider utility and service provider payments cash advances, which could unravel your stoozing strategy.
Variable interest rates. The standard interest rates available on a credit card or savings account may be variable, which means they can fluctuate with market trends, and will not offer as much value as predicted at the start of a stoozing strategy.
Credit card annual fees. Credit card annual fees can eat up the earnings you make from savings account interest payments. Compare credit cards to find a no-annual-fee credit card with a competitive deal on purchases or balance transfers if you want to give stoozing a try.
Late payment fees. If you miss the due date for your credit card payment, a late payment fee could eliminate any profit. Make sure you make the credit card minimum repayment by the statement due date to avoid any charges. You can set up automatic payments from a savings account to pay the credit card minimum repayment each month.
Other ways to get more value from a credit card
Stoozing is rarely worth it, but there are different ways to get more value from a credit card. These include:
Rewards programmes. Rewards credit cards give you points when you make eligible purchases. A no-annual-fee rewards card delivers value from the first dollar you spend. However, these cards usually only offer extra value when you pay your credit card balance fully by the statement due date.
Bonus points. Credit card providers may offer bonus rewards and Airpoints when you sign-up for a new card, which may provide hundreds of dollars of value. Note, most of these offers require you spend a certain amount in the first three months you have the credit card to receive the bonus points.
Cashback. Cashback credit cards return a percentage of your balance at the end of the month or as a one-off payment when you take up a deal. These cards typically don't offer ongoing value but may provide greater benefit for less effort when compared to stoozing.
Complimentary extras. Benefits such as travel insurance; priority programmes where, for example, you have the first choice for tickets to a concert, and complimentary airport lounge passes are perks that can add value to the credit card you choose.
Credit card stoozing relies on savings account interest rates, so the higher the rate, the greater the gain. Keep an eye on the market to see the latest savings account interest rates. However, even with substantial offers, stoozing has more drawbacks than advantages.
Back to top