RBNZ Survey: Almost all experts confident the OCR will rise to 4.75%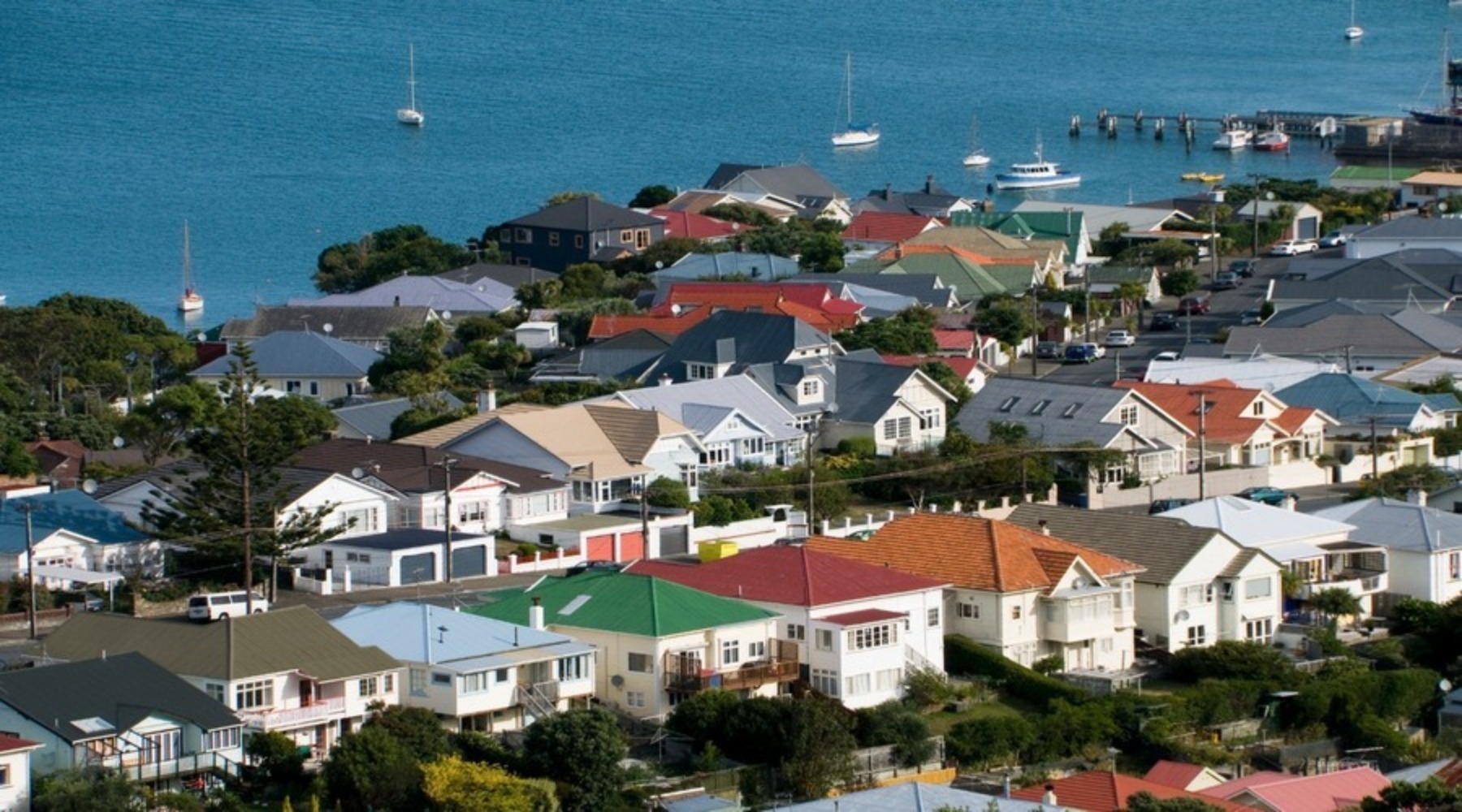 Kiwi homeowners should brace for yet another increase to the cash rate, according to a new Finder poll.
In this month's Finder RBNZ Official Cash Rate Survey, 13 experts and economists weighed in on future official cash rate (OCR) moves and other issues relating to the state of New Zealand's economy.
All panellists (100%, 13/13) are confident the OCR will rise again on Wednesday for the tenth consecutive time.
The majority of experts (92%, 12/13) are forecasting an increase of 50 basis points, bringing the OCR to 4.75% in February – up 450 basis points from 0.25% in October 2021.
Over two-thirds of the panel (69%, 9/13) expect the cash rate to peak at 5–5.25% between April and May this year.
More than half of experts and economists (7/13, 54%) forecast another cash rate increase in April.
Angus Kidman, Finder's editor-at-large in New Zealand, said the current economic climate was putting a substantial strain on many Kiwis.
"The rising cost of living is wreaking havoc on household budgets. Kiwis have been slammed with everything from expensive grocery and petrol bills to back-to-back hikes to the cash rate.
"Should the OCR lift to 4.75% – which the majority of experts say it will – this will bring the cash rate almost to the highest level since the GFC in 2008."
The panel cited persistently high inflation as the main reason for their predictions.
Saten Kumar from the Auckland University of Technology said inflation remains elevated and beyond the target of RBNZ.
"The economy also experienced more than expected consumer spending during summer holidays. These 2 factors signal the need to continue applying contractionary monetary policy," Kumar said.
Kelvin Davidson from CoreLogic said there is probably more work to do on tightening monetary policy.
"The inflation and employment data have turned slightly, but not to an emphatic degree, yet," Davidson said.
Experts tip further reliance on credit
Nearly half (48%) of Kiwis say they would only be able to live off their savings for a month or less if they lost their job, according to Finder research.
All of Finder's panel who weighed in* (100%, 7/7) expect credit card debt to increase in 2023.
The majority of experts (86%, 6/7) also expect personal loan debt to increase while 57% (4/7) expect payday loans and overdraft service debt to increase as well.
Angus Kidman said turning to credit – whether through BNPL, credit cards or other loans – can be a slippery slope.
"Once you've accumulated debt, it can be really difficult to shake.
"If you find yourself in a situation where you're paying off a few credit cards, consider combining them into a single account. This is known as debt consolidation and helps reduce the number of fees and interest charges.
"If you're really struggling, call your credit card provider and let them know. Your provider can help you work out an affordable repayment plan – if you go bankrupt, no-one wins!"
Alfred Guender from the University of Canterbury said, "With cost of living rising faster than income, a quick fix is to borrow more from facilities where credit is easy to come by."
Recession likely in 2023
More than 4 in 5 (82%) Kiwis reported experiencing financial stress in November 2022.
The majority of panellists (82%, 9/11) expect this number to get worse over the next 12 months.
Just over half of experts (55%, 6/11) say there is a 70% likelihood that New Zealand will experience a recession 2023.
Guender said with fixed rate contracts expiring, borrowers will find it harder to afford their mortgage payments.
"Along with rising food prices, the rising cost of servicing mortgages will make it harder for Kiwis to make ends meet, in particular as nominal wages are not keeping pace with inflation."
Jarrod Kerr of Kiwibank noted, "We are likely to see a technical recession in New Zealand, accompanied by a lift in unemployment."
Finder's Economic Sentiment Tracker gauges experts' confidence in 5 key indicators: housing affordability, employment, wage growth, cost of living and household debt over the next 6 months.
Positivity towards all indicators – with the exception of housing affordability – dropped in February.
Positivity towards cost of living dipped from 30% in November to just 8% in February.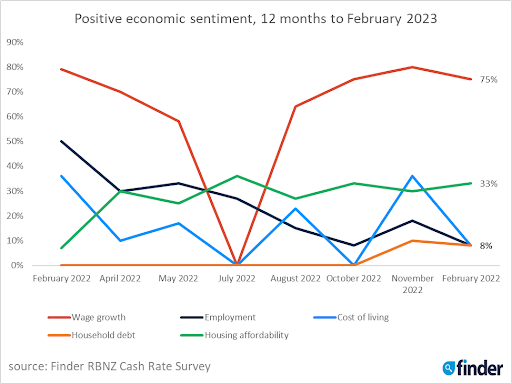 *Experts are not required to answer every question in the survey.