Finder is committed to editorial independence. While we receive compensation when you click links to partners, they do not influence our content.
Peer-to-peer personal loans
Benefit from a low, personalised interest rate and a quick online application process.
Peer-to-peer (P2P) lending involves borrowing money from individual investors and bypassing the bank. P2P lending is conducted through a provider platform which connects people looking to borrow money, with people looking to invest.
By lending their money, investors gain access to an attractive fixed income asset class that can yield better returns than other investment options. Borrowers can also take advantage of lower rates based on their credit scores. Find out more about peer-to-peer loans, and their benefits and drawbacks.
Available peer-to-peer loans
What is a peer-to-peer loan?
Peer-to-peer providers facilitate a platform where investors finance a portfolio of loans and earn interest on what they lend; while borrowers are given an individual rate based on their credit score.
Borrowers. To borrow, you submit an application with the P2P lender. The provider then evaluates your eligibility for a peer-to-peer loan, by verifying your identity, credit history, employment and finances. It will assess the risk of the loan and give you a personalised interest rate. You will generally need to have a good credit history and be in a secure job to be eligible. After approval, your loan will be funded by one or several investors that choose to take you on. The P2P provider will usually deduct an application fee from the amount transferred.
Investors. Potential investors review the available applications on the website and identify the borrowers they would like to fund, in part or in full. Investors cannot see any personal information about borrowers. Funds are transferred to the borrower and their repayments are made to the investor, based on how much of the loan they funded.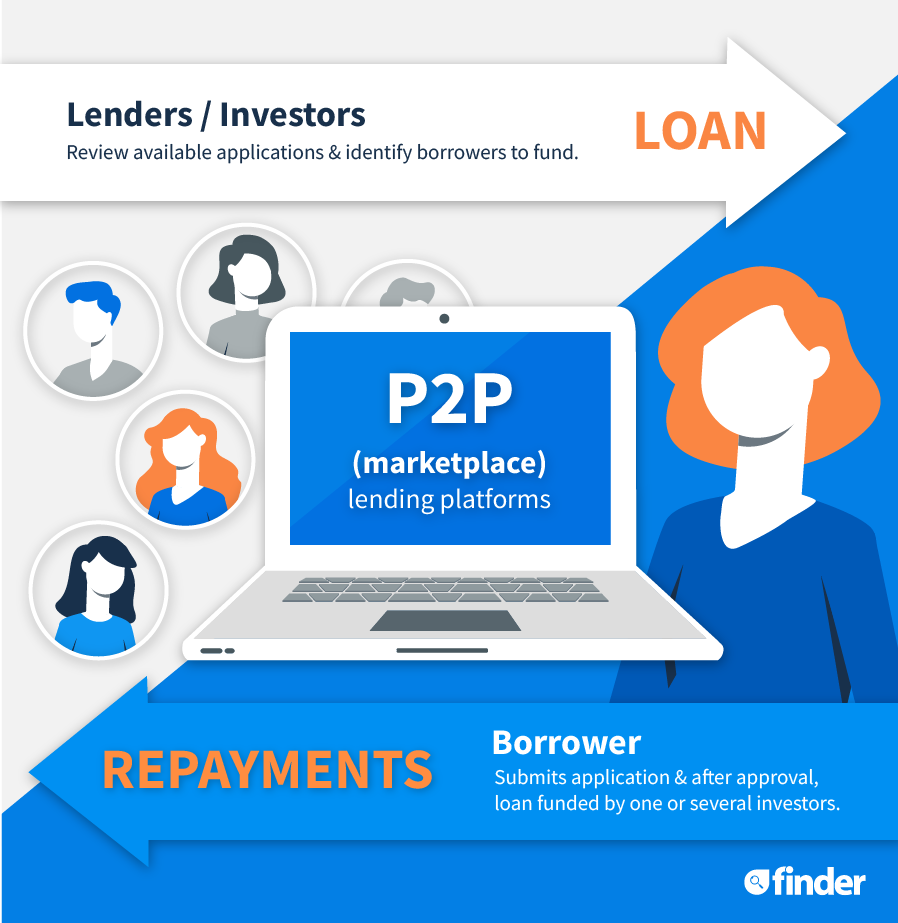 Peer-to-peer loan market growing in New Zealand
Given the ease with which investors and borrowers can secure loans at favourable terms via P2P lending, it is clear these providers are here to stay. Though small at present, the peer-to-peer industry is eyeing the potential market. The convenience and competitive interest rates enhance its appeal in comparison to mainstream financial institutions. This is also the first borrowing platform to open up the doors to smaller investors looking for higher and more secure returns.
It is unlikely the P2P industry will replace traditional lenders altogether. But by harnessing technology, and offering tiered interest rates to borrowers based on their credit scores, P2P providers can provide a convenient alternative to banks and other financial institutions.
Who offers peer-to-peer loans in New Zealand?
New Zealand has a small amount of peer-to-peer lenders, each with their own product offering. One of the country's first and largest lenders, Harmoney, has pulled out of the P2P market last year, and is now focused on wholesale lending, meaning the company funds its own loans, rather than using individual investors.
Lending Crowd
Lending Crowd is a Fintech company launched in 2015. It is run by an experienced management team based in Auckland. It offers a wide range of loan amounts from $2,000 to $200,000, and a fast application process with a 100% online, user-friendly focus. Borrowers need to have an asset, such as a car or property, in order to secure their loan.
Squirrel
Squirrel peer-to-peer lending was launched in 2015 and is based in Auckland. Squirrel focuses on four products targeted towards residential home owners; equity loans, tiny house loans, bridging loans and builder's loans. Borrowers who may not fit a bank's criteria are able to apply for loans up to $70,000 and larger loans of up to $1 – 2 million, through a community of 1,500 investors.
Zagga
Since 2015 Zagga has been offering 100% secured P2P loans between $25,000 and $2 million. Loans are most commonly secured against the borrower's mortgage. Type of loans include personal loans, residential and commercial property loans, and rural loans for farmers. Zagga has offices in Auckland and Christchurch but are primarily an online business.
PledgeMe
PledgeMe uses equity crowdfunding to help individuals, start ups and established businesses. Investors can pledge money for a campaign or invest in companies looking to raise capital by crowd investment or borrowing money. PledgeMe was founded in 2011 and is one of New Zealand's first equity crowd funding platforms.
The benefits and drawbacks of peer-to-peer lending
For borrowers
Borrowers are able to secure loans at rates that are generally lower than those offered by banks
A speedy application process that is administered online
P2P lenders may offer lower loan amounts than banks, though Lending Crowd offers up to $200,000.
For investors
A higher return on funds compared to other investments
The opportunity to diversify your investments, in addition to spreading your funds over several loans to minimise your risk
Lenders need to know there is no government-backed guarantee on the funds they provide.
How to compare your options
Are they compliant?
Check the credibility of the website or platform that you are considering borrowing from. They should have a credit licence listed on the bottom of the page.
What rates are you being offered?
The rates offered by a peer-to-peer lender could be lower than other lenders, but you won't know your rate until you get a quote.
What are your loan terms and the amount you are borrowing?
Some peer-to-peer lenders may not be able to offer you as high a loan amount as other banks or lenders, so check to see that you are able to borrow the amount you need for as long as you need it. While many lenders have loan terms from six months to five years or more, others only provide loans for a set timeframe. In the case of The Lending Crowd, loans are for two, three or five years.
Have you researched the lender's reputation?
The lender's reputability should also form part of your comparison. You might want to read independent customer reviews online; see how easy it is to contact the lender; and how transparent they are with their fee and rate information.
What are the requirements for an investor?
As a borrower, you want to ensure the person you are borrowing from is reliable and that the lender has strict guidelines in place to ensure no unscrupulous investors find their way into the lending network. Check out the lending requirements before you apply to see the type of people you will be borrowing from.
Are you eligible to become a borrower?
While you need to check you are eligible, you also want to ensure the peer-to-peer network doesn't have a borrower eligibility criteria that is too relaxed. Some overseas peer-to-peer networks who lent to borrowers with bad credit failed due to a high number of defaulted loans, so you want to ensure the lender you apply with doesn't engage in high-risk borrowing behaviour.
Peer-to-peer lending is an alternative credit option to consider. With competitive rates, quick approval times, not to mention a way for investors to diversify their portfolio, peer-to-peer lending is definitely making its mark on the credit industry.
Frequently asked questions about P2P lending
Picture: Shutterstock
More guides on Finder
Buy Now Pay Later Report 2021

Buy now pay later has exploded in popularity over the last two years. We take a deep dive into why Kiwis are adopting BNPL, regulatory issues, and the future of the sector.

First Credit Union review

Review the loan options at First Credit Union, a non-bank lender offering personal loans, debt consolidation, car and home loans.

Boat loan calculator

Find out how much you could borrow for your next boat loan. Calculate your repayments on a secured or unsecured personal loan.