SMARTCASH Payday Loans
Get quick cash of up to $500 to cover your sudden costs with SMARTCASH short term loans.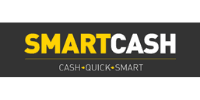 SMARTCASH is an Auckland-based New Zealand lender specialising in short term loans up to $500. With a quick online application and over 30 years' experience in banking and finance, SMARTCASH appeals to Kiwis looking for virtually instant cash to cover emergency expenses.
SMARTCASH claims to have the lowest payday interest rates of any New Zealand payday loan specialist and fast loan approval. If you're interested in a short term loan, read on to find out about loans offered by SMARTCASH.
finder does not currently have access to this short term loan provider. Please review the product details, application criteria and terms and conditions on the provider website if you are considering applying for this product.
Compare loans on offer from SMARTCASH
Payday Loans from SMARTCASH
SMARTCASH provides short term payday loans up to $500. Loanable amount should be 20% of weekly net income, no less than $400. The maximum loan term is up to 31 days. The interest rate of is 0.99% daily, or 361.35% annually.
Short term loans can be a good source of cash for unexpected expenses or emergencies, but should not be considered as a long-term financial solution. A SMARTCASH payday loan could be useful if you are faced with unforeseen car repairs, medical or veterinary bills, or household expenses.
Why should you consider taking out a SMARTCASH short term loan?
If you're interested in low rates for your short term loan, you should consider taking out a loan with SMARTCASH. Features of SMARTCASH loans include:
Low rates. SMARTCASH claims to offer the lowest overall cost of any online payday lender in New Zealand. They have a competitive daily interest rate of 0.99%.
Low minimum amounts. You can take out a loan as small as $80 with SMARTCASH, so even your small unforeseen expenses can be covered.
Competitor comparisons. SMARTCASH has a handy competitor comparison chart on its website, allowing you to compare the cost of the loan you want across multiple NZ payday lenders.
Short maximum term. Maximum loan term is up to 31 days for SMARTCASH loans. Keep in mind, you should only borrow as much as you are able to pay back within the 31-day time frame.
Same-day cash. If your SMARTCASH loan is approved before 3:30pm on a business day, you can have your cash the same day, for an additional service fee of $10. All other funds will be deposited the next day at no extra cost.
How much will it cost you to borrow from SMARTCASH?
All SMARTCASH loans require a $25 establishment fee and a $5 fee per payment processed. Short term loans have a daily interest rate of 0.99%. You can use the loan calculator on the SMARTCASH website to determine the fees specific to your desired loan.
The following additional fees may apply:
Same-day cash service fee – $10
Change of payment rescheduling fee – $20
Missed payment fee – $30
Are SMARTCASH loans safe?
SMARTCASH is a registered New Zealand Financial Services Provider and member of Financial Services Complaints Limited.
As a responsible lender, SMARTCASH will not loan you more than they believe you would be able to pay back in 31 days without financial difficulty. The lender ensures all application information is secure and confidential. You can contact SMARTCASH during business hours at 0800 222 465 or via email.
How to apply for a short term loan from SMARTCASH
Applying involves the following steps:
Fill out online application.
Sign loan documents electronically.
Confirm your email address.
Send in your latest bank statements.
SMARTCASH will run a credit check and confirm your current employment details.
Wait for loan approval, usually only 60 minutes from when SMARTCASH receives your complete application.
Receive money transfer directly into your bank account.
Eligibility criteria
To be eligible for a SMARTCASH short term loan you need to:
Be 18 years or older.
Be a New Zealand resident.
Have been continuously employed for at least three months.
Earn at least $400 per week after tax.
Have your wages paid directly into your New Zealand bank account.
Have an email account and mobile phone.
Have no other current payday loans with other lenders.
Frequently asked questions
---
Smartcash Limited is registered with the Registrar of Financial Service Providers. Their registration number is FSP241185.
---