Finder is committed to editorial independence. While we receive compensation when you click links to partners, they do not influence our content.
Offset mortgages
What are home loan offset accounts and how do they work?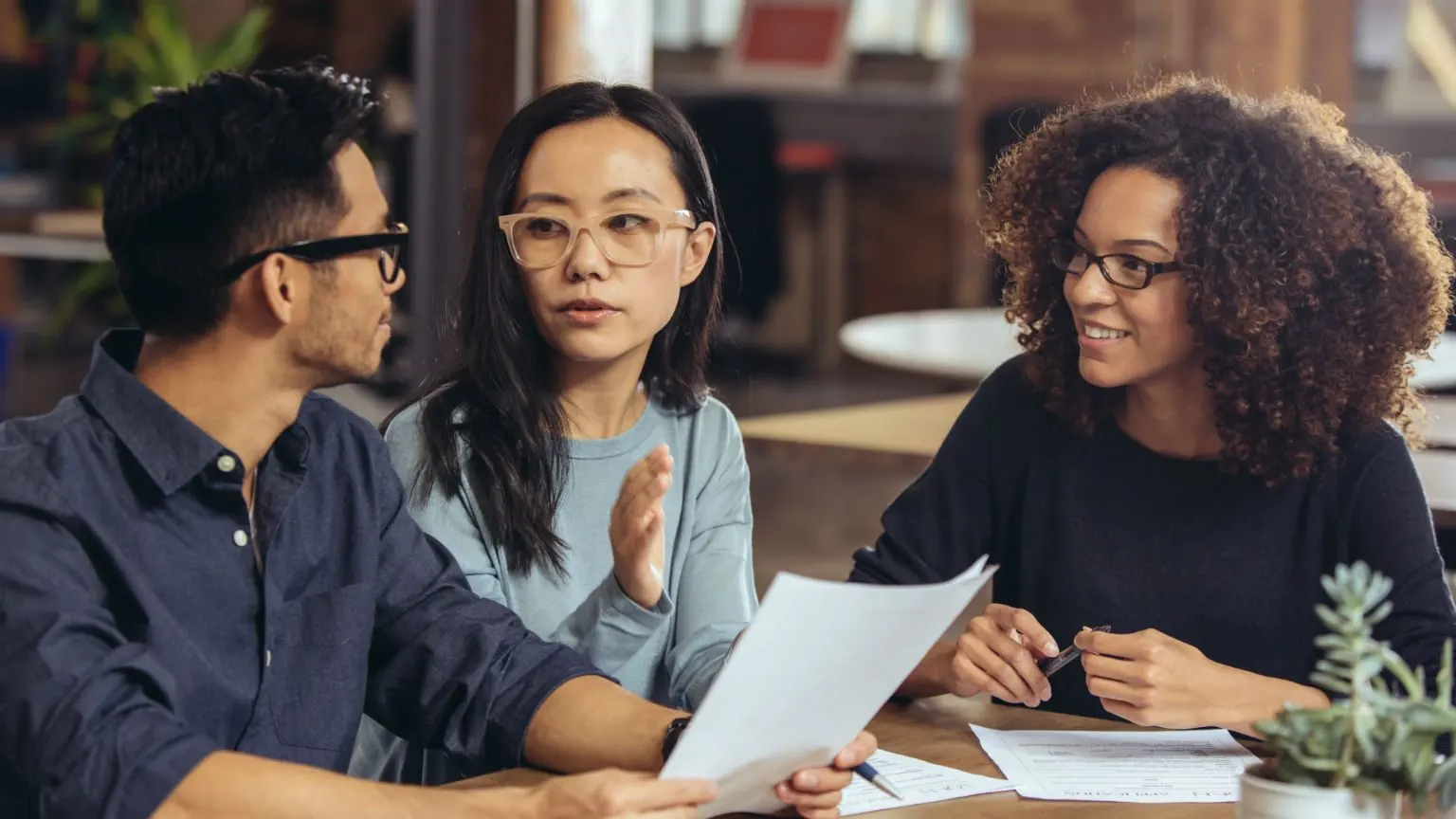 An offset account is a bank account attached to your mortgage. Every dollar saved in an offset account reduces the amount of interest you're charged. If you had $200,000 left to repay on your mortgage but saved $15,000 in your offset account, your interest charges would be calculated based on $185,000.
Through this method, you pay less interest and can repay the mortgage faster. However, it's essential to understand how offset accounts work and if its the right choice for your financial situation.
How do offset accounts work?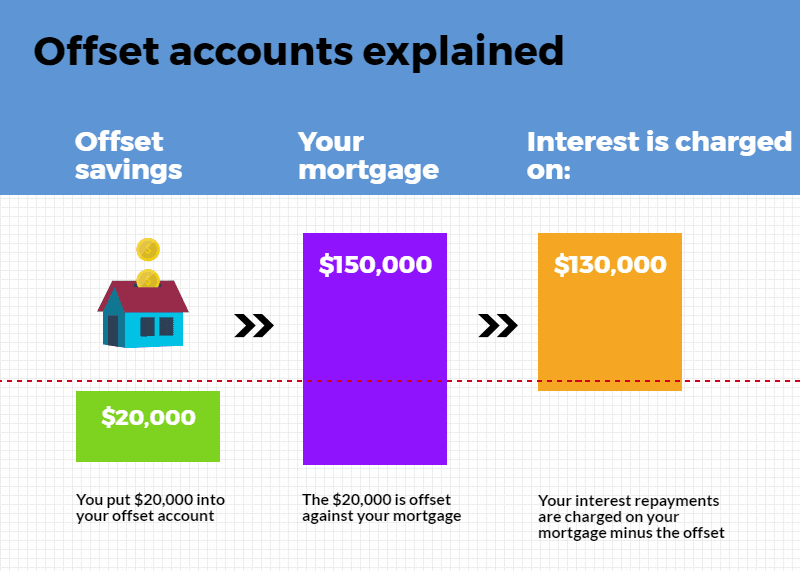 You can put any income or savings into an offset account like a normal bank account, but you won't gain any interest. Instead, the money temporarily reduces (or offsets) your loan principal (the amount of money you owe on your mortgage).
By offsetting your loan principal you pay less interest. Your monthly repayments won't change but you pay off more principal and less interest.
Putting money into an offset account is like making extra mortgage repayments, except you can withdraw the money and spend it when you need to.
Example mortgage
Loan amount: $500,000
Loan term: 30 years
Interest rate: 3.00%
Monthly repayment = $2,108
Total loan cost (including interest) = $758,887.26
But then you decide to move the $20,000 into your loan's offset account after 12 months of making repayments on your loan.
Monthly repayment = $2,108
New loan term: 28 years and 11 months
Total loan cost (including interest) = $732,442.61
Interest savings with offset = you pay $26,444.65 less in interest over time
Your loan amount is now offset to $480,000. Assuming you leave your $20,000 saved in the offset and don't spend it, you finish paying your mortgage over a year earlier and pay $26,000 less in interest.
Quick offset tips
How much you can save using an offset account depends on multiple factors including your mortgage amount, interest rate, how much money is in the offset account, when you put it there and how long it stays there.
Add early.

If you add $10,000 to your offset account at the start of a 30-year mortgage, it saves you more than if you added that money five years into the loan.
Add often.

If you can add extra savings into your offset account regularly you save even more in interest.
Withdrawals.

If you need to pull money out of your offset you can, and it's easy to do so. The withdrawal readjusts the calculation on your loan repayments, but having the money in your account for any amount of time provides some benefit.
Offset account calculator
Use our calculator below to calculate the time and interest you can save on your mortgage when you put some money into an offset account.
All you need to do is enter your mortgage details, the amount you wish to put into the offset account and how far into your mortgage you currently are.
Offset savings calculation examples
Here are some hypothetical mortgage scenarios showing how much time and money a single amount of cash in an offset account can save you. Note that all these estimates assume a 30-year mortgage with the offset money saved two years into the mortgage.
| Loan amount | Rate | Offset savings | Interest saved | Years saved |
| --- | --- | --- | --- | --- |
| $350,000 | 3.25% | $34,000 | $44,710 | 2 years 5 months |
| $450,000 | 2.59% | $50,000 | $47,378 | 2 years 2 months |
| $600,000 | 2.90% | $40,000 | $46,405 | 1 year 7 months |
| $800,000 | 3.00% | $50,000 | $61,141 | 1 year 6 months |
Should I make extra repayments or put the cash into an offset?
At first glance, an offset account seems similar to making extra repayments on your mortgage and using a loan's redraw facility to pull money out as needed. In both situations, you get a reduction in interest charges, pay off your loan faster and still have access to your money. In theory.
However, an offset account actually offers you more flexibility and control. Money in an offset account belongs to you. Extra repayments belong to your lender. Redraw facilities can come with restrictions or fees. Plus, your lender can change the rules and make it harder for you to access the money.
Some lenders gradually fold your extra repayments back into your loan balance, meaning you can't access as much as you thought.
What if I spend the money in my offset account?
You can spend the money in your offset account any way you like. It's your money. When you withdraw money from the account your loan principal re-adjusts and you pay interest calculated on a higher amount.
Saving money in the offset is still beneficial even if you spend it later. Because your lender calculates your interest charges every day based on the loan principal. Every day you put money in there reduces your interest costs, whether you spend it later or not.
Are there any disadvantages to using an offset account?
There aren't really any big downsides to using an offset account. Although there are some issues you should be aware of.
No interest gained.

Unlike

a savings account,

money in an offset account won't generate interest for you. However, saving interest from a mortgage generally nets you a bigger gain than a savings account rate anyway.
Some offsets aren't really offset.

Some lenders may simply label your extra repayments as an offset when it's really a redraw facility, which means you have less access to the money. Check that your lender is an authorised deposit-taking institution.
Partial offsets.

Some offset accounts don't offset the amount deposited 100%. These are called partial offsets and they are less beneficial for the borrower.
Offset money only reduces your loan while it's saved.

If you save $20,000 in an offset for four years and then spend it to buy a car your loan amount re-adjusts and you pay more interest again. However, every day money sits in your offset produces some benefit to you.
Your rate could be higher with an offset.

Many lenders offer their lowest mortgage rates on "basic" products that don't have an offset account, and they offer a mortgage with an offset account with a higher rate. Our suggestion: shop around for a mortgage that has both a low rate and an offset account.
FAQs
More guides on Finder