Finder is committed to editorial independence. While we receive compensation when you click links to partners, they do not influence our content.
Credit card with no overseas ATM withdrawal fees
Compare credit cards with no overseas ATM withdrawal fees and find out how you can save more money when you travel.
Many banks and financial institutions apply a fee when you use your card to withdraw money from an overseas ATM. This charge could be as much as NZ$5 per transaction and can apply to both credit cards and debit cards.
This guide looks at the different ATM fees that apply and examines what you need to consider so that you can keep card costs to a minimum when you're travelling.
What fees will I be charged when I use my credit card for an overseas ATM withdrawal?
Cash advance fee. This is a charge applied by your bank or provider when you use your credit card to get cash out or for any other type of "cash advance" transaction (such as buying foreign currency). The cash advance fee is usually around 3-4% of the total transaction cost. So, for example, if you used your credit card to withdraw the equivalent of NZ$500 from an overseas ATM, you could expect to pay a cash advance fee of $15-$20.
Cash advance interest rate. If you use your credit card to get cash out of an ATM overseas or in New Zealand, the cash advance rate of interest will apply from the time of the transaction. This interest rate is often higher than the standard purchase rate and can be over 20% p.a.
Foreign transaction fee. Many credit cards charge a fee of around 3% for transactions that are made in an international currency. For example, if you withdrew the equivalent of NZ$500 from an overseas ATM, you would be charged around $15.
Foreign ATM company charges. Some overseas ATM companies and providers also apply a fee for processing your withdrawal. Note that this fee could be charged in a foreign currency and you will be notified of this cost before you go ahead with your transaction.
While some of these fees, such as overseas ATM withdrawal fees, can be avoided in certain ways, most credit card providers charge cash advance fees for ATM withdrawals and other "cash" transactions. Considering all of these potential costs before you use your credit card to get cash out overseas will help you keep your additional costs as low as possible.
Other factors to consider
As well as the range of fees that can apply when you use a credit card at an overseas ATM, it's important to keep the following factors in mind when you use your card to get cash while travelling:
Credit limit. Your credit card limit gives you access to a specific amount of funds. You won't be able to go over this amount, so it's important to factor that in and regularly check your balance when you're paying with plastic on your trip.
Daily withdrawal limits. Some credit cards put a limit on the amount of money you can withdraw with your card each day. Check your credit card product disclosure statement or call your provider for specific information on your daily withdrawal limits.
Global ATM alliance networks. Many New Zealand credit card providers have ATM alliance networks that extend around the world and allow you to get cash out overseas without paying an ATM withdrawal fee. For example, a credit card from Westpac gives you access to the Global ATM Alliance network, which includes Westpac AU (Australia), Barclays (UK), Bank of America (US) and Deutsche Bank (Germany, Poland, Spain).
Rewards. If you use a rewards credit card to get cash out at an overseas ATM, you typically won't earn points because cash advance transactions are not considered to be "eligible purchases" that offer rewards.
Exchange rates. Remember that exchange rates will apply whenever you use an New Zealand credit card for a transaction in another currency. This rate can fluctuate daily, and could have a major impact on your account balance and the total cost of any fees applied. Check with your credit card provider to find out when exchange rates are updated so that you can factor currency conversion into your budget before and during your trip.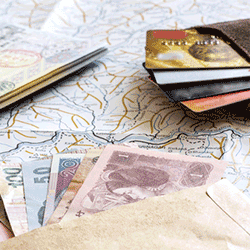 Other alternatives for overseas ATM withdrawals
Even if you get a credit card that doesn't charge an overseas ATM withdrawal fee, the cash advance fee and interest rate (as well as any charges applied by the ATM provider) can quickly add up. If you want to avoid overseas ATM fees completely, you have several other options:
Travel cards. Travel cards are prepaid debit cards that allow you to load and spend money in a range of foreign currencies. These cards help you avoid foreign transaction fees and, because they use your own money, no cash advance fees or interest charges apply for using them. These cards also allow you to lock in exchange rates before you go, which can help with budgeting. There are some travel cards that have no overseas ATM withdrawal fees, but it's important to check the charges that apply for different cards before choosing one. Also note that other fees – such a card reload fees – may apply.
Debit cards. Your everyday debit card also allows you to withdraw cash from an overseas ATM without any cash advance charges. Similar to credit cards, there are some debit card that can help you avoid overseas ATM withdrawal fees. Note that you may still have to pay a foreign transaction or currency conversion fee for your debit card ATM withdrawals.
Foreign currency. You can avoid card fees completely by getting cash in the local currency wherever you go. Cash can be exchanged at an authorised foreign currency outlet in New Zealand or overseas. Many banks, for example, allow you to buy foreign currency, as do agencies such as Travelex. It's usually recommended that you take some foreign cash with you to pay for purchases or services that don't accept debit or credit cards.
Travellers cheques. Travellers cheques can be used as an alternative to cards or cash in some overseas locations. This travel money option allows you to get a specific amount of money in local currency, and can easily be replaced if lost or stolen. But travellers cheques are only accepted by certain merchants overseas, which does limit your options for paying with them.
In most cases, it's a good idea to take a variety of travel money options with you when you go overseas so that you have flexibility and security wherever you go.
While there are some ways to reduce overseas ATM withdrawal fees, this is just one of the charges that could apply when you get cash out using a credit card. Understanding the range of different fees involved, and the other options available to you, means that you can choose a convenient and affordable way to make payments when you're travelling overseas.
Frequently asked questions
Back to top
Pictures: Shutterstock.
More guides on Finder