Finder is committed to editorial independence. While we receive compensation when you click links to partners, they do not influence our content.
How to watch Netflix on your Google Chromecast
You don't need a smart TV to stream the latest Netflix shows on the big screen

Most TVs sold these days are smart TVs, and most of those smart TVs come bundled with a dedicated app for watching Netflix from the comfort of your couch. However, what if you're still rocking a perfectly serviceable "dumb" TV with no built-in Netflix support to speak of? Is an expensive TV upgrade your only option for binge-watching Game of Thrones on the big screen? Thankfully, the answer is a resounding no. There's a far cheaper way to get your Netflix fix on your modest TV, and it involves a handy little device known as a Google Chromecast. By plugging this small dongle into the HDMI port on your TV, you can beam Netflix directly to the big screen from your phone, tablet or computer. How does this work? Let's work through the simple set-up process.
Read more about Netflix prices and plans here.
How to set up Netflix on Google Chromecast
Regardless of which model Google Chromecast you own, setting up Netflix is quick and easy. Just follow these simple steps:
Plug the Chromecast dongle into one of the HDMI ports on your TV.
Plug the Chromecast's power cable into a suitable power socket.
Switch your TV to the appropriate HDMI input.
If you haven't already configured your Chromecast, follow the on-screen prompts to connect it to your home Wi-Fi network.
Open up the Netflix app on your mobile device or the Netflix website in the Google Chrome web browser on your computer.
Find the "cast" iconand click or tap it.
Select the name of your Google Chromecast.
Pick a TV show or movie and hit play to stream it to your TV.
---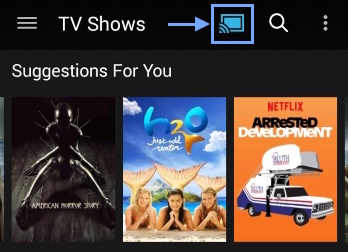 Once you connect Netflix to your Chromecast (the "cast" icon becomes coloured blue to indicate an active connection), your computer or mobile device acts as a remote for Netflix on your TV.
You can pause, resume, skip and choose new content from the Netflix app or website, and your TV responds accordingly, giving access to all the usual options with the benefit of a larger, sharing-friendly screen.
---
Frequently asked questions
Have a look at these FAQs if you're having trouble setting up or watching Netflix on Google Chromecast.
Why can't I see the Chromecast symbol in Netflix?
If the "cast" icon

isn't showing in the Netflix app or your Google Chrome web browser, check the following:
Your Chromecast is connected to the same Wi-Fi network as your mobile device or computer.
The Netflix app on your mobile device is up to date.
The name of your Chromecast doesn't contain any special characters like emojis.
If you're running an older version of a Google Chrome browser, make sure that the Chromecast extension is installed, and your computer and Chromecast are on the same network.
Why isn't Netflix connecting to my Google Chromecast?
If you can see the "cast" icon, but you're having trouble getting the Netflix app or website to connect to your Chromecast, try rebooting both your mobile device or computer and Chromecast. If that doesn't work, double check that all your devices are on the same Wi-Fi network and the Netflix app is up to date.
How do I turn Chromecast off?
By default, Google Chromecast goes into standby mode when you turn your TV off or switch HDMI inputs. If you want to turn it off completely, you need to unplug its power cable.
How do I switch Netflix back to my mobile device or computer?
To stop streaming Netflix to your TV and go back to watching it on the smaller screen of mobile device etc, tap or click the "cast" icon and select your device from the list that appears.
Can I use Chromecast on different TVs?
You can easily move the Chromecast dongle between TVs, as long as they have a free HDMI port to plug it into. Provided you're connecting the Chromecast to the same Wi-Fi network, you don't even need to go through the set-up process again.
Can I use my Chromecast when I travel?
You can take your Google Chromecast with you when you travel, and watch Netflix on the go, as long as the service is available in the country you're visiting. However, there may be a few issues if you're trying to stream Netflix to your Chromecast in a hotel or school, as these venues may have configured their Wi-Fi networks in such a way that prevents Chromecast from working correctly.
Picture: Shutterstock