Finder is committed to editorial independence. While we receive compensation when you click links to partners, they do not influence our content.
Compare mortgage rates
See the latest home loan interest rates from available right now from trusted lenders and get the best deal for you.
Finding a great mortgage doesn't have to be difficult, and Finder helps you compare mortgage rates from lenders. You can apply directly with the lender or contact a mortgage broker for expert help.
We regularly update our mortgage rates from lenders across New Zealand, including banks, non-banks, and credit unions.
Current mortgage interest rates
Interest rates indicated below are per annum (p.a.).
What is a mortgage?
A mortgage is the money you borrow from a bank or lender to purchase a home or investment property.
When you borrow funds from a lender, you then repay the amount according to a mortgage repayment schedule and the lender charges you interest.
The money you borrow is called the loan principal. The interest your lender charges you is determined by the mortgage's interest rate. In 2021, interest rates dropped to the lowest levels they've ever been, meaning it has never been cheaper to take out a mortgage.
How much of a deposit do you need?
New Zealanders typically borrow between 80% and 90% of a property's value, which means you need to save or gather together a deposit worth 10-20% of the property's value. The difference between the mortgage amount and your property's value is the deposit that you must pay. The percentage of your home's value compared to your mortgage amount is your loan to value ratio (LVR).
For example, if you want to buy a home worth $700,000, you need to save $70,000 to have a 10% deposit. Or you could save $140,000 for a 20% deposit, which allows you to take out an 80% mortgage.
The benefit of an 80% loan is that you won't need to pay lenders mortgage insurance (LMI).
For first home buyers, you may even be able to buy a home with as little as a 5% deposit without paying LMI as part of the First Home Loan scheme.
While most banks want to see evidence of genuine savings for your mortgage deposit, first home buyers may also have access to other grants to help them make up the deposit.
What is a typical mortgage (home loan) term?
A typical loan term for Kiwi mortgages is 30 years, although it may be possible to work with your bank or lender to choose a different length mortgage term, and with some loans, you can make extra repayments to repay your mortgage faster.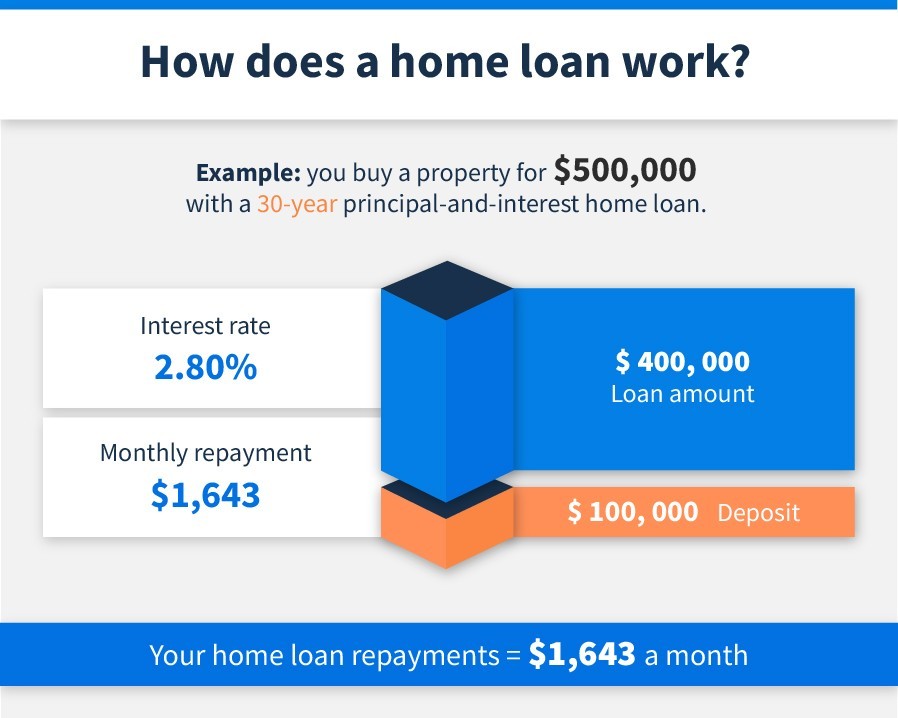 How do I avoid paying too much for my mortgage?
When you compare mortgages, the interest rate is often the first thing borrowers look at because the interest rate has the most significant impact on your repayment costs.
However, it's essential to look at other details, such as the purpose of your mortgage (whether you're buying a home or an investment property or you're refinancing an existing mortgage). Plus, your interest rate type (fixed or floating), repayment type (principal and interest or interest only), and which loan features you need.
There are a few more elements involved in finding the right mortgage for you. First, ask yourself the following questions:
Why do I need a mortgage?
The reason you need the mortgage is going to determine the type of loan you apply for. If you're borrowing money to buy a home to live in, you need an owner-occupier mortgage. If you're purchasing an investment property, you're looking for an investment loan.
If you're looking to buy an investment property, consider that investment loans typically have slightly higher rates than owner-occupier mortgages. In some cases, an investor may be less focused on finding the lowest possible interest rate and more interested in finding a loan provider with more generous lending criteria so that it's easier to receive approval.
If you already have a mortgage and you haven't reviewed it or made any changes in the last 12 months, it may be time to consider refinancing.
When you refinance your mortgage, you're essentially transferring your debt from one lender to another. There are mortgages for refinancing on the market that not only offer competitive interest rates but may offer a mortgage cashback simply for moving your loan.
Of course, before you refinance, you should work out any switching costs before applying for the new mortgage. However, refinancing can save you thousands of dollars in loan repayments and might only take a few hours of assembling paperwork and payslips to achieve.
Do I want a fixed or floating rate?
You can choose between a fixed or floating interest rate for your mortgage. A fixed-rate mortgage has an interest rate locked in for a fixed period (usually one to five years), while a floating rate can change at the lender's discretion.
Floating rate mortgages
Mortgages with floating interest rates can change at any time and typically offer more flexibility than fixed rates. There are no breaking costs associated with refinancing a floating rate mortgage, and they are more likely to come with features like extra repayments and offset accounts.
Floating rate mortgages are more suitable for those who wish to pay off their loan as quickly as possible, as extra repayments allow you to make more headway with your loan principal.
When it comes to making extra repayments, even small additional contributions add up. For example, let's assume you have:
A loan worth $600,000
Your interest rate is 2.5% on a 30-year floating rate mortgage
You make an extra repayment of $100 per week, from day one of having the loan
According to these calculations, you will pay off your mortgage 6 years and 4 months sooner and save more than $58,000 in interest throughout the loan.
Fixed-rate mortgage
With a fixed-rate mortgage, you can lock in a specific interest rate for a period, typically between one and five years, which means you know what your repayments are each month because the rate doesn't change for this fixed time.
If your bank or lender increases their floating rate mortgages, your repayments aren't affected, and this applies whether interest rates rise or fall.
Fixed-rate mortgages are less likely to come with offset accounts or allow unlimited extra repayments. Plus, if you want to refinance a fixed-rate mortgage during the fixed period, there is a loan break cost to consider, which can be very expensive.
What mortgage repayment type do I need?
Another decision you have to make is your mortgage repayment type. Again, you have two options: principal and interest or interest only.
Principal and interest repayments. With a principal and interest mortgage, you repay the money you borrow (the loan principal) plus the interest charges simultaneously, which means that your monthly repayments are higher. However, you actually repay your debt and pay less interest in the long run.
Interest-only repayments. With interest-only repayments, you can avoid repaying any principal for an early period of the mortgage. Instead, you just pay the interest charges and ignore the loan principal. However, eventually, you have to pay back the mortgage, and making interest-only repayments for a while makes the overall loan more expensive.
Most borrowers in New Zealand opt for principal and interest mortgages because as you repay the loan, you gradually build home equity and own more of your property. Equity, if you're unaware of the term, refers to the value of your home minus any debt you owe on it. For example, if your home is worth $800,000 and you owe your lender $200,000, your equity is $600,000.
Why do some borrowers choose interest-only mortgages?
For investors looking to maximise their tax position, interest-only investment mortgages make sense. Interest costs are tax-deductible for investors, which means that the entire mortgage repayment is just interest (no principal), and you can claim the whole amount against your tax, which can help keep mortgage costs down for landlords.
While interest-only repayments don't allow you to make any headway with the mortgage principal, they do enable you to make progress with other non-tax deductible debts, such as your own home.
For example, suppose an investor has an owner-occupier mortgage and an investment mortgage. In that case, they may be better off paying the minimum possible amount (i.e. only the tax-deductible interest payment) on their investment loan. By doing this, they can funnel the extra funds into paying as much as possible off their owner-occupier mortgage.
Some owner-occupiers choose to make interest-only repayments when they have trouble covering repayments due to job loss or increased expenses, or perhaps because of a short-term financial change, such as being on maternity leave.
Bear in mind that when you choose an interest-only mortgage, you make no progress on the principal, so you should think carefully and consider getting professional advice from an accountant before choosing this repayment type. In addition, it's a good idea to consider how much rental income you receive for the property when deciding how much you can afford in mortgage repayments. If the rent doesn't cover the mortgage repayment, an interest-only mortgage could help to keep your monthly costs affordable.
Here's an example of the difference between the two repayment types:
Principal and interest vs interest-only repayments
Details
Principal and interest
Interest only
Loan amount
$400,000
$400,000
Loan term
30 years
30 years
Interest rate
2.80%
2.80%
Interest-only period
N/A
3 years
Monthly repayments
$1,644
$933 (during the interest-only period)
$1,761 (after interest-only period)
Total loan cost over 30 years
$591,688
$604,117
The difference in overall cost
$12,429 cheaper
$12,429 more expensive
How do I compare mortgage interest rates?
A good mortgage comparison starts with a careful look at interest rates, as it's the key component. The lower the rate, the lower your repayments are. It's as simple as that.
Here's the difference in repayments between a 3.50% and a 3.00% interest rate (on otherwise identical mortgages with 20% deposits and principal and interest repayments).
| Interest rate | 3.50% | 3.00% |
| --- | --- | --- |
| Mortgage amount | $400,000 | $400,000 |
| Mortgage term | 30 years | 30 years |
| Monthly repayments | $1,796 | $1,686 |
| Savings (monthly) | N/A | $110 cheaper |
| Savings (yearly) | N/A | $1,320 cheaper |
| Savings (life of the loan) | N/A | $39,600 cheaper |
Over 30 years, that tiny 0.5% difference in the interest rate could save a borrower an enormous $39,600 in interest charges.
How do I compare mortgage features and fees?
Beyond the interest rate, comparing mortgages means looking at fees and the various features they come with. A mortgage with the right features gives you more control over your money and unlocks new ways to use your loan to your advantage.
Comparison rate
The comparison rate does what its name suggests: it helps you compare a mortgage. This rate is a mortgage's interest rate, plus the cost of fees taken into consideration. It is a legal requirement to be displayed on all loans, but only a hypothetical calculation.
Features
Not every mortgage comes with the same features. However, here are the standard, useful ones:
Offset accounts.

A

100% offset account attached to your mortgage

is a bank account that lets you save and spend money like a standard savings account. However, any dollar saved in the account temporarily offsets your mortgage amount, meaning you are charged less interest. This feature allows you the flexibility to save cash while having a similar benefit you see from making extra repayments. Not every mortgage has an offset account.
Extra repayments.

If your mortgage allows you to

make extra repayments,

you can repay it faster, saving you in interest charges. These days most mortgages allow extra repayments, although some fixed-rate mortgages do not.
Redraw facilities.

A

redraw facility

is standard on mortgages that allow extra repayments. It's a feature that will enable you to withdraw your extra repayments from your mortgage and spend them if you need them. It's helpful in financial emergencies but less flexible than an offset account.
Portability.

If your

mortgage

is portable,

that means you can sell your property and buy a new one with the same loan. You won't need to refinance, which makes life easier.
Split facility.

Some mortgages allow you to split your mortgage into both fixed and floating portions, which lets you create a flexible loan that offers the best of both fixed and floating rate types.
Loan-to-value ratio (LVR)
The loan-to-value ratio (or LVR) is another way of saying minimum deposit. For example, most mortgages have a maximum LVR of 80%, meaning you need a 20% deposit.
However, many mortgages also have a maximum insured LVR of up to 95%, which means you can get the loan with a smaller deposit. However, you need to pay lenders mortgage insurance (LMI) when your deposit is under 20%.
Fees
It's hard to go through the mortgage process without paying some fees. Therefore, you should always factor costs into your loan comparison.
Examples of mortgage fees include:
Application fee.

A

one-off fee many lenders charge during the application stage.
Ongoing fees.

Some mortgages come with a monthly or annual fee.
Valuation fee.

The valuation fee covers your lender's cost to have your property valued by an expert.
Legal fees.

These pay your lender's conveyancing costs.
Discharge fee.

A discharge fee is only charged when you end a mortgage, either refinancing or repaying the loan.
How much can I afford to borrow?
Borrowers typically save a 10% or 20% deposit, which can be a huge amount of money. Here are some simple examples:
| Property value | 10% deposit | 20% deposit |
| --- | --- | --- |
| $400,000 | $40,000 | $80,000 |
| $600,000 | $60,000 | $120,000 |
| $800,000 | $80,000 | $160,000 |
| $1,000,000 | $100,000 | $200,000 |
Every lender works out your borrowing capacity with their own formula, which means the amount you can borrow varies. Their calculations depend on things like:
Your income and expenses
Your debts and liabilities
Your

deposit size
The value of your property
Your credit history
Your

employment history
To maximise your chances of having a mortgage approved or borrowing more, you should check your credit score in advance, minimise your spending in the months before applying for a mortgage and focus on paying down any outstanding credit card or personal loan debts.
How to compare lenders
Your choice of lender depends on which one offers a competitive mortgage that suits your needs, but critical in this comparison is finding a lender willing to lend to you.
What does this mean? A lender is taking a risk by lending you money. Every mortgage provider has a different appetite for risk, depending on the borrower's financial history and ability to repay the mortgage.
Here are some ways that lenders vary when it comes to your mortgage application:
Property type.

Some lenders aren't comfortable lending to people buying apartments in postcodes with many apartment buildings, as they see it as a higher risk. So they might only lend you 70% of the property value or reject your application.
Location.

Many lenders only lend to borrowers in specific areas, while smaller online lenders specify something like "metro and regional cities only".
Deposit size.

If your deposit is below 20%, you'll find that some lenders look at your application more closely or simply reject your application. Others happily lend 90% or more.
Borrowing power.

Every lender calculates your borrowing power slightly differently. As a result, you may find one lender willing to lend you tens of thousands of dollars more than another. Most mortgage providers have

borrowing power calculators

that you can use to understand better how much they can lend you.
The best way to work out if you have a good chance of receiving approval is to ask questions before submitting a complete application. For example, let your prospective lender know the postcode you're buying in, your property type and your deposit size (you can provide estimates if you haven't found a place yet but know roughly where and what you are looking for).
If the lender offers mortgage pre-approval, this can be a great way to get a clearer sense of what the lender can provide before submitting a complete application.
There are more factors that borrowers need to consider that are specific to each lender and require you to do some quick research.
Customer service.

Read online reviews to see what kind of customer service you can expect. You can also judge this yourself based on how helpful and responsive a lender is when you enquire.
Application method and speed.

If you need a mortgage organised quickly, an online lender with a fast application process could be a good option. However, if you want face-to-face guidance from a lending specialist, then a lender with a local office or branch is the way to go.
Post-settlement service and mortgage tools.

Once you get the mortgage, your relationship with the lender is just beginning. First, check to see if the lender has an app or convenient online service that allows you to track your repayments. If the mortgage has an offset account, check how you can access any money you've saved. For example, the lender may have online banking but no app.
How do I apply for a mortgage?
Once you finish your mortgage comparison, you need to apply for a mortgage. However, remember that the mortgage is just one part of the home buying process, which involves a property search, inspections, conveyancing and much more.
Here's a general breakdown of how the home buying and mortgage journey works (although everyone's own experience looks a little different):
1. Figure out your borrowing capacity and budget
Look at your income and expenses to work out how much you can afford to borrow. Next, look at prices in the area you are keen to buy in and get a realistic sense of your budget. This step guides your whole buying journey.
2. Save a deposit
You need at least 5% of the property's value saved. However, having a 20% deposit puts you in a much stronger position when you approach a lender.
3. Find a property
The search for the perfect property can be a long one, but it's essential to get it right. Look online, go to as many inspections as you can and find the home or investment that's right for you.
4. Compare mortgages
Find a mortgage that suits your borrowing needs and has a competitive interest rate. You can also consider mortgage pre-approval, where a lender has a cursory look at your savings, income, and expenses and suggests an amount they may be willing to lend you. It's not binding, but it can help you know your borrowing capacity while looking for properties.
5. Sign a
sale and purchase agree
Once you and the vendor have agreed on a price for the property, you sign a sale and purchase agreement, which means the property is under conditional contract. It is also time to talk to a licensed conveyancer who looks over the contract and guide you through settlement.
6. Apply for a mortgage
Once you buy your property, it's time to apply for a mortgage officially. You need documents to establish your identity, payslips and account information, plus the property address.
7. Approval and settlement
Your lender approves your application (fingers crossed), and now you wait until settlement day, the day you legally become the property owner, and the mortgage begins. There's not much to do but wait at this point, although your conveyancer or lender may request additional information from you. Now is an excellent time to get your home and contents insurance sorted. Before settlement, your conveyancer, the seller's conveyancer and the lender's conveyancer all communicate and perform the necessary legal checks to complete the transfer of the property title and the provision of funds.
8. Get the keys and move in
After settlement, the place is all yours. Now you have to focus on paying off your mortgage.
How can a mortgage broker help?
With a bit of research, it's pretty simple to find a suitable mortgage yourself. However, if you are still a bit confused or have a complicated situation (if you have multiple properties or you're a self-employed borrower), then you can talk to a mortgage broker.
Mortgage brokers in New Zealand are licensed professionals who can make a mortgage comparison for you and find you a suitable loan. Brokers can't compare the whole market, but they have access to a panel of lenders. So a broker not only helps you pick a mortgage but also guide you through the paperwork and application to settlement.
The services of a mortgage broker are usually free for the borrower. That's because your lender pays the broker a commission. Take a more in-depth look at how a mortgage broker can help.
Bottom line
Buying a house is among the most significant investments most of us make. Set yourself up for long-term success by narrowing down the type of mortgage that fits your needs, budget and property. A decent rate and term can provide peace of mind and save you thousands over the life of your mortgage.