Finder is committed to editorial independence. While we receive compensation when you click links to partners, they do not influence our opinions or reviews. Learn how we make money.
Skinny Mobile Plans
Don't want to be tied into a contract? Skinny offers affordable prepaid plans with options to suit every lifestyle.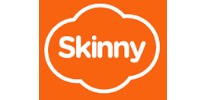 Is Skinny right for me?
What does Skinny offers: Prepay plans for either one or four weeks
The highlights: Affordable plans, cheaper roaming than other providers; bring your number; Free Data Weekends; Buddy Rewards
Watch out for: Reduced speed when you hit a data cap on unlimited plans; no physical stores; need to check if your phone will work with a Skinny SIM.
Plans are stripped back and easy to understand, plus there are many add-ons to purchase when you need extra data or talk time. Skinny uses Spark's 4G network and also provides broadband services.
Types of plans offered by Skinny
Skinny provides prepay only mobile plans with weekly or four-weekly options.
All plans include minutes and texts that can be used for New Zealand and Australia apart from Skinny's $7 Weekly plans which is for New Zealand only.
Weekly plan
Renewing every seven days, a weekly plan gives you a set amount of minutes, texts and data to use over one week.
The Auto Renew Bonus on the $7 Weekly plan gives you an additional 500 minutes and 500 texts to use for contacting friends and family who are also on Skinny. The bonus lasts for 7 days.
4-Weekly
4-Weekly plans last for 28 days and come with minutes, texts and a data allowance.
Apart from the cheapest plan and an Unlimited Mobile plan, all are rollover plans which means that any data or minutes you don't use carry over to the next billing cycle.Topping up
To top up your Skinny mobile you can do this either online, through a mobile app or by purchasing a voucher from a participating retailer. You'll need to make sure you have enough credit for your plan to renew.
If you have a 4-Weekly plan, you can set up the auto-top up function so that your plan charge is automatically deducted from your credit or debit card.
Add-ons
When you need a little extra, you can purchase various add-ons for your Skinny mobile plan. Depending on your plan, you may be able to purchase extra data, texts, minutes or Skinny minutes and texts. Costs range from $1 for 250 texts through to 2GB of data for $15. You can also add an International Calling add-on, which for $10 you get 300 minutes to use to call 24 countries over 30 days.
If you're going to be using a lot more data than usual in a specific time frame and you are not on an Unlimited plan, you can take advantage of Skinny's Data Binge. Data Binge means that you have access to unlimited data for a set ammount of time to be used when you activate the add-on. 10 minutes of unliited data costs 50c, 1 hour is $1, 4 hours is $2 and 12 hours is $4.
When it comes to roaming, Skinny provides affordable roaming packs that you can use while traveling to over 30 countries. You can choose between either a 3- or 7-day pack that includes data, minutes and texts, or a data-only pack for 7 days.
NZ Travel SIM
Visitors to New Zealand can pick up one of Skinny's NZ Travel SIMs from either Paper Plus or i-SITE and activate a plan to use while in the country. Plans last for either 30 or 60 days, and then the SIM is still valid to use on any of Skinny's other mobile plans. Details of what plans are available on the NZ Travel SIM are in the table below:
| Plan type | Data | Minutes (NZ & AU) | Minutes (International) | Texts (NZ & AU) | Cost |
| --- | --- | --- | --- | --- | --- |
| 30-day travel plan | 2GB | 200 | 200 | 200 | $28 |
| 60-day travel plan | 6GB | 200 | 200 | 200 | $48 |
| 60-day data only | 20GB | N/A | N/A | N/A | $88 |
International minutes can be used to call 24 countries (China, Fiji, Hong Kong, India, UK, USA, Canada, Singapore, Thailand, Belgium, France, Denmark, Germany, Italy, Poland, Portugal, Spain, Sweden, South Korea, Malaysia, Bangladesh, Ireland, Netherlands or South Africa).
Extras and rewards with Skinny
Free data weekends. From 8 November 2019 to Sunday 1 March 2020, Skinny provides 2GB of free data every weekend if you're on an eligible rollover plan.
Buddy Rewards. If you refer a friend to Skinny before 1 March 2020 and they sign up on a 4-Weekly rollover plan, you'll get $20 credit plus an extra 1GB of data for free data weekends. Your friend also benefits, with a free 4GB of data once they are all set up.
Product highlights
No contracts. By prepaying either weekly or monthly, you can have more flexibility to change your plan or cancel at any time.
Keep your number. If you are transferring to Skinny from another provider, you can keep your existing number whether you have been a prepay or pay monthly customer.
Purchase a new mobile. If you need a new mobile, Skinny has a selection of phones from Apple, Huawei, Samsung, Nokia, Oppo and Skinny own brand to purchase.
Kiwi support. Skinny has a local Customer Care Team, available Monday through to Sunday. There is also a dedicated roaming helpdesk if you are having issues while overseas.
What to be aware of
Skinny doesn't have its own physical stores, so all communication is done by phone, live chat, email or through Facebook. The Customer Care Centre is usually closed on public holidays.
If you use up all your minutes and texts on your plan, you will be charged overage rates. For 4-Weekly plans these are 20c per minute and 20c per text. On other plans you will be charged 43c per minute and 8c per text. Once you've reached your data limit, your access will stop so you will need to purchase a data add-on to get online again.
When choosing a Skinny Unlimited weekly plan, your speeds will be reduced once you hit 10GB. On a 4-Weekly plan, speeds reduce after 40GB of data use. You can not purchase a Data Binge and unused data does not roll over to the next billing cycle.
With some mobiles being locked to certain networks, there is a chance that yours won't work with Skinny. Phones purchased from Skinny or Spark will work, but for other mobiles you can enter your phone's IMEI number on the Skinny website to check before purchasing a SIM.
Since Skinny does not offer pay monthly contracts, you'll need to pay the full price of a new phone upfront rather than enjoying spread out interest-free payments.
How to switch to Skinny
Whether you are a new mobile customer or you have an existing plan with another provider, you can join Skinny by buying a SIM either online or from a retail partner or branded dairy. Retail partners include selected supermarkets, petrol stations and electronics stores.
Skinny SIMs come in three sizes – Standard, Micro and Nano – so you'll be able to get the right fit for your phone. If you are purchasing online, you can expect to receive your new SIM within three working days.
Once you have your SIM, you'll need to dial 456 to activate the SIM and then sign up for an online account. If you want to keep an existing number, you can submit a 'Keep my number' request for Skinny to transfer the number to its network.
Our verdict
Skinny is worth considering if you are looking for a cheap mobile plan and don't want to be locked into a contract.
We like that you can choose between 4-Weekly or Weekly plans so you can have flexibility and you can change your plan at any time. There are plenty of add-ons to keep you going when you run out of data or minutes, and Skinny has one of the most (if not the most) affordable roaming packs of any New Zealand provider.
While there are no physical stores, Skinny's local support team are reachable by phone or online in case. However, this could be a dealbreaker for you if you like being able to go and speak to someone when you have an issue.
More guides on Finder