Finder is committed to editorial independence. While we receive compensation when you click links to partners, they do not influence our content.
Long term travel insurance
Looking for long stay travel insurance for trips longer than 12 months?
Most standard single trip policies will provide cover for a maximum of 12 months so if your planning gaps year or a backpacking adventure, you may need the flexibility of a policy that will let you go for longer than 12 months or extend your cover while your away. Long term travel insurance is designed to cover travellers taking extended holidays. While the duration of cover varies between providers, some insurers cover trips that last up to 18 months. Most brands will allow you to extend your policy while you are away.
Keep reading to find our more about long term travel insurance and who provides these policies.
Compare long term travel insurance
Who might consider long term cover?

Are you going backpacking?
The first group of people who can benefit from long term travel insurance are backpackers. Whether you're on a gap year or have simply decided to chuck in your job and get out and see the world, a backpacking holiday is all about taking your time, which is why backpackers can benefit from a long term travel insurance policy. These policies generally cover:
Trips of up to 18 months
Additional cover for many sport and leisure activities
Affordable for budget travellers.
Do you travel a lot for business?
Many business travellers can also benefit from a long term travel insurance policy. Also referred to as expat insurance, this type of cover is designed to offer Kiwis who take up work postings overseas for extended periods of time. Because a business traveller's insurance needs will differ from those of their colleagues back home and in their temporary overseas residence, they'll need insurance specifically tailored to their needs. Policies offer cover for things like medical emergencies, trip disruptions and rental vehicle excess.
How much does long term travel insurance cost for popular destinations?
As you budget for your travel, travel insurance is an additional cost you must consider. Below: the cost increases with the length of trip and is different for each destination e.g. a one year's cover for Thailand is $290 less then for a year's cover to the USA.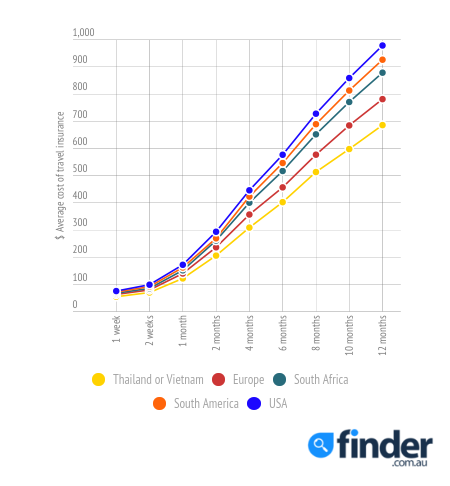 Cost based on an 18 year old traveller. Prices subject to change
How do I find suitable cover for my trip?
When you're shopping for insurance of any kind, the best thing you can do is conduct plenty of research and shop around. Travel insurance is an important expense for all types of travel, so finding a policy that meets your needs is crucial. First, you'll need to consider your trip:
Do you know where you're going and what you're doing? Assessing your trip plans will help you determine the type and level of cover you need, and once that's done you can start comparing policies.
Have you read the PDS? You should also read the policy documents of a number of competing insurance plans to work out what is and isn't covered under each one.
Have you got multiple quote? Obtaining multiple quotes is a good idea to help you determine how much cover will cost and the true value of each long term travel insurance policy on offer.
Does the policy cover the entirety of your journey? Make sure the policy you choose will cover you for the entire length of your trip and offer protection against any risks you are likely to face while travelling.
Back to top
What are the benefits of this cover?
While cover differs between policies and providers, a long term travel insurance policy will typically offer the following benefits to policyholders:
Am I covered for overseas medical emergencies? You will receive cover for the cost of ambulance transportation, medical expenses, hospital expenses and emergency dental expenses incurred while overseas.
What happens if I need medical evacuation? Many policies will also provide coverage for your emergency medical evacuation, or repatriation back to New Zealand if required.
Does the policy cover funeral expenses? If you die as a result of an injury or illness you sustain during your trip, many policies provide a benefit payment to help cover your funeral expenses.
Am I covered for cancellation fees and lost deposits? If unforeseen circumstances (for example illness) force you to cancel or cut short your trip, you'll be reimbursed for the cost of any cancellation fees or non-refundable deposits for prepaid travel arrangements.
Does the policy cover luggage and personal effects? If your luggage and personal effects are lost, stolen or damaged, you'll receive cover for the cost of their repair or replacement.
Are you covered for travel delays? You'll receive cover for any extra costs you incur as a result of unforeseen travel delays.
What happens if my luggage delayed? If a travel provider loses or misplaces your luggage, you'll receive funds to but items like emergency clothing and toiletries.
Are my travel documents cover? Important travel documents, including your passport, will be covered by your policy. You'll also be protected against the theft of cash from your person.
Does the policy cover rental vehicle excess? If your rental vehicle is damaged or stolen, your insurance policy will cover the expensive rental company excess.
Are sports and leisure activities covered? Long term policies typically include a higher level of cover for sports and leisure activities than normal insurance policies.
Can I get cover if I have a pre-existing medical condition? It's also possible to apply for cover for certain pre-existing medical conditions such as asthma and heart disease.
Key benefits of Long Term Travel Insurance
24-hour emergency support
Cover additional high-risk activities such as mountain biking, paragliding, rock climbing and skydiving
Cover for trip curtailment due to an emergency
Cover for valuables like cameras, camping gear, e-readers, laptops, phones and tablets
Standard sports and activities covered including bungee jumping, hiking, kayaking, rafting, scuba diving and tubing
Unlimited overseas medical expenses
Can I renew my policy overseas?
While insurance providers will differ in their approach to policies, many companies will allow you to renew your insurance cover while you're overseas. As many backpacker holidays are unplanned — you often don't know how long you'll stay in one town, let alone how long you'll be away for altogether — this is an important feature of many policies. It provides the flexibility many travellers need to ensure that they still have a sufficient level of cover in place.
What are some common general exclusions?
Though no two long term insurance policies are the same, you will generally not have your claim paid if:
Your claim results from a pre-existing medical condition for which you are not covered
Your claim relates to any elective medical, dental, cosmetic or surgical procedure
You fail to take reasonable care to minimise your loss or injury
Your claim relates to you committing an unlawful act
Your claim relates to psychiatric, nervous, mental or behavioural disorders
Your claim relates to physical, mental or emotional exhaustion
Your claim is a result of an intentional self-inflicted injury
Your claim is a result of the use of alcohol or drugs, except drugs prescribed by a medical practitioner
Your claim relates to a sexually transmitted disease
Your claim arises as a result of pregnancy or childbirth
Your claim relates to riding a motorcycle (certain exceptions may apply depending on your policy)
You participate in professional sport or adventure activities
You participate in paid work that is not for your usual employer and was not arranged beforehand
Your claim relates to an act of war.
Back to top
Bottom line
If you're planning an extended trip overseas for business or pleasure, don't forget to take out an effective form of travel insurance. Long term travel insurance policies provide much-needed financial cover for an extended period of time, ensuring that you will be looked after if something goes wrong when you're far from home.
Frequently asked questions
Picture: Getty Images