Finder is committed to editorial independence. While we receive compensation when you click links to partners, they do not influence our content.
Personal loans for students
You can still access finance if you're studying. Find out the loan options you have as a student.
Studying can make it hard to make ends meet; course fees and living expenses often start piling up quicker than expected. Many students work part-time or casually, only earning minimum wage or close to it. This makes it difficult to meet the usual lending criteria for a loan. However, if you need some extra funds, there are personal loans for students available to consider.
Compare personal loans for students in New Zealand
How do personal loans for students work?
Personal loans for students work in the same way as personal loans available to others that work full-time. The main difference is the eligibility criteria, which are usually more flexible to allow those on lower incomes, with fewer assets, or with part-time jobs to apply and be approved. Because of this, student loans are usually for smaller amounts, and the terms and repayments may be stricter. However, these personal loans can also come with benefits, such as discounted interest rates or waived fees.
Keep in mind that while student loans can be used to finance a range of purposes, you may want to avoid taking out a student loan to cover small, everyday expenses. You need to factor the loan repayments into your budget before you apply, and if you are already struggling to manage everyday expenses, adding loan repayments may not be the best option.
Types of personal loans for students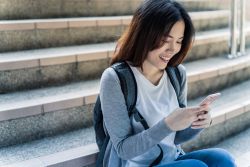 When it comes to loans for students, there are a few options available:
Secured personal loan. This type of loan requires you to attach an asset, such as a car or equity in a home, as a guarantee, to be approved for the loan. It usually comes with a lower rate due to the collateral, which can be repossessed by the lender if you default on the loan.
Unsecured personal loan. This loan does not require security, so usually comes with higher rates. It is generally more flexible and can be used for a range of purposes. Some banks offer special rates for students as part of their tertiary banking packages.
Medical student financial aid. This is an innovative type of loan offered through some medical schools, e.g. The University of Otago, to help with study fees. StudyLink will only provide a student loan that covers 8 EFTS, so extra years of study need to be paid out of pocket. Students can borrow up to $10,000, but acceptance is decided on an individual basis, and a guarantor is required.
Graduate loan. If you have completed your studies you may be eligible to take out a graduate loan. The loan can be used to finance anything of your choice and can help cover expenses while you find a job in your first couple of years out of uni.
Car loan. If you are looking to purchase a car, students can apply to take out a car loan with a range of lenders. These loans require you to attach the car to the loan as a guarantee, but in return, you can usually enjoy competitive rates and fees.
Payday loan. If you find yourself strapped for cash and in an emergency situation, you can consider a short-term loan. These are small, short-term finance solutions and can be accessed by those receiving benefits, working part-time, and those with bad credit.
Overdraft. If you open a tertiary account at your bank, you may have access to an overdraft of up to $2,000 while you are studying. Overdrafts for students are usually interest-free, but a small monthly fee could be charged when you use it.
Credit card. Many major banks allow customers with a tertiary account to apply for a low-interest credit card with a limit of $500 or $1,000. The account fee is waived for the first year or the length of time you are studying.
Buy now pay later.

You can make interest-free purchases and pay in instalments. Many retailers now offer this option, allowing you to break down your repayments into smaller, more manageable chunks. There are also buy now pay later services that let you pay your bills in instalments. Because repayment terms can be short, you should consider interest-free finance for larger purchases.
What can I use a personal loan for?
A personal loan can be used for pretty much any legitimate purpose. Common reasons students take out personal loans include:
Which lenders offer personal loans for students?
We've listed lenders and benefits and discounts for students below:
Lender
Eligibility criteria
Benefits for students
Review the loan
Kiwibank

Be at least 18 years of age
Have a stable income
Be a NZ citizen or permanent resident

Flexible payments and loan terms
No fee for additional payments
Fast funds

Review
Nectar

Be at least 18 years of age
Be a New Zealand citizen or permanent resident
Have a weekly net income of $400
Hold a bank account

Lower minimum of $1,000
Online application form
Interest rates to match your circumstances
No early repayment fee

Review
BNZ

Be at least 18 years of age
Be a BNZ customer
Be a New Zealand resident
Pass a credit check

Special interest rates for students/graduates
Lower minimum of $1,000
Flexible repayments

Review
The Co-operative Bank

Be at least 18 years of age
Be a New Zealand citizen or permanent resident
Have a good credit record

No early repayment fee
Flexible loan terms
Tailored interest rates
Discount if you bank with The Co-operative Bank

Review
How to compare personal loans for students
Before you apply for any loan, it is important to compare products with different lenders to ensure you choose the most competitive option. Here's what you should be keeping in mind:
How much can I afford? While you may be approved for the loan, bear in mind that ultimately it's up to you to decide whether you can afford the loan. Take a look at the rate, the fees, and see how much your repayments will be. If you don't think you can comfortably make the repayments, you may need to reconsider taking out a loan.
Who is the lender? Are they reputable? Can they be easily contacted? Have other customers left positive reviews of their services/products online? The reputation of the lender should help inform your decision.
How much can I borrow? You should also check the loan amount offered, to ensure it is sufficient for your needs. Keep in mind that the amount approved will depend on the criteria set by the lender and your ability to repay the loan.
How competitive are the rates and fees? Compare the rates and fees you are charged, with other similar loan products and see how they fare. Are they competitive? You want to select the product that costs you the least, so take into account the total cost of the loan including interest and applicable fees.
What are the restrictions? You should familiarise yourself with the terms of the loan to see if any restrictions will affect you. The last thing you need is to take out the loan only to find out you can't use the loan amount the way you wanted, or you can't make extra repayments as you planned.
What are the pros and cons of personal loans
Cover larger expenses. A personal loan can alleviate financial stress in the short-term if you need to buy bigger ticket items, like a laptop or car, and don't want to borrow from parents or friends.
Improve credit score. If you make all your repayments on time, your credit score will improve, making you eligible for further credit in the future.
Package options. Some lenders offer student package options that allow you to combine loans with transaction and savings account, credit cards and other products to save money.
Tailored products. As the needs of many students are unique, many lenders have developed innovative loan products specifically for them.
Flexibility. Some student loan products have flexible features that can help you to manage your loan better.
Fewer options. As students generally work fewer hours and earn less money than those in full-time positions, there may be fewer loan options available.
The risk of getting into debt. If you work casual hours or are on a strict budget, taking on a loan may put you at risk of getting into a cycle of debt.
Risk of paying extra. If you don't make repayments on time, you'll be charged late and default fees. This will also show up on your credit report.
What other finance options are available for students?
Personal loans are one way to access the funds you need. However, they are not suitable for everyone. Students are generally on tight budgets and taking on a loan is a serious and long-term commitment.
There are other options to explore if you need money to meet your living costs or for unexpected expenses:
Student hardship grant. Many universities have a hardship grant to help students that are struggling with their expenses. Applications are considered on a case-by-case basis.
Scholarships. While not a fast solution, there are scholarships to help with course fees, accommodation and living expenses.
WINZ. Even if you are already receiving a student allowance through StudyLink, you may be eligible for additional financial support from WINZ. There are allowances for people with ongoing health conditions, temporary additional support payments and special needs grants for unexpected expenses.
5 student money tips
How do you make your money last when you are approved for a loan? We've got 5 tips to help keep you on track:
Make use of student discounts at local retailers and online – this can often be around 10%.
Make your own coffee and use a reusable travel coffee mug in the mornings; keep coffees out to social occasions.
Buy or borrow secondhand textbooks.
Do up a budget and stick to it.
Sell clothing items you don't wear and buy secondhand on Trade Me.
Check out our article on 20 Top Money Tips for Students for more ideas.