How to send money to South Korea
Find out about safe, secure and cost-effective transfer options when you need to send money to South Korea.
Whether investing in high-tech Seoul or helping a family member visit a UN-designated cultural heritage site, sending money to South Korea shouldn't be a headache or huge expense.
Compare several transfer providers to find the one that fits your needs, and you can get funds to friends, family members or colleagues in South Korea easily.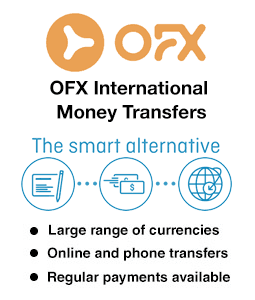 OFX International Money Transfers
Exclusive offer: OFX is currently offering exclusive exchange rates to Finder readers.
$0 transfer fees. Send fee-free transfers to a large selection of countries worldwide.
Transfers in 50+ currencies. OFX supports major, minor and exotic currencies.
Flexible options. Choose from forward contracts to scheduled transfers for convenience and flexibility.
Compare money transfer services to South Korea
Use the table below to see what your transfer could look like at different companies.

Disclaimer: Exchange rates change often. Confirm the total cost with the provider before transferring money.
How do international money transfers work?
An international money transfer allows you to send money to a recipient overseas. Generally, a transfer involves you providing funds to a bank or an independent transfer provider, which then sends the money to your recipient in another country — in this case, South Korea.
This can be done in person or online. You can use cash or transfer funds from your bank account, which will then either be deposited into your recipient's bank account or made available as cash for them to pick up at a location in their country.
How do exchange rates work?
The exchange rate determines how much one country's currency is worth in another currency. When a country's currency is strong, it will yield more money when exchanging it in a country with a weak currency. For example, in September 2018, the New Zealand dollar was worth approximately 747.41 South Korean won.
South Korea's exchange rate is flexible, which means it can change from moment to moment. Factors that influence the exchange rate include interest rates, economic stability and inflation.
Live NZD > KRW exchange rates
Banks versus money transfer companies
The first place many people go when they need to send an international money transfer is to their bank. While banks can certainly send money overseas for you, their fees are often higher compared to companies that specialise in international money transfers.
These money transfer companies focus on international transactions and can offer much better exchange rates than most banks. This means that you save money, and your recipient ends up with more South Korean won in their pocket.
How to compare transfer companies when sending money to South Korea
Exchange rates. How do each company's exchange rates compare to the competition?
Fees. How much will you have to pay every time you send a transfer? Can you avoid a transfer fee if you send a larger amount?
Transfer methods. Can transfers be placed online, over the phone, by visiting a branch and/or by using a mobile app?
Transfer options. Can you lock in an ideal exchange rate now and transfer the money later, known as a forward contract? Does the institution offer limit orders, which allows you to take advantage of changing market conditions by executing the money transfer when a certain exchange rate is met? Can you schedule reoccurring payments, or does the company only provide one-off spot orders?
Turnaround time. Will the funds be available for your beneficiary in minutes, or will they take several working days to arrive?
Minimum transfer amount. What is the minimum transfer limit imposed by each company, and will this affect the size of your transfers?
Pick-up methods. Can your beneficiary pick up the cash from their nearest transfer agent, or will the funds be deposited into their bank account?
Customer service. What sort of customer support is offered and during what hours can you receive assistance?
Back to top
Example: Cliff sends money to South Korea
Cliff is buying an antique vase from a private seller based in Seoul. Having agreed on a price of $1,000, Cliff looks for the most affordable way to send this sum to the seller.
But Cliff suspects the exchange rate offered at his New Zealand bank is not competitive, so he decides to check out the features, benefits and costs of a money transfer company. This is what he found.
| | Money transfer company | Bank wire transfer |
| --- | --- | --- |
| Transfer fee | $16 | $70 |
| Transfer method | Cash pick-up only | Bank deposit or cash pick-up |
| Transfer options | One-off spot orders only | One-off spot orders only |
| Payment method | Bank deposit, credit card, debit card or cash | Bank deposit, credit card or debit card |
| Processing time | 10 minutes | Up to four business days for bank deposit, 15 minutes for cash pick-up |
| Difference in fees | This company is $54 cheaper | |
As you can see, the fee charged by the bank is substantially higher than that charged by the first service, allowing Cliff to save more than $50.
What are my options for sending money to South Korea from New Zealand?
Bank transfers. Bank-to-bank transfers may cost more than other options but they are a secure way to send money to South Korea.
Online money transfer providers. A reliable online money transfer company can offer fast and cost-effective transactions.
Money transfer companies with cash pick-up options. MoneyGram and Western Union are the world's two largest providers of this service.
PayPal. PayPal offers secure international money transfers to South Korea and many other destinations around the world.
Cheques. International cheques can be obtained from New Zealand banks and then sent overseas.
How to send money to South Korea
Choose a provider that fits your needs for sending money to South Korea.
Provide your name, address, contact information and any required documentation.
Provide your recipient's name, address and information, along with their bank account info if you're sending a bank transfer.
Select the amount to transfer and complete your transaction.
Make a note of a tracking number you may receive so you can monitor the progress of your money transfer.
Back to top
---
Same-day cash transfers in South Korea
There are certain situations when you might need to send a transfer as quickly as possible. When you do need to send an emergency transfer, remember that you will usually have to pay extra in order to get your funds to your beneficiary ASAP. Make sure to check the exchange rate and fees that apply so you know exactly how much it will cost.
Tips for picking up cash in South Korea
Picking up cash from a transfer agent in South Korea? Follow a few simple steps to ensure that you and your money stay safe:
Avoid any areas where crime is known to be a problem.
Keep your wallet and/or bag safe and secure at all times.
Take a friend along to provide additional security and peace of mind.
Don't flash your cash around in public.
Don't carry large sums of money around for any longer than is absolutely necessary.
Back to top
Cash pick-up locations in South Korea
Read more on this topic