Finder is committed to editorial independence. While we receive compensation when you click links to partners, they do not influence our content.
Compare house and contents insurance
Find out why house and contents insurance is well worth every cent. We'll also share some tips on how you can save on premiums.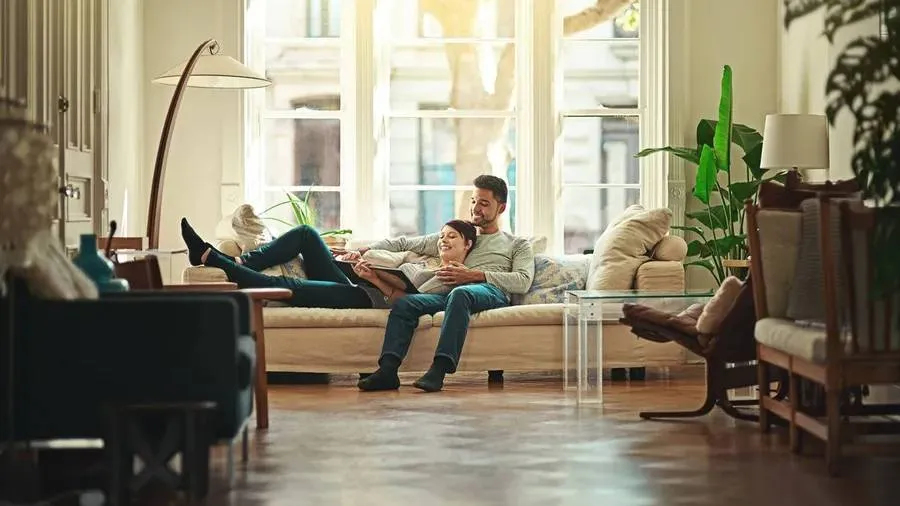 What would you do if someone broke into your home and swiped your TV? How upset would you be if a storm ripped through your neighbourhood and decided to be especially unkind to your home? When things just aren't going your way, house and contents insurance is there to pick you up again.
Compare house and contents insurance policies
What is house and contents insurance?
Your home is often the biggest purchase you will make. A combined house and contents policy includes the following:





House insurance

Covers the physical structure of your house and anything permanently attached to it (like the bathtub, the garage or the kitchen cupboards) against natural disasters, theft and more.







Contents insurance

Covers your belongings (from furniture to laptops and even jewellery) against loss or damage caused by fire, storms, theft and vandalism. Often includes liability cover in case someone is injured in your home.

Why do I need house and contents insurance?
Getting house and contents cover is a no-brainer. You've probably sacrificed a lot to save up a deposit and pay down your mortgage, so why would you risk losing it all? Here's why it's worth every cent.
Life happens. No matter how careful you are, you can't predict the future. You never know when Mother Nature is going to land a tree through your roof, or when the neighbourhood gang will give your brand-new fence a fresh coat of spray paint. House insurance is the superhero that comes in and saves the day.
You probably can't afford to lose everything. Unless you're super, uber, mega rich, you most likely couldn't afford to replace your house and everything in it if a fire tore through and burnt it to the ground. If you don't have a several hundred thousand dollars lying around for emergencies, you need house insurance.
It's smart. 95% of New Zealanders insure their homes which shows how much value they place on them. These are the guys who won't lose their life savings if their neighbour's bathroom leaks and destroys their ceiling.
It's a small price to pay. If you've put a lot of money into an asset (like your home) then it's sensible to ensure you don't end up enormously out of pocket if something bad happens.
What does house and contents insurance cover?
We've mentioned that house and contents insurance protects your home and all your stuff, but how does it do that?
Basically, your policy will cover the repair or replacement of anything that's damaged or stolen unexpectedly, as long as the policy says that item is eligible for protection, and as long as it was damaged or stolen due to one of the policy's listed "events".
Most basic policies will protect your listed items in the following circumstances:
A storm rolls through and administers a direct hit. Check the storm and rainwater section of your policy to see if you're protected by flood cover.
The plumbing bursts and destroys your bathroom. This falls under the escape of liquid section.
A fire rips through and destroys it all. This is covered under the fire section of your policy, but just don't try to sign up for a policy the day a bushfire alert goes out. You usually have to wait a few days after signing up before you can claim for bushfire.
Local hoodlums spray-paint your house. The vandalism section has your back. Take that, rascals!
Someone breaks in and loots the place. The theft section will cover the damage to your home and the stolen items. For really valuable items like your engagement ring, you'll probably require an add-on called high-value contents.
Your barbeque goes berserk and explodes. Don't worry, most policies have an explosions section that covers any resulting damage.
Lightning strikes. Damage from lightning is covered under – you guessed it – the lightning section. If a fire breaks out as a result then the fire section kicks in.
A tree smashes into your house. This is covered under impact or collision.
An earthquake or tsunami unleashes its fury. This is covered under the earthquakes section and your policy should cover this.
How much will I actually be covered for?
Not to be smart but you'll be covered for what you're covered for. You get to choose what you want to cover and for how much. Assuming you want to be completely covered, you'd choose an amount that would allow you to replace everything from scratch. Then you'll be covered for up to that amount, depending on the damage.
Your insurer is not responsible for paying you any more than what it costs to replace what's covered, so there's no point insuring something for much more than what it's worth.
What won't I be covered for?
As you've seen, you can get a lot of mileage out of a good house and contents policy, but you do have to take some responsibility yourself because it won't cover you for everything. Here are some common exclusions:
You go on a long holiday. You could be denied cover if the damage happens while you're away for too long (anywhere from 30 to 60 days or more, depending on the insurer). If you do need to be away for a while, tell your insurer in advance and see if they'll work something out with you.
You engage in risky business. Don't go breaking the law or ignoring government regulations or your claim could be rejected.
You don't take care of your things. Don't expect your insurer to clean up the mess if you let your home fall to pieces through poor upkeep. You insurer will expect you to repair leaks, fix holes and generally keep the place in pretty good nick.
Your old, worn-out things. Your TV blows a fuse after 12 years? Afraid not. Your policy doesn't cover normal wear and tear.
Adding on. If you renovate, check in with your insurer. Otherwise that brand new deck of yours might not be covered.
Harbouring critters. It's your responsibility to keep your house from becoming a zoo. If your house is infested with rats, your insurer won't come anywhere near it.
How much does house and contents insurance cost?
Not as much as it would cost to replace everything you own, that's for sure! But seriously, it really depends on the individual. Some people own more things, some own more expensive things, some people can tolerate more risk, and some people live in environments that make claims more likely.
If you shop around you can find some huge cost differences. You could easily save hundreds a year just by comparing policies!
Here are a few factors that could affect your cost:
Your level of cover. Expect to pay more for a more comprehensive policy, higher benefit limits and more add-ons.
Your home's build. It's not just about your home's value. It's also about how old it is and how well it's built. A stronger house can withstand more damage and will bring your premium down.
Your location. Not all locations are created equal. If you're in a high crime area or an earthquake-prone area, expect higher premiums.
Your age (and the age of everyone else who lives there). Insurers have come to the conclusion that older policyholders are considered less likely to claim than their younger counterparts. This is good news for seniors, who may find themselves paying less.
You can do a personal assessment by visiting the websites of a few insurers and using their online calculators to grab some quotes.
How can I save money on house and contents insurance?
We knew you were going to ask that, so here are a few tips we prepared earlier:
Keep your eyes peeled. Most policies share a very similar structure but differ in how they calculate premiums. Once you know what you need it becomes fairly easy to compare your options, navigate their differences and settle on one that offers you better value than the others.
Install safeguards. Insurers like to insure property that's already secure because it means you probably won't claim as often. Find an insurer who will reward you for installing a security system.
Opt for a higher excess. You'll pay a little more when you need to claim, but you'll save month to month. It might just be worth the risk, especially if you don't think you'll claim very often.
Go deal hunting. Look hard enough and you can find discounts for buying online, being a senior, paying your premium yearly and buying multiple products from the same insurer.
What about the things I keep outside?
Got a gorgeous new outdoor dining set? Just invested in a pricey new barbeque? There's a good chance you'll be covered, but you may come across some limitations.
Some policies only cover items meant for open-air use, like barbeques and lawn furniture. Others will cover those items plus certain types of items from your policy's general contents category (a listing of lower-value items that you don't need to declare specifically).
Even if you're covered for something left outside, you may find your insurer will only pay you a percentage of its value.
If your items are secured to the ground, such as a brick-built barbeque or a statue, you'll find that these are covered under your house insurance policy.
Think you've got enough cover on your home?
We hate to be the bearers of bad news but most New Zealanders don't have enough insurance cover for their combined house and contents. This is known as underinsurance and it can be almost as bad as not having insurance at all.
Let's say your home and everything in it was worth $2 million and a fire destroyed it all. Having your stuff insured for half that would help, but you'd still be reeling.
Here are some tips to help you avoid this fate:
Do the math. Be as detailed as possible in your calculations. There are plenty of online calculators to help you.
Don't cut corners. Don't insure something important for lower than what it's worth, and don't pass on extras you know you might need. You might save a few bucks on your premium but find yourself on the hook for thousands if you ever need to claim.
Details, details, details. Sometimes the devil is in the detail. For example, your contents protection might give you $50,000 worth of cover but cap your payout at $2,000 per item. If your $10,000 wedding ring gets stolen, a $2,000 payout probably won't cheer you up much. In this instance, you'd need to declare the ring separately.
Review early, review often. There's a good chance the value of your stuff will change over time. Property values never stay the same, and you'll always be bringing new gadgets into your house. If the value of everything changes, adjust your cover as necessary.
Can I expand on an existing policy to add more cover?
Of course! If you need to add to your policy for any reason, just call up the insurer and adjust away. Here are some reasons you may want to upgrade mid-policy:
You've gone on a spending spree. A new TV, washer, tablet and barbeque later and your contents policy suddenly seems too low. Time to increase the benefit limit.
You splurged on a high-ticket item. You just had to have that expensive piece of post-impressionist art that your partner lovingly described as "gaudy". Time to add it to your policy as a high-value item.
Here are the steps you need to take to expand your cover:
Reach out. Give your insurer a call and tell them what you need. They may want to send someone by to confirm the new value of the insured items.
Pay up. Money talks. The insurer won't make the change unless you pay first.
Get proof. Your certificate of insurance includes important details about your policy and offers proof that your house and/or contents are insured.
Can I insure my house and contents separately with different companies?
Sure, but in most cases it's probably not worth the effort. If all you need is something super simple, you might save a buck or two by getting two separate policies. But as soon as you start tweaking things you may find the savings dwindle.
By all means search around for the best deals, but be aware of the hidden costs in both money and time.
How do I make a house and contents claim?
Making a claim is usually straightforward. Here's what you need to do:
Alert the authorities. If there was a crime, call the police to file a report. Otherwise, move on to step 2.
Alert the insurer. Ring up your insurer as soon as possible so they're aware a claim is on the way. They'll let you know if they need you to do anything specific.
Make a detailed claim. Submit a claim form with all the details. You can often do this over the phone or online.
Gather evidence. The insurer will want supporting evidence, such as a police report, photographs, proof of ownership and receipts.
Let the inspector in. The insurer might send someone out to assess the damage, arrange emergency repairs and obtain quotes.
Wait. Sit back while the insurer processes your claim. They'll notify you of the outcome as soon as they can.
Got some more questions?
Icons made by Icomoon from www.flaticon.com is licensed by CC 3.0 BY
GettyImages

More guides on Finder