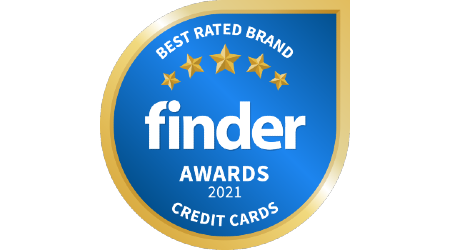 Finder is committed to editorial independence. While we receive compensation when you click links to partners, they do not influence our content.
Finder Credit Card Awards 2021
Kiwis choose their favourite credit card brand for 2021
Which credit card brand has the most satisfied customers in New Zealand? To find out, we asked more than 1,100 New Zealanders to assess their card provider as part of the Finder Awards 2021. Assessment criteria included value for money, rewards and features, overall satisfaction, and how likely they would be to recommend the brand.
The winners were decided entirely on these assessments, with responses on overall satisfaction and likelihood to recommend weighted more highly. Full details of the methodology can be found below.
Our credit card winners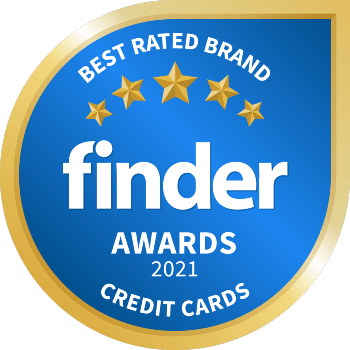 Winner, Best Rated Credit Card Brand:
American Express
AMEX is known in New Zealand for offering credit cards with the highest Airpoints earn rates and sign-up bonuses. Unsurprisingly, our respondents love the rewards on offer, and this is reflected in their favourable ratings.
The US credit card giant claims the top spot in the inaugural Finder Credit Card Awards.
Read our American Express credit card reviews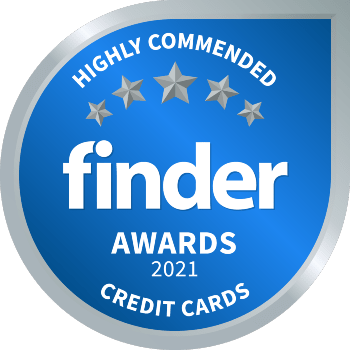 Highly Commended, Credit Card Brand:
Kiwibank
With the Low Rate Visa, Kiwibank has one of the lowest rate cards on the market. But it doesn't stop there – the New Zealand bank also has one of the widest selection of credit cards available. Whatever your needs are, there is a good chance Kiwibank has a card that meets them.
Read our Kiwibank credit card reviews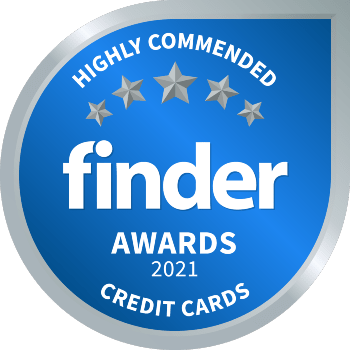 Highly Commended, Credit Card Brand:
ASB
From the low-rate Visa Light, to balance transfer and rewards cards, ASB's credit card offering covers all the bases. ASB's mobile app makes managing your credit card easy, and with a generous 55 days interest-free on purchases, it's not hard to see why the brand is popular with Kiwi consumers.
Read our ASB credit card reviews
Our 2021 Finder Credit Card Awards table
| Overall rating | Customers who'd recommend | Issuer | Summary | |
| --- | --- | --- | --- | --- |
| ★★★★★ | 83% | | American Express leads with some of the most eye-catching rewards cards available. The US company's work to impress the Kiwi audience has paid off handsomely, boasting the most satisfied credit card customers in the Finder Awards 2021. | View deals |
| ★★★★★ | 82% | | Locally-owned, locally-run Kiwibank isn't the biggest bank operating in the country, but that hasn't stopped it punching above its weight with credit card products and services that have impressed Kiwis. | View deals |
| ★★★★★ | 82% | | Rewards cards that let you choose between True Rewards or AA Smartfuel discounts, and a 0% for six months balance transfer offer, ASB has earned plenty of happy customers this year. | View deals |
| ★★★★★ | 80% | | ANZ's range of cards has many of the bells and whistles you would expect from a major bank, including Airpoints and cashback cards, and premium benefits for platinum cardholders. | View deals |
| ★★★★★ | 74% | | Westpac has the largest range of cards available in New Zealand so there's a product for most needs. The bank also has its own hotpoints rewards scheme that lets cardholders buy items through the hotpoints online store or anywhere Mastercard is accepted. | View deals |
| ★★★★★ | 73% | | In operation for over 150 years, BNZ includes a rewards programme that lets customers choose between Flybuys or cashback plus an easy-to-use mobile app. | View deals |
| ★★★★★ | 49% | | Gem only offers one credit card, but it stands out from the pack. The Gem Visa offers 0% interest for six months on purchases over $250, plus a huge range of long-term, interest-free deals with retailers across New Zealand and online. | View deals |
Overall ratings methodology
In January 2021, Finder surveyed 1,126 credit card customers about their current or most recent credit card provider. Asssessment criteria included the following:
overall satisfaction (weighted 30%)
value for money (weighted 20%)
rewards and features (weighted 20%)
likelihood to recommend (weighted 30%)
Each brand was ranked by its average overall score, with the winner chosen if it had a statistically significant lead to compensate for different sample sizes. Responses to each evaluation metric was weighted as indicated above. Products with less than 25 responses were disqualified.
Credit card ratings
★★★★★ — Excellent
★★★★★ — Good
★★★★★ — Average
★★★★★ — Subpar
★★★★★ — Poor
The overall rating score is based on a survey of 1,126 customers carried out in January 2021.