Finder is committed to editorial independence. While we receive compensation when you click links to partners, they do not influence our content.
Finder Broadband Awards 2021
We reveal which broadband provider Kiwis rate the highest in 2021.
For the first-ever Finder Broadband Awards we asked more than 1,600 New Zealanders to rate their broadband provider so we could find the nation's favourite. Each participant rated their provider on overall satisfaction, value for money, tech support, and how likely they would be to recommend.
The winners were decided entirely on these assessments, with responses on overall satisfaction and likelihood to recommend weighted more highly. Full details of the methodology can be found below.
The winners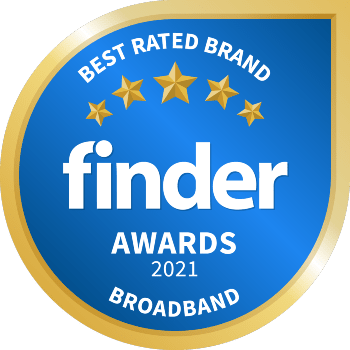 Winner, Best Rated Broadband Provider:
Skinny
With flexible broadband options at very attractive prices, Skinny takes first place in Finder's Broadband Awards 2021. Kiwis especially love the value for money this sub-brand of Spark provides across its range of plans.
Read our review of Skinny broadband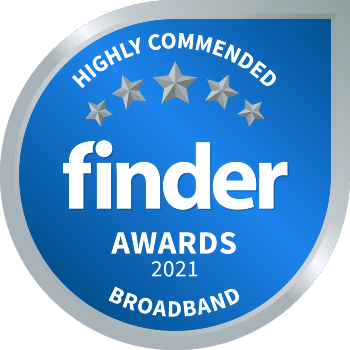 Highly Commended, Broadband:
Slingshot
Since its inception in 2001, Slingshot has had the goal of giving Kiwi families value for money combined with excellent service. Customers seem to agree that Slingshot has achieved that, ranking it as one of New Zealand's top broadband brands.
Read our review of Slingshot broadband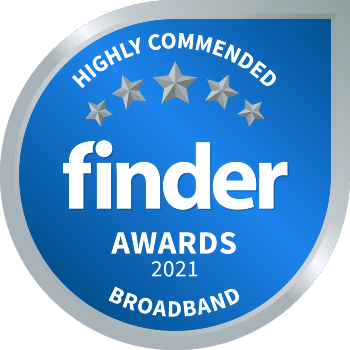 Highly Commended, Broadband:
Contact Energy
One of the most highly recommended providers, Contact Energy's broadband offering has won a lot of fans. The provider offers one of the most competitively priced broadband bundles around and rolling monthly contracts that can be cancelled anytime.
Read our review of Contact Energy broadband
The 2021 Finder Broadband Awards table
| Overall rating | Customers who'd recommend | Brand | Summary | |
| --- | --- | --- | --- | --- |
| ★★★★★ | 87% | | No-frills, great-value broadband has been a winning game plan for Skinny. The provider offers capped, unlimited data, and wireless broadband plans. | View deals |
| ★★★★★ | 78% | | From ADSL to a blisteringly fast Gigantic plan offering download speeds of up to 900Mbps, Slingshot has all speed requirements covered. | View deals |
| ★★★★★ | 79% | | Initially focussing on electricity and gas, Contact Energy has proved no slouch in the broadband game. A tempting bundle discount sweetens the deal for Kiwis looking for a new provider. | View deals |
| ★★★★★ | 75% | | With a discount for customers with a mobile plan, plus a year's free subscription to Amazon Prime Video (among other promotions), 2degrees has no problem catching the eye of those shopping for broadband. | View deals |
| ★★★★★ | 70% | | Stuff Fibre only offers unlimited data packages and its Boost Plan provides speeds of up to 950Mbps. It's a great option for those who need a lot of Internet. | View deals |
| ★★★★★ | 69% | | Trustpower has a focus on convenience, letting customers bundle up power and mobile plans with their broadband. | View deals |
| ★★★★★ | 69% | | With a huge range of broadband plans (including 5G wireless) and a wealth of possible add-ons including Netflix and Xbox All Access, Spark has most Internet needs covered. | View deals |
| ★★★★★ | 65% | | One of the only providers in New Zealand to offer the insanely fast Hyperfibre (8,000 Mbps download speeds, anyone?), Orcon is an option for pro gamers and those with the most demanding Internet needs. | View deals |
| ★★★★★ | 67% | | Vodafone is one New Zealand's most popular broadband providers. As well as high-speed fibre, the company offers highly competitive 4G wireless plans with unlimited data. | View deals |
Overall ratings methodology
In June 2021 we ran a customer satisfaction survey on broadband providers in which we had 1,665 responses. Each respondent was asked to evaluate their current or most recent broadband provider against the following criteria:
overall satisfaction (weighted 25%)
tech support (weighted 25%)
value for money (weighted 25%)
likelihood to recommend (weighted 25%)
Each brand was ranked by its average overall score, with the winner chosen if it had a statistically significant lead to compensate for different sample sizes. Responses to each evaluation metric were weighted as indicated above. Products with less than 45 responses were disqualified.
Broadband ratings
★★★★★ — Excellent
★★★★★ — Good
★★★★★ — Average
★★★★★ — Subpar
★★★★★ — Poor
The overall rating score is based on a survey of 1,665 customers carried out in June 2021.