Finder is committed to editorial independence. While we receive compensation when you click links to partners, they do not influence our content.
Easy credit cards to get approval for
Increase your chances of approval and compare credit cards with reasonable eligibility requirements.
Some credit cards might offer approval within 60 seconds when you apply online, but you'll still need to meet a set of eligibility requirements to be successful. Some credit cards have more relaxed requirements than others though, so it's worth knowing what kind of eligibility requirements you need to meet before applying.
The most popular questions about instant approval credit cards
Can you really get approved in 60 seconds? How does this work?

When you've completed and submitted your application, banks check your application and personal financial information with national credit bureaus and credit reporting agencies to determine whether you qualify for the credit card. But if the bank has deemed your provided information to be sufficient, then you can be pre-approved within 60 seconds, pending further examination. Otherwise, it might take a little longer if the bank requires more information from you.

How can I make sure I am eligible to apply for the credit card?

Most banks provide a clear list of eligibility requirements (including a minimum income, good credit history with no history of bankruptcy and New Zealand residency status). Make sure you read over these requirements before applying for a credit card. If you're unsure about the criteria, you can contact the bank or credit card issuer to discuss your likelihood of acceptance or to confirm your eligibility.

If my application is declined should I apply for another card straight away?

No, this might negatively impact your credit history and could cause your next application to be declined as well. This is because each application you make is listed on your credit file, which the credit issuer checks when you apply. A series of unsuccessful applications could suggest you are not able to manage credit and may decrease your chances of being approved. So if your credit card application is declined, you may want to wait some time before trying to apply again. You can also use this time to pay down any existing debts and research other cards you may be eligible for.

Will my credit report or credit history affect my application?

Yes. Banks will check your credit history when you make an application inquiry. If your credit report isn't in good standing, you may want to look for ways to improve it before applying for your next card.
Which types of credit cards are easier to apply for?
Credit card application requirements generally increase in demand with premium cards that include more perks and benefits. The following types of credit cards may have lower requirements for successful application: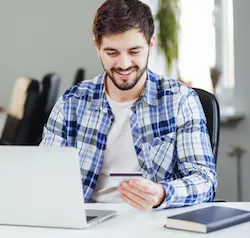 Low income credit cards. Your annual income plays an important role in the credit card you can apply for, given that cards offered by the same card provider come with different minimum income requirements. Low-income credit cards, as their name implies, have low minimum income requirements, but even with such cards, you should expect the card provider to delve into your credit history.
Low rate cards. If you plan to carry a balance on your credit card, getting a card with a low-interest rate on your purchases could help keep costs down when compared to other options. A typical low interest rate card might not offer extras like concierge access and complimentary insurances, but it still be likely to offer all basic features you can expect from a credit card.
Low credit limit credit cards. Cards with stricter income requirements may have more features and higher credit limits. If you have a low income, you can compare cards with low credit limits that start at around $500 to find a card that suits your financial situation and eligibility requirements.
Joint account cards. If you don't earn enough to apply for a credit card, you can consider applying for one as a joint applicant, by combining your income with your partner's income. If your partner has an existing credit card, you can even think about getting an additional card linked to it for you. You may want to compare cards that offer joint accounts.
Low annual fee cards. Annual cards on credit cards vary, but cards with low fees are likely to have fewer extra features and may have lower income requirements.
What are the pros and cons of applying for one of these credit cards?
Pros
Suitable for low-income earners. This, without a doubt, is the biggest advantage of such cards, given that people who don't earn much don't have too many options. If you earn $15,000 p.a. or more, you can think about applying for a low-income credit card.
Keep expenses in check. One risk of getting a credit card is over spending. A typical low-income credit card comes with a low credit limit, ensuring that you don't end up making excessive purchases.
Promotional interest rates. Certain low-income credit cards come with promotional interest rates that stay in place for varied time periods, typically in between 6 to 12 months. These promotional rates normally apply only to balance transfers, but some cards offer these rates on purchases as well.
Cons
Paying high interest. Credit cards charge interest on purchases and cash advances, and these might or might not be the same. With a card that charges high interest, if you don't pay your balances in full each month you could end up paying a significant amount in the form of interest.
Fees and charges. Depending on the credit card you wish to get, you might have to pay application fees and ongoing account keeping fees. If you don't make timely repayments you could have to pay late charges.
Temptation to spend. A credit card can be a good way to free up your cash flow and build your credit history, however make sure you stick to a budget and avoid the temptation to use the card for purchases that you can't afford to pay off.

How to apply for one of these credit cards
Once you've compared your options, you can apply for a credit card online and might receive pre-approval fast. Before you apply, though, make sure you've made sure you meet the eligibility requirements and have the relevant documents handy.
Eligibility criteria
To apply, you would usually have to meet the following eligibility criteria:
You're at least 18 years of age
You're a permanent resident of New Zealand or an New Zealand citizen
You have a regular source of income
You have a good credit history
Necessary documents and information
You also need to provide different types of information, which could include the following:
Your complete name, date of birth, and details from your New Zealand driver's license or passport
Your residential address, email address, and phone number
Your employer's name, phone number, and address
Details of your income and expenses including a recent payslip
While you don't have to earn a lot of money to get a credit card, remember that you do have to repay the money you spend – and may have interest charges that add to the cost. If you still wish to apply, make sure you compare your options well before deciding to select the option that suits your unique financial situation.
Back to top
Pictures: Shutterstock
More guides on Finder