Finder is committed to editorial independence. While we receive compensation when you click links to partners, they do not influence our content.
Prepaid credit cards
From travel money to everyday spending, prepaid credit cards give you secure and convenient access to your own cash when you need it.
A prepaid card can be loaded with funds and used to pay in-store, shop online and withdraw cash. Some of these cards are designed for travelling and can be loaded with international currencies. Use this guide to compare prepaid cards and learn how they work.
What is a prepaid credit card?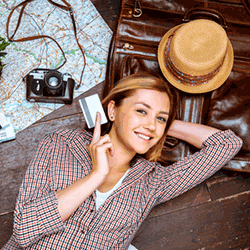 A prepaid card is one you load with funds from your bank account or cash and then use to make purchases or withdrawals. Prepaid cards are different from a credit card, which is money you borrow from a line of credit, attracts interest charges and must be paid back. Prepaid cards don't impact your credit history, and you don't need a credit score to apply for one.
They work in a very similar way to debit cards and can be useful to keep your spending under control as you can only spend what you've pre-loaded onto your card.
What features and benefits come with prepaid cards?
Some of the most popular features and benefits you can get with a prepaid card include:
The ability to load and top up your balance with cash
Access to multiple currencies
Lower fees and charges than credit cards
No interest rates
Usually available to people at least 16 years old
Some earn rewards points
Money tracking tools
Security against theft, loss and fraud
What types of prepaid credit cards are available?
Just as there are different types of regular credit cards, there is a range of prepaid cards designed to suit specific needs, including:
Everyday prepaid credit cards. These cards offer convenience for day-to-day spending and could include tap-and-go payments, balance-tracking features and fast, easy money loading options.
Prepaid travel cards. You can use prepaid travel cards to load New Zealand dollars and convert them into several supported foreign currencies at a locked-in exchange rate. This means that you can access your own funds overseas without the cost of a currency conversion fee.
Gift cards. Prepaid credit cards can be gifted as an alternative to cash and can be loaded with a nominated amount or purchased with a set amount already on the card. These gift cards are usually branded and can be used at specific stores.
Money transfer cards. Money transfer cards allow multiple people in different countries to access the funds in one account. These accounts come with two cards. One person deposits money in the account, and the other person who has the card in a different country can access the funds as soon as they clear in the account.
Prepaid reward cards. Some prepaid cards, like OneSmart, that rewards you with Airpoints, are also linked to reward programmes and earn you points for your spending.
Are there any prepaid cards for teenagers?
While there are debit cards and bank accounts designed especially for teenagers and some for younger children, you could also consider a prepaid card to help teenagers learn how to manage their money on plastic by limiting the temptation to overspend. A prepaid card could also be useful when travelling and to help keep online or gaming transactions in check. There are no specific prepaid cards for teens, but they could be eligible to apply for most options as the minimum age limit typically ranges from 14 to 16.
How to compare prepaid credit cards
Considering the following features will help you find a prepaid credit card that is right for you.
Pre-loaded vs reloadable.

Some prepaid cards, like gift cards, come with a fixed amount of money to use. Meanwhile, travel cards and other reloadable cards allow you to top up your balance.

Purchasing or set up fee. Prepaid cards may come with a one-off fee when you buy them. Some cards don't charge a fee or waive it for existing customers.
Loading fees. Some prepaid credit cards charge an initial loading fee, and some might charge a fee every time you add more money to the card.
Inactivity fee. This fee usually applies if you get a reloadable prepaid card and don't use it for 12 months. A typical inactivity fee might range from $1 to $5 per month. Keeping this in mind when you compare prepaid cards could help you avoid this charge.
Currency conversion fees. A fee might be applied for any currency conversions associated with the prepaid card. If you're spending in a supported currency, you can usually avoid this fee with a travel card.
Other fees. Prepaid debit cards can include several other fees including card replacement fees, cancellation fees, declined transaction fees and ATM withdrawal fees. Check these charges before you apply to find an affordable prepaid card for your needs.
Load limits. Prepaid cards usually have a maximum amount of money you can carry on the card at one time, ranging from $30 to $10,000 or more. Check these details before you apply to ensure these limits don't restrict your use of the card.
Remember, every prepaid card is different, so checking individual details now will help you make a more informed decision when choosing the right option for you.
Compare prepaid, travel and gift cards
| Provider and Card | Type | Reloadable? | Min/max load (NZD) | Issue fee | Where to get it |
| --- | --- | --- | --- | --- | --- |
| Bonfire Gift Card | Mastercard | No | $25/$1,000 | $4.50 | Order online or in selected stores |
| Cash Passport | Mastercard | Yes | $250/$25,000 | $0 | Order online or in selected stores |
| OneSmart travel card | Mastercard | Yes | $0/$100,000 | $0 | Order online |
| Prezzy Card | Visa | No | $25/$1,000 | $5.95 | Order online or in selected stores |
| Travelex Money Card | Mastercard | Yes | $250/$25,000 | $0 | Order online or at a Travelex store |
| Westpac prepaid card | Visa | Yes | $50/Unlimited | $20 | Westpac branches |
How can I get a prepaid credit card?
Depending on the prepaid credit card you choose, you can apply online or in-person at participating retailers and bank branches. The application details are different for each card, but here are the most common requirements you need to meet:
Age. Some prepaid credit cards specify a minimum age for cardholders or limit the available balance if they are under a certain age.
Personal details. You may need to provide personal details such as your full name, residential address, contact phone number and birthdate to verify your identity.
Initial load amount. Some cards may require you to load a minimum amount onto the card when you first get it.
Card activation. You need to activate the card before you can use it. This can be done in person, over the phone or online depending on the card.
PIN. Prepaid credit cards may come with an assigned PIN, or require you to choose a PIN when you activate the card.
Signing the card. Make sure you sign the card once you receive and activate it.

This step is necessary to validate the zero liability policy that helps protect you against any unauthorised transactions.
If you apply in person, you should receive your card and be able to use it straight away. If you apply online, you have to wait for the card to arrive in the post, which takes up to 5-10 working days in most cases.
Prepaid cards combine flexibility and affordability by allowing you to load and spend your own money. With so many different prepaid cards available, learning more about them and comparing prepaid options helps you get the most out of these cards whenever you choose to use them.
More guides on Finder
Find the best prepaid credit card

There are a number of prepaid credit cards offered on the market. Read this article and find out exactly what to look for in order to compare and catch the most ideal prepaid credit card that will suit your lifestyle and financial needs.