Finder is committed to editorial independence. While we receive compensation when you click links to partners, they do not influence our content.
Kiwibank credit cards
Your Kiwibank credit card can be a low-cost way to make credit card transactions or it could open the doors to earning rewards every time you spend – the choice is yours.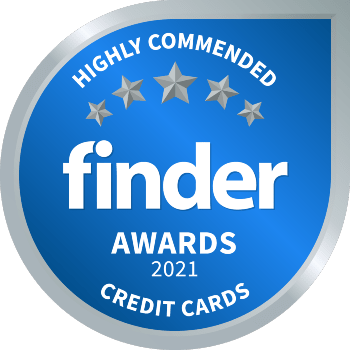 There is a complete range of credit card options at Kiwibank, including cards that offer low-interest rates, cards with no annual fee plus a range of cards that offer rewards and special privileges and benefits.
Kiwibank offers comprehensive banking services both in-person and online, including personal credit card products that suit a range of different needs and requirements.
Compare Kiwibank credit cards
More details
Kiwibank offers two types of credit card products: cards that can help reduce the cost of paying on credit, and cards which reward you as you use your credit card. Here is a summary of the main types of credit cards on offer from Kiwibank.
Airpoints rewards credit cards. If you spend a lot on your credit card, you should consider one of the Kiwibank Airpoints credit cards. These rewards cards from Kiwibank offer a varying range of Airpoints as a reward for your credit card spend. Kiwibank Air New Zealand Airpoints Low Fee Visa earns

1 Airpoints Dollar for every $160 spent on eligible purchases. Whereas, its

higher annual fee cards, such as Kiwibank Air New Zealand Airpoints Platinum Visa offers the biggest return, with

1 Airpoints Dollar for every $75 spent on eligible purchases.

Airpoints can be exchanged for flights, car rental or hotel bookings.
No annual fee credit cards. Paying an account fee on a credit card is not suitable for everyone, and the Kiwibank Zero Visa is a good choice if you want to keep your credit card expenses to the minimum. With no account fee and a lower interest rate of 13.95% p.a., the Kiwibank Zero Visa card is a good way to save on your credit card costs. Alternatively, the Kiwibank Air New Zealand Airpoints Low Fee Visa offers the opportunity to earn rewards while charging a relatively low annual fee of $25.
Low purchase rate credit cards. Look into the Kiwibank Low Rate Visa card if you regularly carry a purchases balance on your credit card account. With the lowest purchases interest rate, of 9.95%, of all the Kiwibank credit cards, this card can save you money on interest charges in the long run.
Business credit cards. Consider a Kiwibank Business Mastercard, with an interest rate of 12.50% p.a, if you need to manage your business expenses. You can issue cards to each employee who requires one and even fix different card limits. Your statement breakdowns your business credit card account spending, so you can see which employee made each purchase.
With Kiwibank, you can also benefit from interest-free days and a low rate of 1.99% p.a. on balance transfers for 6 months on all its credit cards.
Key features
Earn Airpoints Dollars as you spend. Apply for one of the Air New Zealand Airpoints credit cards issued by Kiwibank and you can earn rewards on your credit card spend. Earnings range from 1 Airpoints Dollar for every $75 spent to 1 Airpoints Dollar for every $160 spent, depending on the card you apply for. Exchange your Airpoints for flights, hotel bookings or car rental.
Complimentary travel insurance. The Kiwibank Platinum Visa and Kiwibank Air New Zealand Airpoints Platinum Visa could cover you with travel insurance for up to 40 days. You need to activate your cover by paying for an element of your trip with your Kiwibank credit card, for example, rental car or overseas travel tickets. The complimentary insurance could compensate you for medical expenses, loss or damage of personal belongings and unforeseeable cancellations and delays.
Reduce your credit card expenses. Select Kiwibank credit cards offer low-interest rates on purchases, while the Kiwibank Zero Visa is a card with no annual fee. If you prefer to minimise credit card costs and forego earning rewards, one of these Kiwibank credit cards could be a good option.
Balance transfers offer. Kiwibank allows you to transfer a balance from a different credit card provider to your Kiwibank credit card at a lower interest rate. You can transfer a balance up to your remaining credit limit and pay 1.99% in interest for 6 months, after which you pay the standard purchase interest rate.
The convenience of contactless payments. Every Kiwibank credit card features Visa contactless technology, so you can pay for transactions of up to $200 by tapping your card on the credit card reader. You can continue to authenticate larger value transactions using chip and PIN as usual.
How to apply
Compare Kiwibank cards to credit cards from other providers and if you think a Kiwibank credit card offers the best fit for your requirements, start the simple online application. You need to meet the following requirements to apply successfully.
Eligibility requirements
Minimum age. You must over 18 years of age to apply.
Country of residence. You have to be a New Zealand citizen or permanent resident.
Credit history
You need a credit history absent of any default – a credit check will be carried out.
Necessary documents and information
Income details. You need to supply Kiwibank with complete details of your income sources, including details of your employer.
Debt and outgoings. The application form also requires full disclosure of your current debt and your regular outgoings, such as rental payments.
Air New Zealand Airpoints number. If you're applying for one of the credit cards that earn Airpoints Dollars, you should keep your Airpoints account number ready.
Bottom line
Kiwibank offers you a range of choices allowing you to decide whether you want to pay no annual fee, pay a small annual fee in exchange for rewards or pay a higher annual fee to maximise your rewards earnings.
Frequently asked questions about Kiwibank credit cards
See below for the questions most commonly asked about Kiwibank credit cards. We can help you with other questions too. Complete the box at the bottom of this page, and we'll answer your personal Kiwibank credit card question.