Finder is committed to editorial independence. While we receive compensation when you click links to partners, they do not influence our content.
Interest-free credit card comparison
Save on costs with a credit card that offers 0% interest.
Interest-free credit cards give you a period of time when no interest is charged on your balance. Depending on the card you choose, you could get: interest-free days for purchases each statement period; an introductory 0% interest rate for purchases; balance transfers made to a new card, or 0% interest on overseas transactions.
Use this guide to compare the interest-free credit cards available. We also explain other features to consider so you can find an interest-free credit card that suits your needs.
Compare interest-free credit cards
0% purchase credit cards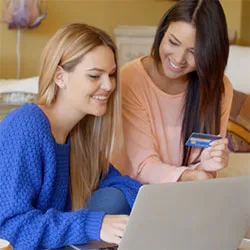 This type of credit card allows you to make new purchases without paying interest during a promotional or introductory period. This period varies but is usually the first 3 to 12 months from when you get the new card. After that, a higher standard variable purchase rate will apply to any remaining balance.
A 0% purchase credit card can be useful if you have a large expense coming up, such as an appliance, an overseas holiday or Christmas shopping. It is wise to spend with a budget in mind and do your best to repay the entire balance before the introductory period ends so you can avoid interest charges.
When will I be charged interest on a 0% purchase credit card?
The 0% offer only applies for a promotional period and will revert to the standard interest rate when the offer ends. So if the card comes with 0% for 6 months, the interest-free period will end 6 months after your card was activated and any remaining balances will begin to collect interest.
If you use your card for a transaction that isn't considered a "purchase", such as a cash advance or a cash equivalent transaction.
If you don't maintain your credit card payments each statement period.
What types of credit cards offer 0% interest?
There are credit cards that offer interest-free periods designed to suit a variety of different needs. Here, you can find information on a range of different 0% interest credit card options based on how you plan to use your card.
Different types of 0% interest credit cards and how they work
I want to use an interest-free card to:
---
0% balance transfer credit cards
A 0% balance transfer card offers an interest-free period on existing credit card debt that you move onto a new card. The 0% interest rate can last anywhere from 6 to 12 months depending on the offer. This gives you the opportunity to repay your debt without collecting any additional interest, which can help you put more money towards paying off the balance faster.
With this type of 0% interest offer, the card's standard interest rate will apply to any balance that is left at the end of the introductory period. This could be as high as 23% p.a., so it is important to pay off as much of the debt as possible during the interest-free period.
When will I be charged interest on a 0% balance transfer credit card?
If you make a purchase on the card, the purchase rate of interest will apply from the time the transaction is made.
If you use your card for a cash advance or cash equivalent transaction, interest charges and fees will apply.
If the balance transfer interest-free period ends and you have an outstanding balance to pay, you will start collecting interest on it.
---
0% purchase and balance transfer credit cards
This type of credit card offers an introductory 0% interest rate for both balance transfers and purchases. However, the promotional interest-free periods may differ in length for balance transfers and purchases. For example, a card could offer 0% interest on balance transfers for up to 15 months but only 0% interest on purchases for the first 3 months.
When the introductory period ends, any remaining debt from purchases or balance transfers will attract interest at the standard variable rate for that card. This rate could also be different for purchases and balance transfers.
---
Credit cards with interest-free days
Many credit cards offer a certain number of interest-free days for each statement period. For instance, you may see "up to 55 days interest-free" included as a feature on your credit card.
This 0% interest period is only available if you pay off your balance completely by the due date on each of your statements. If you carry a balance or make a late payment, you lose access to this feature and interest is applied for that statement period. Usually, you will only be able to access interest-free days again after you have paid your balance in full for at least one statement cycle.
When will I be charged interest on this card?
If you don't pay your balance back in full each statement period.
If you use your card for a transaction that is considered a cash advance or an ineligible purchase, unless otherwise specified.
If you carry a balance from a balance transfer, some cards may not offer interest-free days on purchases.
---
0% foreign transaction fee credit cards
Most credit cards apply foreign transaction and currency conversion fees to purchases made overseas or online with an international merchant. The fees are usually between 2% and 3% of the total transaction cost and are in addition to any interest charges that may apply for the balance – even if you are using a credit card with 0% interest on purchases.
Credit cards with 0% foreign transaction fees allow you to use your credit card for international transactions without paying these fees. This type of card is suitable if you are planning a trip overseas or if you want to use a credit card to shop online with international merchants.
When will I be charged interest on this card?
This card may charge 0% for the foreign transaction fee, but you may still have to pay the standard purchase rate for your transactions.
You will be charged interest if you use the card for other types of transactions, such as cash advances.
---
Charge cards
Similar to a credit card, a charge card gives you access to funds for a set amount of time and may include features such as rewards programmes or complimentary insurance. However, unlike credit cards, charge cards don't apply an interest rate to the balance. Instead, you must pay off the total amount owing by each statement due date. Please note, there are hefty fees and other penalties if you don't.
While charge cards give you an interest-free way to make purchases on credit, they do not offer the same flexible repayment options as credit cards. They also have high income and credit rating requirements.

How to compare interest-free credit cards
If you want to get a credit card with an interest-free period, considering the following features and details can help you find one that is right for you:
Introductory period. If the card offers a promotional 0% interest rate for purchases or balance transfers, check how long the introductory period is available, so you can factor this into your repayments and budget. Consider your budget and calculate whether or not you can repay the balance you put on the card while the introductory offer is in place. If not, you might want to look for a card with a longer promotional period.
Standard interest rates. The standard variable purchase and balance transfer rates for credit cards can be as high as 23% p.a. Make sure you check what the promotional rate reverts to when comparing options, so you can budget for any interest charges that may apply if you are still carrying a balance at that time.
Interest-free day requirements. Credit cards that offer interest-free days for each statement cycle usually have specific conditions around eligible purchases and repayments. For example, cash advances are not eligible for interest-free days and you must pay your balance in full by the due date on each statement.
Rewards programmes. Some cards earn rewards or Airpoints for every NZD$1 spent on the card. These programmes can provide extra value, particularly if you have an interest-free credit card for purchases. However, be careful you don't overspend in order to get more rewards, otherwise you may end up with unnecessary debt.
Complimentary extras. Many cards offer complimentary extras such as international travel insurance, purchase protection, extended warranty coverage and concierge services. These perks may add value to your card, but only if you think you will use them.
Annual fees. This cost can range from $20 to over $400 each year. Make sure the cost of the annual fee doesn't offset the interest savings you will make from the interest-free offer. You may even want to consider a credit card with no annual fee to help save on costs.
Balance transfer fees. Some cards have a one-off processing fee of around 2% to 3% when you apply for a balance transfer. If you choose an interest-free card for your existing debt, make sure you look for this fee when comparing options so you can find one that is affordable.
Interest-free credit cards can be a convenient and affordable way to access additional funds in a wide range of situations. But it is important to compare your options to find the right type of card for your needs.
---
Pictures: Shutterstock
Answers to the most popular questions about interest-free credit cards from our users
Back to top
More guides on Finder