Finder is committed to editorial independence. While we receive compensation when you click links to partners, they do not influence our content.
Compare credit cards with free travel insurance
Save on holiday costs and travel with peace of mind when you have a credit card with free insurance.
Credit cards with complimentary travel insurance allow you to enjoy your trip while also getting the coverage you need without buying travel insurance outright.
To make sure you get appropriate cover and the most value out of the complimentary insurance policy, use this guide to compare your options and learn what you should look out for in the eligibility criteria and terms and conditions.
Compare credit cards with free travel insurance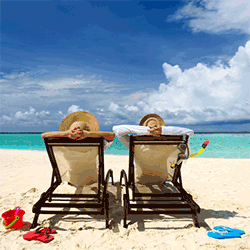 What is complimentary travel insurance?
Complimentary travel insurance refers to the insurance policy included with some credit cards. The travel insurance could be an included feature of the card, but that doesn't mean it's exactly "free". Technically, it comes at the cost of the card, which charges interest and could have an annual fee. Also, most travel insurance cover is only activated once you meet specific spend requirements.
Having said that, complimentary or included insurance doesn't have its own fee, which means it is at "no extra cost". This credit card perk can save you the time and money that comes with organising standalone travel insurance. It can also reduce the cost of any unforeseen emergencies that may pop up while you're overseas.
---
What are the types of complimentary travel insurance?
Different credit cards provide different levels of complimentary travel insurance. It is important to look at the card's terms and conditions to ensure you know what you are covered for and how much coverage applies. The cover varies according to the card you use and the policy itself, so make sure you look at the overall cover, coverage limits and any excess applicable to decide if it's suitable for your trip. Different types of complimentary travel insurance include:
Medical and hospital expenses incurred overseas.

This insurance helps cover the cost of medical fees and hospital bills if you require emergency treatment when you are overseas. Typically, exclusions for this type of travel insurance include pre-existing medical conditions, conditions already covered by a private medical fund, and treatment not administered by a medical professional.
Loss or damage to personal property.

This cover is designed to offer you compensation when your luggage and other personal items are lost, damaged or stolen. It usually has a maximum limit per person, per trip, and requires submitting a policy report before you are approved for a claim.
Cancellation of travel arrangements.

This insurance usually covers travel cancellations due to unforeseen circumstances such as the accidental death of a relative, the sudden illness of a family member, or a natural disaster at the destination or near your normal residence.
Travel inconvenience cover.

With this insurance, additional meals and accommodation costs are covered if the flight delay is more than a few hours. Flight cancellation, delayed flight boarding and loss of luggage may also be covered.
Transport accident cover.

This provides cover for accidents during travel or boarding or leaving a commercial aircraft, cruise ship or bus. It may also cover any loss in departure and destination terminals.
Legal liability cover.

Some cards also provide legal liability cover that can settle or defend a claim in case of bodily harm or property damage caused to someone other than the cardholder.
---
What if I'm over the credit card travel insurance policy's age limit?
If you're over the age specified for full coverage with your credit card's complimentary insurance, it may still be possible to get limited coverage. Contact the insurance provider directly to find out your options. Alternatively, you may want to buy a policy designed specifically for people aged 65 or older.

---
What should I be wary of when comparing free travel insurance?
Some of the other factors you want to take into account with complimentary credit card travel insurance include:
Eligibility and activation of insurance. Ensure that you're eligible for the cover and that the policy's terms and conditions suit your needs. Credit card providers may also require you to activate the policy somehow, for example, by purchasing your return travel ticket using your credit card. Others may require you to log in to your account online and fill out a simple form to activate your policy before each trip.
Length of travel. Most credit card complimentary travel insurance policies cover trips up to several months in length. Make sure you consider the specific coverage length offered by your card when you first start planning your trip. If you plan to travel for longer, you may be able to request an extension (for a fee), or you might want to consider an alternative option.
Levels of coverage. Some credit card companies provide travel insurance for several cards and offer different coverage levels based on the account you have. Make sure you check what level of coverage your card offers when referring to the insurance policy booklet.
Excess costs. If you claim a complimentary credit card insurance policy, you may have to pay a specified amount before you are entitled to get any money back. For example, if you submit a claim for emergency overseas medical costs, you may have to pay $500 (once approved) for the claim to be processed. This is known as the excess and is common with travel insurance (both overseas and domestic).
Terms and conditions. While this may be a tedious practice, reading the terms and conditions is crucial to understanding your insurances opportunities and boundaries. If you doubt your cover after referring to such documents, you may wish to contact the insurance provider directly.
---
How to compare credit cards that include travel insurance
If you're interested in getting a credit card with complimentary travel insurance, make sure you also consider the following factors:
Rewards.

There are

rewards credit cards

that also offer complimentary travel insurance, for example, The American Express Airpoints Platinum Card. These products earn points for your everyday card spending, which could then be redeemed for flights, fare upgrades or a wide range of other rewards.
Fees. Low foreign transaction fees

for overseas spending can help to keep your additional expenses in check.
Other extras.

Credit cards that include travel insurance may also provide complimentary insurance for purchases and price-matching services. Some top-end platinum cards also provide travel benefits such as flight vouchers and airport lounge access that can add even more value to the card you choose. Just remember to consider the card costs when factoring in these perks.

---
What are the pros and cons of travel insurance credit cards?
Pros
Provides essential travel cover. If you're travelling overseas, you need to organise travel insurance. Complimentary insurance could provide you with the cover you need if you run into an unforeseen emergency while overseas.
Save time and money. If you decide to take advantage of your card's free travel insurance, this can save you the time and money required to organise external cover.
Cover for family. Most credit cards with included travel insurance also cover your spouse and any dependents travelling with you, providing they also meet the activation requirements of the policy.
Cons
Higher price tag. Most credit cards that offer complimentary travel insurance are premium products with high annual fees compared to other options. Plus, you may be required to use your card to pay for a certain amount of the trip to activate the insurance.
Less value for infrequent travellers. If you only travel now and then, the annual fee's cost could outweigh the value you get from the complimentary insurance. Before choosing this type of card, consider how frequently you will use it and whether a standalone policy could be more cost-effective based on your travel habits.
Exclusions and excesses. Just as with any insurance policy, some exclusions and excesses may apply for complimentary credit card travel cover. Always read the policy documents beforehand to know what you are covered for and how much you have to pay if you need to make a claim.
If you travel regularly, a credit card with complimentary travel insurance could help you save time and money on additional expenses. As the level of cover and the eligibility requirements vary according to the card and insurance issuer, it's essential to compare your options and read the terms and conditions so you can find a card with insurance that suits your needs.
---
Frequently asked questions