The American Express Airpoints Card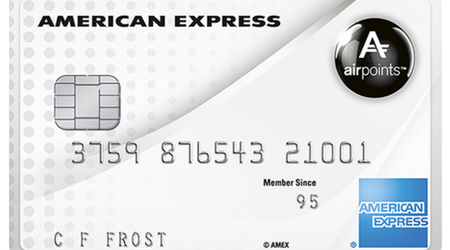 The American Express Airpoints Card has no annual account fee and an introductory offer of zero-interest for the first six months. Once this period is up, the standard purchase rate of 19.95% p.a. applies.
The cash advance rate is 21.95% p.a. and cash advances are not included in the interest-free offer. For every $100 you and additional cardholders spend on eligible purchases, you receive 1 Airpoints Dollar. You can earn Airpoints Dollars for shopping online or at retail stores, filling up at the petrol station, grocery shopping, dining out and more.
You also get these benefits:
50 bonus Airpoints Dollars when you sign up and spend at least $750 in the first 3 months. This is available to new American Express cardholders only.
55 interest-free days on purchases when you pay off your balance in full each month.
To be eligible for The American Express Airpoints Card, you need to be earning at least $35,000 a year and have no history of bad credit or payment defaults.