Finder is committed to editorial independence. While we receive compensation when you click links to partners, they do not influence our content.
Do I make enough money to get a credit card?
Find out and compare options with low minimum income requirements.
When you apply for a credit card, your income is an important eligibility requirement that the issuer will use to assess your ability to repay. While minimum income requirements for credit cards generally start at $15,000 p.a. before tax, you do need to provide proof of income and meet other eligibility criteria to get approved.
What are minimum income requirements?
Minimum income requirements are the lowest amount of money you need to earn before tax per year to apply for a credit card.
You will find a different minimum income requirement for different credit card types, such as standard, black and platinum.
Credit card income criteria help issuers reduce the risk of lending and allow them to offer you products that are appropriate for your financial circumstances. In turn, you can use these requirements to help you choose and apply for credit cards that suit your individual needs. If you apply for a credit card with a minimum income requirement that is higher than what you earn, you'll be declined, and this can hurt your credit score.
Credit cards with an annual income requirement of $20,000 or less
How can I find out what the requirement is?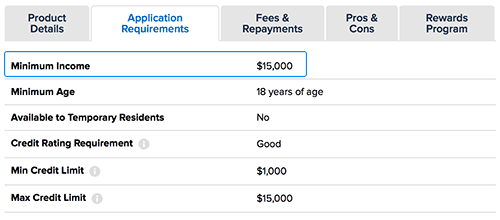 Some issuers include this information on their websites or product pages so you can double-check before you apply for a particular credit card. In contrast, others might ask you about your income before you apply for a card.
If you can't find minimum income requirements for a particular card, you can try calling the credit card issuer to ask about your eligibility.
Why are some income requirements so much higher than others?
The relationship between income and credit cards can influence a wide range of credit card features, from the credit limit and interest rate of the card right through to complimentary extras or rewards programmes. In general, cards with high minimum incomes many more features than low-income credit cards, but there are still many different credit cards you can choose from if you make a relatively low income.
Other factors that affect your credit card application
Credit card issuers weigh up a range of other factors before approving or denying your request for credit, including:
Credit score. Your credit history or credit rating outlines details of your current and previous loans, cards and other credit accounts (such as utilities). Generally, you need to have at least a "good" credit rating to apply for a credit card.
Age. You must be at least 18 years of age to apply for a credit card.
Residency status. While credit card issuers generally prefer people who are citizens or permanent residents of New Zealand, some credit cards are available for people with temporary residency status. These cards may have higher minimum income requirements to help meet lending standards.
Employment status. While credit card issuers typically prefer people to have full-time employment, you could still be eligible for some cards if you work part-time or casually, are self-employed, are a student or if you have a pension.
Income vs expenses. When you apply for a credit card, you may have to provide information about your current income, spending habits and existing debt to help issuers determine whether you can manage more credit.
If you're unsure if you'll be approved based on your income, contact the bank beforehand to discuss your options and don't risk applying for the card if you think you'll be declined.