Finder is committed to editorial independence. While we receive compensation when you click links to partners, they do not influence our content.
What is a credit card CVV / CVC number?
What the three digits on the back of your card mean and how they're used to protect your finances.
If you use your credit card to purchase online or over the phone, you are usually asked to provide the name on your card; the account number, expiration date and something called the CCV or CVC number. These three or four digits are located on the back of your card and help secure your finances when using your credit card. Use this guide to discover what these numbers mean, what they're used for and how they help protect your card.
What is a CVV or CVC number?
The CVV number (or card verification value) or CVC (card verification code) on your credit card or debit card is a three or four-digit number on the reverse of your card. If you have a Visa or Mastercard branded credit or debit card, it is a three-digit number located on the back of your card. If you have an American Express issued card, the CVV is a four-digit number found on the front of your card.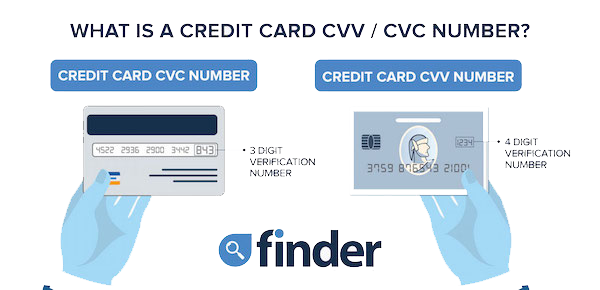 The CVV is an anti-fraud measure designed to use when making a purchase but when you're not required to enter a PIN or sign a receipt. You are often asked to input your CVV number when shopping online or purchasing over the phone. The merchant or payee can then verify that you are the cardholder, and it helps prevent people from using your card for fraudulent transactions.
As the CVV or CVC number is only printed on your card, it's essential to keep your card safe. If your card is lost or stolen, anyone can use the card to make online purchases or phone transactions without your permission. If this happens, contact your card issuer immediately to cancel the card. Also, make sure you keep an eye on your statements to recognise and report fraudulent transactions. The CVV or CVC number is a Secure Socket Layer (SSL), which is a standard technology and a digitally provided certification process.
Is a CVV or CVC number called anything else?
The credit card CVC and credit card CCV numbers may be termed differently, depending on the credit card network or credit card company. For example, Mastercard calls the code CVC2; American Express refers to it as CID and Visa call its code CVV2. Despite these different names, the codes serve the same function and are used as a standardised security measure. In "contactless" cards, there is usually a chip involved that supplies its own electronically generated series of codes; these are called Dynamic CVV or iCVV.
Are CVV or CVC numbers the same as my PIN?
No, your CVV or CVC number is different to the PIN code you use to make ATM withdrawals of EFTPOS transactions in-store. Your CVC or CVV number is used to verify online or over the phone payments when you can't use your PIN or signature.
While the CVV or CVC number is in place to protect your credit card from fraudulent transactions or phishing scams when using your card for online or phone purchases, it's important to know there is still a chance your credit card could become the victim of a scam. Therefore it's essential to use your credit card on secure sites and scrutinise your credit card statements to spot any suspicious transactions. If you do come across one, make sure you contact the card provider immediately to report the issue and protect your finances.
Back to top