Jim needs a new bike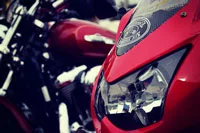 Jim works full time for a regional office and enjoys a short 15-minute bus trip to work every day. However, when he receives promotion and starts working in the city, he doesn't like the one-hour commute on the bus. Jim owns a car but doesn't want to have to pay the hefty CBD parking fees. He decides he is going to get a second-hand motorbike for his commute.
Jim works out he can comfortably borrow up to $10,000 for his new purchase and compares his loan options, including the rates, fees and terms. He wants to be able to make extra repayments and finds a loan that allows this. Jim receives online conditional approval for the $10,000 he needs and then starts his search online for his new wheels.