Get out on the open road with the right motorbike loan. Compare your finance options below.
While motorbikes are cheaper than cars, the cost of riding gear, licence fees and insurance quickly adds up, so the last thing you want is an uncompetitive loan adding to your expenses. Take a look at the guide below from Motorbike Loan finder to find out what finance options you have available to help you buy a new or used motorcycle.
* The personal loan offers compared on this page are chosen from a range of personal loans
finder.com/nz
has access to and are not representative of all the products available for comparison in the market. Products are displayed in no particular order or ranking. The use of the terms "best" and "top" are not product ratings and are
subject to our disclaimer
. You should consider seeking independent financial advice and consider your own personal financial circumstances when comparing personal loans.
What is a motorcycle loan and how does it work?
Motorcycle loans are a loan where a lender allows you to use a motorbike as security. However, not every car loan provider permits borrowers to use motorbikes as security for a loan; and in this case, you may be able to get an unsecured loan. Loan terms vary between one and five years (longer in some cases), and you may be able to use some of the funds to purchase additional items for your bike, such as insurance.
How much do motorcycles cost?
Costs for a motorcycle vary. While the actual purchase price of a new Motorbike is typically cheaper than a car, even that can typically set you back at least $12,000. Then, you still need to take into account insurance, riding gear, licence fees and other upfront costs you need to pay. Some lenders may let you take out a loan that is more than the price of your motorbike to cover these costs, but others may only allow you to borrow the value of the vehicle. Check these terms before you apply.
How to choose your motorbike
When you're shopping around for your two wheels, it is essential to think about these factors.
Decide on a type of bike.
There are different bikes that you can consider buying. You could contemplate a Harley Davidson if you're after a cruiser, a sports bike if you want speed or a touring motorbike for long-distance travel. You could also look at a dual-sport bike, a standard motorcycle or a postie motorbike. You could even check out a scooter if you're after a cheaper option.
Is the engine capacity the right size?
Make sure you research the law around licence type and engine capacity.
As with buying a car, you should always consider taking the bike for a test ride. How does it handle? What is the acceleration like? These are the questions you should be thinking about.
What you should think about when comparing motorcycle loans
When examining your loan options, remember to consider the following features to see if the loan is right for you:
What loan amount do you need?
Check the minimum and maximum amount on offer when comparing your car loan options, and ensure you can borrow the amount you need.
What is the loan term?
The longer the loan term, the less you repay at each instalment, eg fortnightly or monthly. However, with a longer term, you pay more in interest overall.
Do you need secured or unsecured?
A secured loan uses your motorcycle as a guarantee in case you default on your repayments, while an unsecured loan does not require any security. If you need to borrow more than the cost of the vehicle or want flexibility with your repayments, you may want to opt for the unsecured loan option.
What interest rate are you getting?
The interest rate you pay on your loan contributes significantly to the cost of the loan, and this rate can be fixed or variable. A variable rate can fluctuate throughout the loan while a fixed rate is set for the life of the loan.
What fees does the lender charge?
Lenders may charge a range of upfront and ongoing fees to set up the loan and cover the administrative costs of managing your account. Make sure you include these so you can get a sense for the actual amount of the loan.
Can I make extra repayments?
One way to bring down the interest paid on your loan is to make extra repayments when you can afford it. If you feel this may be of benefit, ensure your loan offers this before you apply.

Have your eye on a used motorbike?
If you're after a second-hand motorbike, you may still be eligible for a secured car loan. Here are the criteria you should consider for each brand:
Beyond Bank low rate car loan. The motorbike cannot be more than two years old.
Latitude personal loan. The motorbike cannot be more than ten years old.
Cashfirst secured car loan. The motorbike needs to be less than seven years old.
ANZ secured car loan. The motorbike needs to be less than seven years old.
IMB secured personal loan. The motorbike needs to be less than six years old.
Things you probably want to avoid
Taking out a loan you can't afford.
Think about the actual cost of the loan, which includes all applicable fees and rates, before you apply. You then need to determine the cost of your repayments and the length of time you should budget for them.
Applying for loans that are restrictive.
Some lenders may place restrictions on the loan that can stop you from saving money or paying back the loan sooner. Check if you can make additional repayments or if the provider charges you for paying back the loan sooner.
How to apply for a new bike loan
Compare your motorcycle loan options using the comparison table on this page. Once you find the right loan for you, click "Go to Site" and it will direct you to the lender's website to fill out an application form.
The eligibility requirements for personal loans differ between lenders, but typically, you need to be over the age of 18, a permanent New Zealand resident or citizen and have a good credit rating. If you are taking out a secured loan, there are also restrictions regarding whether the motorcycle you're looking to purchase is eligible.
When you apply for a loan, you should have the following documents ready:
Proof of identification, such as a passport or driver's licence.
Employment details, including your employer's name and contact details, plus copies of recent payslips.
Financial details, including information about your assets, debt, income and liabilities.
If you are self-employed, you need to have additional financial documents, eg from your accountant.
Registration details of the bike you intend to buy if you don't have pre-approval.
Jim needs a new bike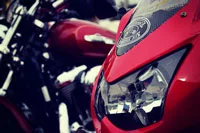 Jim works full time for a regional office and enjoys a short 15-minute bus trip to work every day. However, when he receives promotion and starts working in the city, he doesn't like the one-hour commute on the bus. Jim owns a car but doesn't want to have to pay the hefty CBD parking fees. He decides he is going to get a second-hand motorbike for his commute.
Jim works out he can comfortably borrow up to $10,000 for his new purchase and compares his loan options, including the rates, fees and terms. He wants to be able to make extra repayments and finds a loan that allows this. Jim receives online conditional approval for the $10,000 he needs and then starts his search online for his new wheels.
Have more questions?
Can I get a secured motorbike loan?
If you need a lower rate on your loan, you may want to consider securing the loan by using the bike as collateral, which means if you default on your repayments, then the lender can repossess your motorcycle to cover the costs.
I have bad credit, can I still get a loan?
This question never has a definitive answer as it depends on a variety of factors; If you'd like to compare a range of unsecured bad credit loans that you could use to buy a motorbike, head on over to this guide to find out more.
Should I lease or buy my next motorbike?
Many riders raise this question when they are considering buying their next bike. It comes down to your financial situation and your ability to service the loan.
A lender has offered me 0% finance, is this good?
While the offer of a 0% interest finance option may sound tempting, it's still essential to compare all your options. You also have to consider balloon payments, monthly costs and other ongoing fees.