Finder is committed to editorial independence. While we receive compensation when you click links to partners, they do not influence our opinions or reviews. Learn how we make money.
Car finance repayment calculator
Find out how much you will pay on your car loan with our calculator.
When you're planning on taking out a car loan, it's important you understand how much you can afford to borrow. Understanding your borrowing limits will help make sure you get the loan that is right for you and avoid costly interest repayments.
Calculate how much you can borrow and compare car loans below.
Enter the details of a loan below to calculate repayments
The table below features an automatic payment calculator. Simply pop your details in and you'll be able to see how much your repayments will be and the total interest you'll accrue.
How do I use the car loan repayment calculator?
Don't let the graph put you off, the car loan repayment calculator is easy to use. Just follow these simple steps:
Enter your total loan amount. If you aren't sure of this amount just yet, enter an amount you think will be sufficient to finance your car.
Enter your purchase rate. Use the comparison rate of the car loan to more accurately determine your repayments.
Enter the loan term. The shorter the term the more your repayments will be, but the more you will save on interest. You should check the loan terms offered by the different loans you are looking at to make sure you are able to choose the terms you want.
Set your repayment frequency. You will need to check the options offered by the loan you are looking at, as not all lenders offer every type of repayment frequency. If you are able to choose the frequency, you should try and match it to when you get paid ie. monthly pay, monthly repayments.
Choose your repayment type. Principal and interest repayments refer to you making repayments which go towards both the amount you borrow and the interest charged on that amount. Interest-only repayments involve you only paying the interest which is charged on the loan amount, so you don't actually pay any of your loan off. If you are unsure, you should select the principal and interest option.
How to use the car loan calculator to help you save
Now you've got the basics of how to use the car loan repayment calculator, it's time to learn how to really use the calculator. Let's say Jane is looking at taking out a $5,000 car loan at an interest rate of 7.80% p.a. for a 5 year loan term. She's planning to make monthly principal and interest repayments for the duration of her loan.
Here's what the car loan calculator tells Jane her repayments will be: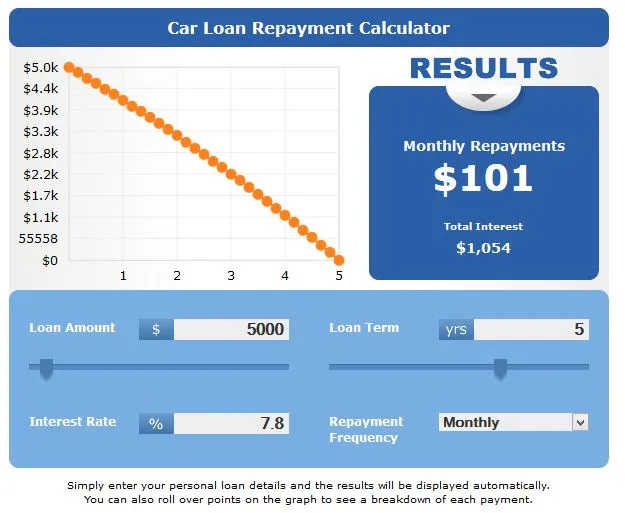 Jane will be making a monthly repayment of just over $100 and incur $1,054 in interest payments over the life of her loan. Jane decides that she can afford to put more than $100 a month towards her car and she wants to save herself some money on interest.
Here's what happens when she tweaks her loan term in the car loan calculator: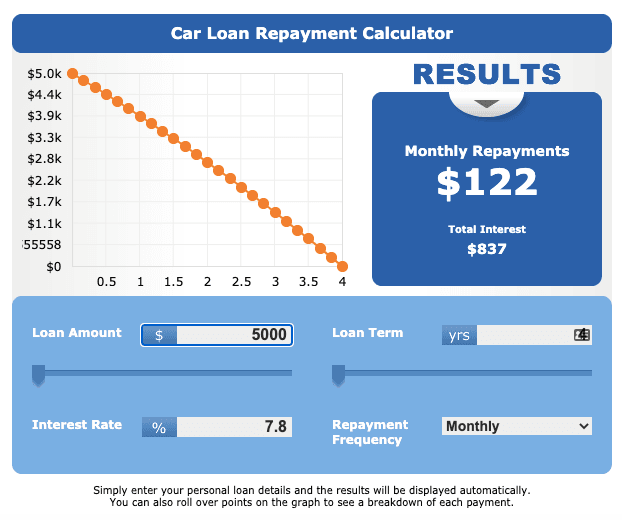 As you can see, by choosing a four year loan term instead of a five year loan term, Jane only increases her repayments by about $20 a month (only $5 extra a week) and she saves herself $217 over the life of the loan. Not to mention she pays off her loan one year earlier.
Like Jane, see how much money you can save on your loan by using the car loan calculator. If you want to compare your car loan options, you can use the table below.
How do I choose a car loan?
When deciding which car loan meets your needs, it's handy to use a car loan repayment calculator to help you figure out what you will need to pay. However, this isn't all you need to consider as some lenders have age criteria that you have to meet as well as financial requirements. It's important to be aware of these factors before doing the research on the loan – getting to the end and realising you don't meet the requirements could be a real disappointment.
Something else to consider are the fees that go with a each car loan. Some lenders have late fees and monthly fees as well as interest rate charges. These vary from lender to lender, so calculating which fees you can handle and which are too much for your budget is something to consider before applying.
Special features should also be considered, such as the option to make early repayments without any extra cost and whether or not you're allowed to use your loan for a used car. Factoring in the interest rate on the car loan is also important as this will impact how much your repayments are.
What are some things to consider before I apply for car finance?
Although a car loan calculator takes a burden off your shoulders by figuring out what your potential repayments are going to be, it's also important to factor in the following so you can decide whether the car loan you've chosen is right for you and your needs. Some of the things to consider include:
Loan terms. Most car loans are for one to seven years, but they vary from lender to lender. Once you calculated what car loan repayments you can afford, this will determine your loan term. You also have the option of lowering your repayments by selecting longer loan terms, which can be a good option if the loan also gives you the ability to repay it ahead of schedule if you're able to.
Whether or not you're buying a new or used car. While there are pros and cons for both, whether you are buying a new or a used car can impact which car loan you're eligible for. Some lenders only want to supply loans for new cars and others supply loans for new or used, so consider your options before making a final decision.
Ability to get additional funds. Some car loans allow you to borrow additional funds within the loan to cover expenses such as registration and comprehensive car insurance. However, as this is not the case with all car loans. If this is something that you need to do in order to cover these expenses you could also take out an unsecured personal loan.
Affordability. Calculate your budget and whether or not you're able to afford the loan repayments is a huge consideration in whether or not a loan is right for you. If you are unable to afford the repayments, this will impact your income, budget and your general living situation so it's an important consideration.
Calculate car loan repayments on the products below