Finder is committed to editorial independence. While we receive compensation when you click links to partners, they do not influence our opinions or reviews. Learn how we make money.
Tower Car Insurance
Save up to 20% on your premiums when you buy two or more Tower policies.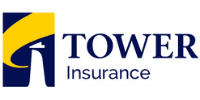 With Tower car insurance you get three levels of cover to choose from plus plenty of opportunities to save, with $50 off when you buy online and up to 20% off if you purchase two or more Tower policies.
Tower Insurance has been in operation for 150 years and underwrites its own policies. Tower Insurance is rated Excellent for financial strength by A.M. Best. The insurer also offers insurance for a range of home and travel requirements.
In January 2020, Tower bought competitor Youi's portfolio of 34,000 policies.
What cover options does Tower Car Insurance offer?
Most car insurers in New Zealand offer a range of cover options, and you'll find a choice of comprehensive lower levels of cover at Tower Insurance. The insurer offers the following cover levels:
You can get cover for a comprehensive range of motoring risks by buying a comprehensive policy from Tower.
Cover under a comprehensive policy includes:
Reimbursement for damage if you're in an accident with an uninsured driver
Cover for damage due to fire
Cover for loss of your car due to theft
Up to $25 million in legal liability should you be in an accident that is your fault
Legal defence costs of up to $5,000
Costs to tow or otherwise recover your vehicle after an accident
Cover for accessories and modifications which are listed on the insurance certificate
Up to $1,000 to hire a car in the same category as the insured car if your car is under repair
Up to $500 to take you back home after an accident
Up to $10,000 per person for a fatal injury caused by an accident
Up to $1,000 if your car keys are lost or stolen, or you believe your keys have been duplicated
Cover for damage due to a natural disaster
14 days of insurance if you replace your car or buy a new car
Obtaining third party fire and theft cover gives you more protection than just purchasing third party insurance and is cheaper than a comprehensive policy.
At Tower Insurance this policy covers:
Up to $4,000 in cover if you are in an accident caused by an uninsured driver
Cover for damage by fire
Cover if your car is stolen
Up to $25 million in legal liability cover if you accidentally cause damage to someone else's property or cause personal injury to another person
Up to $5,000 in legal defence costs
Accessories and modifications which the insurer has agreed to cover
Up to $750 to hire a similar car if your car is stolen or damaged in an accident
Up to $250 to help you get home after an accident
Cover to tow your car back after an accident, including temporary storage
Looking to save on your insurance? Consider a third party policy which will cover you for liability if you are at fault in an accident.
The Tower Car Insurance third party policy includes cover for:
$4,000 towards damage repair after an accident caused by a third party
Legal liability up to $25 million in case you're at fault in an accident that causes damage to someone else's property, or injury to another person
$5,000 towards the costs of a legal defence
What is generally excluded by Tower car insurance?
Under some circumstances, your policy at Tower car insurance won't pay out. These include:
Accidents where the driver is over the legal blood alcohol limit when driving, or under the influence of intoxicating substances.
Cases where the driver has left the scene of the accident
Use of your car for racing and off-roading
Use of your car for business activities
Unsafe driving, including overloading
Modifications outside of the manufacturer's standard specifications, unless agreed with Tower
Radiation and nuclear risks
Terrorism-related incidents
Mechanical failure of your car
Personal belongings and professional tools left in your car
How much excess will I pay?
Each policy with Tower Car Insurance will have a specific excess amount that you will need to pay when you make a claim. Your excess may be waived under certain conditions, such as under the window glass excess buyout option.
Certain claims will be liable to an increased excess, including if the driver of the car is an inexperienced driver.
How to save on your Tower car insurance policy
No-claims bonus. Tower car insurance will award you a discount on your premium if you have not made a claim with any insurer in the last year.
Multi-policy discount. You can save by buying multiple policies from Tower Insurance, including cover for home and contents.
Online discount. Save $50 on any policy you buy online.
Over 25 discount. You can enjoy a discount on a comprehensive policy if you optionally specify that your car will not be driven by anyone under 25.
Limit options. With Tower Insurance you can add windscreen cover and roadside assistance, but trim back on these options to save on your monthly premiums.
On 5 June 2020, Tower Insurance said it would refund $7.2 million to existing car insurance customers due to reduced claims resulting from COVID-19. The refund will be paid to all Tower car insurance customers who had cover between March 24, 2020 to May 13 2020.
Tower will be communicating with eligible customers directly about the refund.
How do I make a claim?
With Tower Insurance you can make a claim online or by calling the toll-free number. Some steps to be aware of when making a claim include:
Take pictures of the scene of the accident and any damage if you can
Note the contact details of any other parties involved in the accident
File a report with the police if necessary
Check your policy wording
Collect the necessary documents before starting your claim
Other benefits of getting insurance with Tower Car Insurance
There are a number of other benefits to buying a car insurance policy from Tower Insurance, including:
Repair guarantee. Any repairs made by a Tower Insurance authorised repairer carry a lifetime guarantee.
New vehicle. If you owned your car from new and insured the car with Tower from new, Tower will replace your car with a new car in case of a total loss. This benefit is valid for up to two years from the day you purchased your car and only applies to comprehensive policies.
Optional RoadWise breakdown cover. You can add optional roadside assistance cover to your policy for a fixed monthly fee, covering anyone driving the insured car.
FAQs
More guides on Finder