Car insurance for learner drivers
Looking for car insurance for learner drivers? Here's how to find the right cover and quote for you.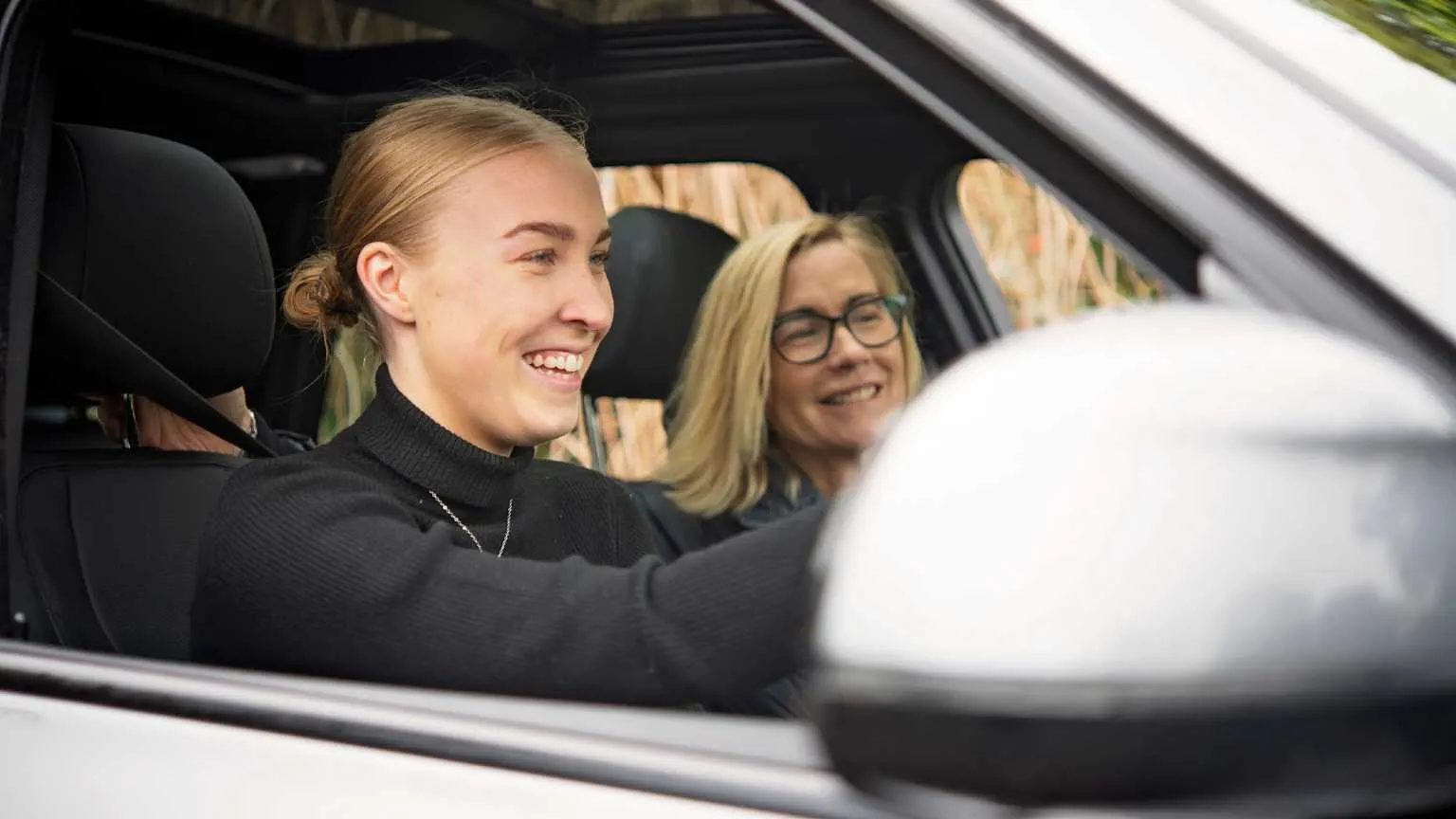 Congratulations, your child has passed the learner licence theory test and is ready to get behind the wheel. You now need to learner-proof your car before they can start driving. The first step is to make sure they know the unspoken road rules (all other drivers are crazy!) The second is to make sure your car insurance is ready to cover your learner driver without costing you too much.
Compare car insurance quotes in New Zealand
Contents of this guide

How car insurance covers learner drivers
To make insurance easier, many providers automatically cover learner drivers on their parents' policies. However, you typically need to pay an additional excess for claims made as a result of them being behind the wheel.
Basic excess. This standard excess always applies, whether it's you or your child driving.
Learner driver excess. Learner drivers often have an excess applied.
Young driver excess. If they're under 25, providers apply a young driver excess.
Undeclared driver excess. If you keep your premium down by not listing the learner driver on your policy, an additional excess may apply.
Optional excess. If you opt for a further excess to lower your premium, the provider will add this on.
Inexperienced driver excess. This usually applies to learner drivers over the age of 25.
Car excess. The insurer may apply an additional excess based on the age of your car or its type.
When your child gets behind the wheel, the excesses can quickly add up. If you're not careful, they might become unaffordable, and prevent you from making a claim. Listing the learner driver on your policy will generally help keep the price down, at the cost of a higher premium. Depending on your needs, reducing the excess and offsetting the L-plate premium increase with discounts may be the way to go.
Check your product disclosure statement (PDS) for the following:
Whether you need to list the learner driver on your policy to cover them.
It's usually preferable to change insurers at renewal time, but if you do want to switch mid-policy, plan ahead of time.
How do I add a learner driver to my policy?
It's relatively simple. You can usually:
Add a driver online, through your insurer's policy management portal
Phone your insurer to let them know you need to add a learner driver to your existing policy
As we touched on above, it's usually cheaper to add a learner driver to a current policy rather than taking out one in their name, which is due to a few facts:
Young drivers are heavily over-represented in New Zealand road crash statistics. For example, figures from the New Zealand Ministry of Transport reveal that "a young driver held responsibility for about three-quarters (74%) of all the crashes that involve young drivers. Also, a young driver had the primary responsibility for about two-thirds (65%) of the crashes that also involve other road users."
L-platers are inexperienced drivers, so even if you're a learner over the age of 25 insurers will still classify you as being a high-risk customer.
How to drive down the cost of cover
Want to lower your car insurance premium? Remember a few simple tips:
Keep a clean record. If you can manage to establish a clean driving record – no speeding fines, traffic infringements or insurance claims – over a few years, your premium will quickly reduce.
Don't get separate cover. If you're a learner driver, it is usually cheaper to be added to your mum or dad's policy as an authorised driver rather than taking out separate cover.
Choose the right car. A safe, reliable sedan or hatchback is cheaper to insure than a high-powered sports car.
Security. Cars with immobilisers and sophisticated anti-theft systems can enjoy a lower premium.
Garage your car. Vehicles kept overnight in a secure, locked garage cost less to insure than cars left parked on the street.
Choose a higher excess. By deciding on a higher excess when you buy a policy, you receive a lower premium.
Look for deals and discounts. From online discounts to premium reductions for loyal customers, keep an eye out for any special offers to help lower the cost of car insurance for learner drivers.
Shop around. Compare car insurance quotes from a range of companies to find the best value for money.
What you should know before you go for your driving tests
L-plates
To get your L plates, you need to complete a computer-based road rules knowledge test. You can find details for the information included in the test in the road code handbook, which is available from the New Zealand Transport Agency or bookshops, and you can even complete sample tests online.
Restricted Licence
Learners need to have held their licence for at least six months before they take the restricted licence. To be granted your restricted licence you need to successfully pass the restricted licence practical test, in a car provided by you, which is designed to determine if your skills are at a level where you can safely drive without a supervisor under certain conditions.
There are restrictions imposed on L and restricted drivers, so make sure you check out the Transport Agency Website and are fully aware of what you can and can't do on the road before getting behind the wheel.
Did you know?
To supervise a learner driver, you must:
Have held a current full New Zealand driver's licence for at least two years
Have a good understanding of the road rules
Be a competent driver, with no restrictions on your licence
Be able to communicate with the learner driver effectively
Not supervise while under the influence of alcohol or drugs
Tips on teaching your learner to drive
Teaching a teenager how to drive can be a frustrating and frightening experience for any parent. However, with at least six months of driving supervision in front of you, it's a good idea to prepare for what lies ahead. Remember these simple tips to make the learning process as smooth as possible:
Safety first. Learning to drive is a stressful experience for everyone, so give your L-plater one less thing to worry about by making sure your car is in tip-top condition. If it's due for a service, book it in straight away. Replace old or worn tyres and make sure everything inside and out is in good working order.
Brush up on your road rules. Are you completely up to date with the requirements on indicating at roundabouts? How about turning right at traffic lights, when there's no green arrow? It's pretty easy to pick up bad habits over a lifetime of driving, so it might be worth undertaking a little refresher to make sure you teach your learner to do things the right way.
Manual vs automatic. The transmission your learner drives is determined by the car you own. However, if you have an automatic and a manual at your disposal, remember if your learner gets their restricted licence in an automatic, they can't drive a manual (unless they have a driver with a full licence beside them).
Find the right learning environment. Don't throw a learner in at the deep end and take them straight onto rush-hour streets or a busy motorway. Find quiet streets in an industrial estate or suburban area, or even a deserted car park, so your learner can learn the basics without too much pressure. As their confidence and skills grow, you can gradually introduce them to more traffic and slightly more demanding driving situations.
Take it slowly. Learning to drive takes time, and despite their insistence otherwise, it's common for learners to feel completely overwhelmed. Start by teaching your learner how to adjust the seating and mirror to their liking and go from there. Remember to focus on basics like steering, braking and changing gears before you worry about anything too advanced.
Excesses for learner driver insurance claims
If you have comprehensive insurance or another type of optional car insurance, whenever you make a claim you usually need to pay an excess. This basic excess is the amount you are required to contribute to the total cost of a claim, and often you can adjust your excess when you take out cover.
However, to protect against the additional risk associated with insuring a learner driver, providers also impose extra excesses. If you claim for an incident where a learner driver was behind the wheel of your car, you need to pay one or more of those additional excesses on top of the basic excess.
These learner driver excesses vary between insurers and may include:
Young driver excess. This additional amount usually applies to claims involving a driver who is under the age of 25.
Learner driver excess. Some insurers will charge an additional excess for all claims where a learner is driving your car.
Inexperienced driver excess. If you're over the age of 25, but you haven't held a full licence for a specified period, such as two years, your insurer may charge this excess instead of the young driver excess.
Don't want the pressure? Try a driving school
Using a driving school allows you to learn from a professional driving instructor, and acquire the skills and confidence you need to become a safe and competent driver.
Before choosing a driving school, make sure you're aware of the following:
Accreditation. To become an accredited driver trainer or driving instructor in New Zealand, a person must obtain a Driving Instructors' licence. To get this, they must, among other things:

Complete an accredited driving instructor course.
Pass the fit and proper person check.
Pass a driving test.
Provide a medical certificate if required.
Cost. The cost of a driving lesson generally ranges anywhere from $50 to $75, but shop around to get an idea of the price of lessons in your local area.
Insurance. Before booking a lesson, check with the driving school to find out whether it has appropriate insurance in place to provide cover if you're involved in an accident while in the instructor's car.
Free lesson. The AA provides free lessons to those that are eligible. Check out its website for further details.
Frequently asked questions about insuring learner drivers
Picture: Shutterstock