Compare car insurance
Looking for a cheaper policy? We've got your back - compare quote today.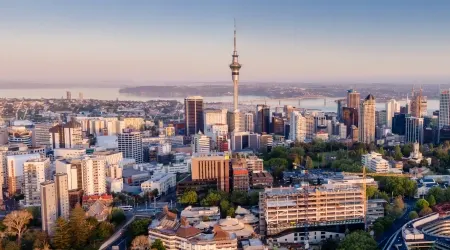 Whether you're looking to change insurers or find cover for that brand new ride of yours, we make it easy for you to shave cash off your car insurance policy.
We get it! Comparing car insurance quotes is time consuming and a pretty tedious thing to do. We know you'd rather be doing something fun. That's why we're here to help you find the right type of policy for you.
Unlike other comparison sites, we're not owned by a bank or insurance company, which means you receive an unbiased comparison every time. And it doesn't cost a thing.
Compare car insurance options in New Zealand
Types of car insurance
Comprehensive car insurance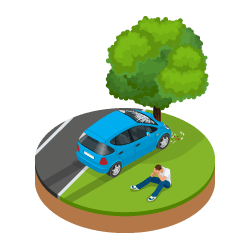 Comprehensive car insurance is that mate that helps you out when you're in trouble. If you want premium cover, this is the option for you. It's the only policy type that offers "real, proper, actual" protection for your car. So if you love and care for your baby, this is probably the policy you want to opt for. It covers theft, vandalism, storms, flood, hail, fire, key replacement, emergency accommodation, hire cars, accidental damage (to name a few) – in addition to everything covered by cheaper policies.
Works for: Those who want peace of mind, knowing they have the highest cover available.
Third party car Insurance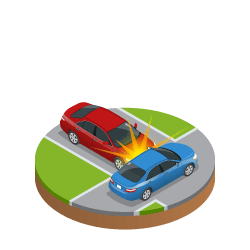 The most basic policy. Third Party car insurance provides coverage for any damages you may cause to someone else's vehicle or property. This means if you smash into a Mercedes, you won't be paying the repair costs from your pocket. However, it won't cover the expense of repairing damages your vehicle incurs as a result.
Works for: Cheaper cars and those on a budget.
Third party fire and theft coverage.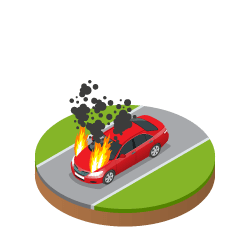 Third party fire and theft gives you that little bit extra cover against life's uncertainties. As the name suggests, this cover type ensures you are protected if your car is stolen, as well as covering you for fire damage. You're also covered if your car causes damage to someone else's property. However, this type of policy doesn't cover you if you "do not" cause the accident with another vehicle. The other person's insurer has to compensate for your loss.
Works for: Those who need a bit more coverage without the price tag.
What does comprehensive cover protect me against?

Hitting a car

Vandalism

Hitting a pole

Hail damage

Floods

Hit and runs

Hitting an animal
How do other cover types compare?
| Feature | Comprehensive | Third Party Fire and Theft | Third Party Insurance |
| --- | --- | --- | --- |
| Damage to other people's property | | | |
| Hitting a car | | | |
| Hitting a pole | | | |
| Hail | | | |
| Hit and runs | | | |
| Hitting an animal | | | |
| Windscreen repair | | | |
| Storm or flood | | | |
| Fire | | | |
| Theft | | | |
| Emergency accommodation, transport and repairs | | | |
| Towing costs | | | |
| Hire car | | | |
| Replacement of keys | | | |
| Contents of the vehicle | | | |
| New car replacement | | | |
Seven hacks to cut your premiums
Take advantage of discounts. Look around to see if you can get a loyalty discount or a deal for new customers. Some insurance providers will also supply a discount of up to 15% for taking out your policy online.
Pay a higher excess. The excess is an amount you pay when you want to make a claim. If you increase this amount, your insurance company perceives you as less likely to make a claim. This helps bring down the overall cost of your premium.
Restrict certain drivers. Most policies give you a cheaper premium if you restrict specific drivers from taking your wheels for a spin. Consider restricting drivers like under 25s, seniors, learners, or P-Platers.
Understand how your vehicle make and model affects your premium. If you haven't purchased a car yet, compare insurance prices for a variety of car models. You might be surprised how much the car you drive can have an effect on how much car insurance costs.
Bundle your policies together. If you already have home insurance, consider sticking with the same provider for your auto insurance. When you group multiple policies, you can benefit from a multi-policy discount which can take a significant chunk out of your car insurance premium.
Keep a clean driving record. Obviously no one goes out of their way to receive a fine. However, your driving record and the history of the claims you lodge are used to determine how much of a risk you pose to the insurance company. The higher the level of risk, the more you have to pay. Conversely, if you have a good driving record and haven't lodged many claims or none at all, there's a good chance you'll receive a better deal on your premium.
Compare, compare, compare. It pays to do your research. Get multiple quotes from different insurers to compare prices. Don't be fooled by policies that are ridiculously cheap, as this can sometimes compromise your cover. Don't be afraid to switch providers to get the a new deal.
Looking to insure something with more or less wheels?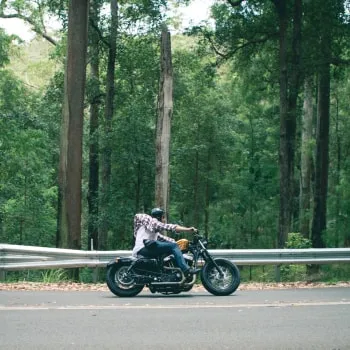 Compare policies that cover you while on two wheels.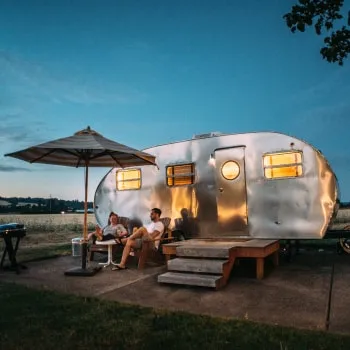 What you need to know about covering your camper or trailer.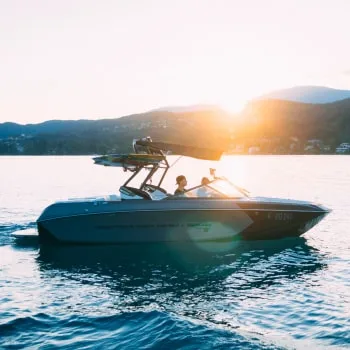 Protect yourself while you're on the water with boat cover.
Is it time to switch insurers?
There are many reasons why you might want to leave your current insurer. Your circumstances might have changed; you might be paying a bucket load, or maybe you're just fed up with their customer service. We get it! If you're unhappy, there's no reason why you can't switch to another company.
There are a few times where you should actively consider changing policy. If your circumstances have changed, chances are, your premiums may alter too. Consider finding a new insurer when:
Your policy comes up for renewal
You change cars
You move into another home
The number of drivers using your car changes
You've just celebrated a birthday, (especially your 25th birthday)
Your driving record has changed
Why changing insurers isn't that hard
So, you figure out you're excessively charged for your car insurance. You're probably thinking about switching, and if you're not, maybe you should.
There's a common misconception that changing car insurance is a huge hassle. In reality, it isn't as hard as you think.
Here's how to do it.
Step 1: Find a new car insurance policy
Before you abandon ship, it's a good idea to have another one you can climb aboard. Compare car insurance policies side-by-side. Be sure to consider not just price but what features you need in a policy and how much cover you want, especially if you're looking at a comprehensive policy.
Step 2: Take out the new policy before you cancel the old one
When do you want to switch? Some people prefer to do it so they can benefit from discounts from their new company, while others like to change at the end of the payment period. If you're switching companies mid-policy, take note of the cancellation fee. This fee is usually in your policy documentation, so check it out to see how much you need to pay. Ensure you have a thorough read of your new Product Disclosure Statement (it's just some light reading). Before you cancel your old policy, make sure you accept the new policy and have the letter of confirmation from the insurer. This prevents you being without cover while you change over.
Step 3: Cancel your old policy.
Inform your old insurer in writing that you are cancelling your policy. Ensure you receive written confirmation that the policy is cancelled. Aim for your new policy to take effect on the same day your old policy is cancelled.
Step 4: Profit!
Enjoy the benefits that come with switching to a better policy. Go out and buy yourself something fantastic!
Still not sure? Your questions about car insurance answered
Finding the right cover
Policy information
Purchasing, renewing or cancelling your policy
What you will/won't be covered for