Finder is committed to editorial independence. While we receive compensation when you click links to partners, they do not influence our content.
Buy Now Pay Later Report 2021
Finder reports on the state of buy now pay later in New Zealand.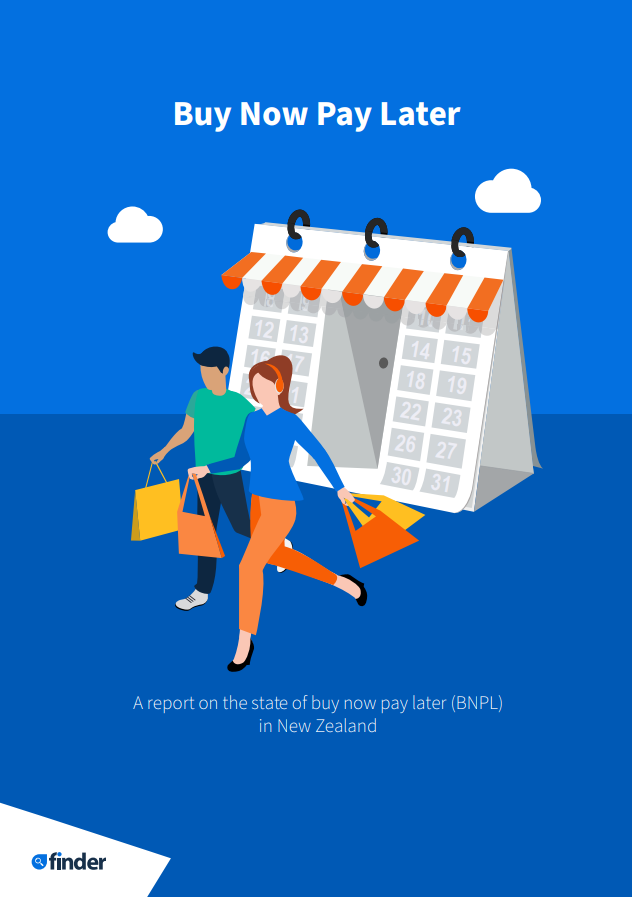 Buy now pay later (BNPL) has seen immense popularity in New Zealand over recent years, particularly among younger generations who are less inclined to use the more traditional credit card. BNPL takes advantage of consumer desire for instant gratification and lures users with the benefit of being a free service if repayments are made on time. However, there are concerns around the relatively unregulated nature of the BNPL market and how it can be easy for consumers to get into debt.
Finder's Buy Now Pay Later Report looks at how BNPL gained its popularity and how online shopping and the COVID-19 pandemic have proliferated its success. We compare BNPL to credit cards and explore how BNPL has begun to shape what the future of credit may look like. Finally, we discuss the future of BNPL in New Zealand and seek expert input on how consumers can use BNPL in a financially responsible way.
Download Buy Now Pay Later Report 2021 (PDF)
Key facts
In 2019, BNPL transactions grew by 105% and the number of customers grew by 49%.

BNPL spending comprises 11% of all online shopping revenue in New Zealand.

Close to a third (31%) of Kiwis have used BNPL within the past 3 years, with the average customer using BNPL 16 times per year.

1 in 6 (17%) Kiwis is carrying debt through BNPL. The average outstanding debt sits at $418.

Nearly two-thirds (63%) of those with BNPL debt are concerned about their level of debt.
BNPL is especially popular with young Kiwis
Gen Z (52%) and millennials (44%) are most likely to have used BNPL at least once within the past 3 years, compared with just 10% of baby boomers.

On the other hand, 90% of baby boomers use a credit card, while only 39% of gen Z do the same.

Women (39%) are more likely than men (23%) to have used BNPL within the past 3 years.
BNPL is not necessarily cheaper than using a credit card
Finder analysed the

maximum late fees a customer could be charged for a $100 purchase through 4 major BNPL providers: Afterpay, Laybuy, Zip and Humm.

Customers could face late fees of up to $50 – equivalent to 50% of the purchase price – using Humm.

For both Laybuy and Zip the maximum charges came to $40. Meanwhile Afterpay customers would face the least in fees, at a cap of $25.

On the other hand, the average credit card holder would pay 19.4% in interest per annum. That's about $3 over an 8-week period, the typical BNPL repayment period.
Finder New Zealand Survey, January 2021 (n=1,501)
Finder New Zealand Survey, July 2020 (n=2,001)
NZ Post, The Full Download, 2021
NZ Post, The Full Download, 2020