WorldNet Broadband Plans
Enjoy downloads faster than you thought possible when you sign up to a WorldNet gigabyte UFB plan. Compare plans today.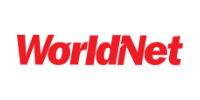 Is WorldNet right for me
What does WorldNet offer? ADSL, VDSL and UFB broadband plans
The highlights: Gigabyte fibre, scalable UFB plan, no term contracts
Watch out for: Fibre not available everywhere, installation can take up to three months
Founded more than 20 years ago, WorldNet produces innovations in data and voice delivery for personal and business customers. It has a goal to be at the leading edge of technology and is one of the only providers in New Zealand that currently has fibre with gigabyte download speed – others offer a maximum of 900-950Mbps.
Whether you are looking for ADSL, VDSL or Ultra-fast Broadband (UFB) for your home, WorldNet has many plan options to consider. Read on to find out more about WorldNet broadband and if this provider is right for you.
Compare WorldNet broadband plans
Types of plans offered by WorldNet
WorldNet has a large range of plans so that you can find the right one to suit your needs. For households who only have access to copper broadband or who don't need the lightning-fast speeds of fibre, ADSL2 and VDSL are available with either 100GB or unlimited data.
If you're looking for more reliable internet and have Ultra-Fast Broadband in your area, you can sign up for a UFB plan with download speeds of either 30Mbps, 200Mbps or 1000Mbps. The smallest data cap for UFB is 200GB or you can opt for an unlimited plan. On the slowest fibre speed, 30Mbps, there is a scalable plan that charges you only for what you use each month. This means that you will pay $55 for under 60GB, $65 for between 60GB and 120GB, and $75 for over 120GB.
What is the pricing of WorldNet?
WorldNet broadband plans start from $69 per month (with a $99 installation fee) for 10Mbps, and go up to $115 per month for a UFB plan at 1000Mbps.
You can add a landline for ADSL2 and VDSL plans, or have a VoIP (Voice-over-IP) + broadband plan for an additional cost.
Are there any bundled extras with WorldNet?
When you sign up for WorldNet broadband, you will be asked if you want to bundle any extras with your plan. These include:
Wiring maintenance. For an extra $4 a month, this insurance covers any necessary repairs to the wiring in your home.
Phone features. If you've chosen to have a landline or Voice-over-IP, you can add on features such as call waiting, caller ID, voicemail, fax to email and an alternative number for an extra charge. Each of these options range between $4 and $10.17 per month depending on whether you have a landline or VoIP. For landlines, you can buy a SmartBundle Package that includes call minder, call waiting and caller display for $13.24 a month.
Static IP. If you need to have the same IP address every time you log on, a static IP can be utilised for $20 a month.
Product highlights
Before you make a decision, compare the product highlights and things to watch out for.
Unlimited means unlimited. WorldNet previously had a traffic management policy but this is no longer in use. Unlimited data means unlimited data.
Terms to suit you. You won't need to pay an installation fee if you sign up to a 12- or 24-month plan with WorldNet. But if you are looking for more flexibility, you can opt for a no term plan and pay the set installation fee.
Different broadband types. With ADSL2, VDSL and fibre plans, you can choose the best available at your house.
Scalable plan. WorldNet's scalable UFB plan only charges you for the data that you use each month.
Switch from another ISP. If you already have UFB with another provider, WorldNet can have you switched over to one of its plans within two weeks.
Additional data. If you run out of data on a plan that has a cap, you can enable the extra data feature so that you won't be cut off in the middle of streaming your favourite show or video calling friends overseas. Each additional gigabyte that you use is charged at $1.99.
Watch out for
It is not possible to get a landline with your UFB broadband, but you can utilise VoIP (Voice-over-IP).
If you want to keep your existing home number, there will be a one-off charge to port it from the internet service provider.
Your billing date is the anniversary of the day your broadband gets connected, but WorldNet will deduct your monthly charge a few days before this date.
Ultra-fast Broadband is not available to all New Zealanders, but further improvements to the network means that more will have access to it over the next couple of years.
If fibre is available in your area but hasn't been connected to your property yet, it can take between two weeks and three months to do so. Time varies based on what type of dwelling you live in, what building work needs to be done and if consents need to be given by neighbours or the building owner. If you are concerned about the time it may take, speak to WorldNet to get an estimate. They may be able to put you on another plan and then switch you over once fibre is ready to go in your home.
WorldNet summary
With three broadband types on offer, different data allowances and the option to have no contract, WorldNet broadband is worth considering. Heavy data users will enjoy the lightning-fast speeds of 1000Mbps downloads, and the scalable 30Mbps plan is suitable for people who use different amounts of data each month. But before you get too excited about these plans, make sure to check that UFB is available at your house and prepare to wait for up to three months to have it installed if it hasn't been already.
Read more on this topic