Mid-year blues? We have the cure for those rainy days.
It's June already. Can you believe it?
Almost half the year has left us behind and with winter nipping at our toes and the June long weekend coming up, cashing in on that bonus day off for travelling is not a maybe, it's a must.
So where's good to go this month? We know a few places.
1. Best budget destination: Hamilton Island
With sun, beach and discounted accommodation packages, Hamilton Island is the real deal this month.
Hamilton Island on the Whitsundays is a little piece of paradise that's easy to reach and while it's good to visit year-round, June is looking exceptionally pretty, particularly on your hip pocket.
If you're keen to escape the wintery cold and maybe explore the Great Barrier Reef while you're at it, you can find return flights for under $600 during June and discounted accommodation if you get in quickly enough.
June weather: 22-25℃, winter
Top June events: Great Whitehaven Beach Run
Best for: Relaxation, romance, family fun
Search for cheap flights to Hamilton Island
---
Image: Visit Singapore
2. Best city to visit: Singapore
For that quick getaway filled with food, shopping and sightseeing, visit Singapore.
Singapore is at its most ideal in June. Being at the end of the dry season, the weather is still optimal with minimal chance of rain and as the New Zealand school holidays don't hit until early-July, you won't find too many New Zealander families heading up that way with you, either.
For shopaholics, the month is also the time of the Great Singapore Sale where bargains are around practically every corner.
June weather: 29-31℃, dry season
Top June events: The Great Singapore Sale, Ultra Singapore, Hari Raya Aidilfitri, Dragon Boat Festival.
Best for: City breaks, sightseeing
---
3. Best for snow: Mt Hutt (near Christchurch)
Searching for snow instead? You'll find it at home.
New Zealand's snow fields open up as early as June with a snow season that runs all the way through to October.
One of the first resorts to open is Mt Hutt near Christchurch. If you'd prefer to hit the adventure capital, Queenstown's The Remarkables turns its ski lifts not too long after.
June weather (Mt Hutt): 7-11°C, winter
Top June events (Christchurch): Maori New Year, Queenstown Winter Festival
Best for: Snow sports, outdoor activities.
---
4. Best for events: London
Welcome the beginning of the European summer and festival season.
The summer solstice in the Northern Hemisphere is in late June. It's a pagan day of celebration to mark longer days, warmer temperatures and the beginning of summer.
One of the most famous solstice celebrations in the world is at England's Stonehenge and it's a once-in-a-lifetime experience where you can touch the sacred stones.
June is also the beginning of the European festival season with more than a handful of musical and cultural experiences to book during your stay.
June weather: 18-22°C, summer
Top June events: Summer solstice, Isle of Wight Festival and Taste of London
Best for: Fun, exploration, history
---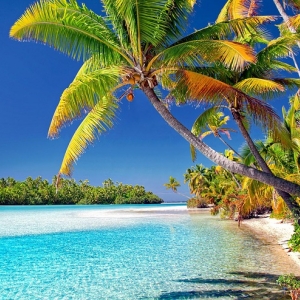 5. Best surprise destination: Rarotonga
Explore a part of your nation you've never seen before.
The largest of the Cook Islands, Rarotonga has a lot of scenic drama going on. Think unspoiled natural beaches, jungle-clad mountains and a coral reef surrounding the whole island.
The best thing about Rarotonga is you can do as much or as little as you like. You can explore the underwater world, take a cross-island hike, rent a bike and navigate the island or just time your days around sunrise and sunset with your favourite drink in hand.
June weather: 20–26°C, winter
Top June events:None
Best for: Relaxation, outdoor pursuits, water sports
Search for cheap flights to Hamilton Island
---
Top June events
Queen's Birthday. The Queen's Birthday long weekend falls in the first week of June and brings with it three days off work or school.
Summer/winter solstice. Depending on which hemisphere you're in, the summer (Northern Hemisphere) or winter (Southern Hemisphere) solstice arrives in late June. Celebrations typically follow.
---
When's the best time in June to take a holiday?
As June is the beginning of winter which is typically low-season travelling throughout the month isn't too expensive.
The big dates you might like to avoid are over the June long weekend, where demand generally pulls up flight and accommodation prices.
If you're seeking a quiet one, you might also like to avoid travelling to Sydney during Vivid which it typically late-May to mid-June as the city welcomes millions of tourists during the festival and prices are likely to peak as well.
---
Top June travel deals