Finder is committed to editorial independence. While we receive compensation when you click links to partners, they do not influence our content.
Nolah Evolution 15 mattress review
The softest mattress I've ever tried, ideal for back and side sleepers.
The Nolah Evolution 15 is a hybrid mattress that has a layer of foam — allegedly with cooling capabilities — and coiled springs. It also has a super-plush top layer that elevates it to the point of luxury. But you'll need to shell out at least a grand to sleep on one of these yourself. Read on to see whether or not we think the Evolution 15 is worth the price.
Nolah sent me its Evolution 15 in plush to try out for free. I slept on it for a month, and this is my honest, unbiased opinion.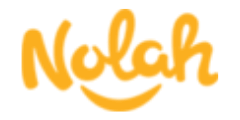 Size reviewed: Queen
Cost: $1,149
Trial period: 120 days
Warranty: Lifetime limited
Free shipping: Yes
Shipping time: 5 days
Shop Nolah mattresses
Nolah mattress review
Nolah uses a lot of sparkling marketing terms to describe this mattress. Before I get to my personal experience, I want to break these down:
ArcticTex Cover. The fabric on top of the mattress is made of fibers that are meant to draw heat away from your body and keep you cool as you sleep. Nolah doesn't actually state the content of these fibers, but I'm guessing polyester. And yes, the ArcticTex cover really is cool to the touch.
Quilted Euro Top Comfort Layer. Like a built-in mattress topper, this is two inches of quilted material sewn to the top of the mattress. In my opinion, this layer makes this mattress fit for royalty. It feels luxurious and gives the impression that you're sinking into a cloud.
AirFoamICE. This is essentially a layer of foam infused with graphite, which is meant to help draw even more heat from your body while you sleep.
AirBreath Heat Escape Gusset. This is just a mesh-like strip of material wrapped around the foam layer so your body heat can escape. It's a fancy term for ventilation.
HDMax eco coils. Beneath the cooling foam is a layer of coils that are designed to help provide support to your back and joints. This is pretty typical of a hybrid mattress.
Unboxing the mattress
Maybe it's because I haven't been to the gym in over a year (thank you, pandemic), but I could not have unboxed this mattress alone — it's really heavy. I had to ask my boyfriend to help: He pulled the mattress out while I held onto the cardboard box to keep it from dragging across the floor. It was quite the production!
It also took both of us to remove the plastic wrapping from the mattress. So Nolah's Evolution 15 probably isn't best to send to an older relative or someone without much upper body strength, unless you'll be there to help set it up.
After we got the plastic off and positioned the mattress onto the bed frame, the process was pretty typical compared to other boxed mattresses that I've gotten. The mattress puffed up in a matter of seconds. Nolah states that it can take up to 72 hours for the mattress to fully inflate, but I didn't notice a difference between when I immediately body-flopped onto it versus when I slept on it a couple of days later.
First impressions
I was wowed by how plush the mattress really is. Lying on it felt like being enveloped by a cloud. Then I got worried because I've gone my whole life thinking I need a firm mattress. I was almost freaked out by how soft the mattress felt. But, in the name of research and sweet dreams, I put it to the test for 30 days.
One month in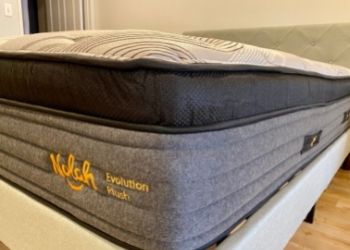 I'm now a person who likes plush mattresses. Before trying the Nolah, I had been sleeping on Brooklyn Bedding's Signature Hybrid in firm for about six months, and I liked it. But I'm going to keep sleeping on the Evolution 15, purely because of how cushy it is when I first lie down. It's also really great for naps, which I take more often these days.
However, it probably won't be comfortable for stomach sleepers. That's because your body sinks into the mattress, leaving your neck elevated at a weird angle, especially if your pillow is firmer. While testing the Evolution 15, I made a point to lie on my side — which my chiropractor says is better than sleeping on my stomach, anyway.
Does the cooling technology actually work?
Not for me. Another potential downside is that I didn't really notice a big temperature difference. I tend to sleep hot (night sweats are an issue I've Googled a time or two … or ten) and usually sleep best with a fan or the AC on.
With the Evolution 15, I tried sleeping with the windows open on a cool LA night and overheated. So if you're thinking about buying this mattress purely for the cooling technology, I'd recommend looking into Avocado mattresses, which are made of breathable natural latex.
Is the Nolah mattress worth the money?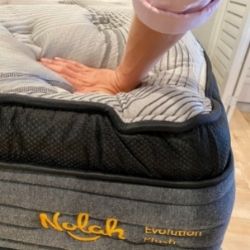 Probably. When it comes to value, I think you have to decide how important luxe elements like the quilted topper and graphite memory foam are to your sleeping experience. I was on a tight freelance writer's budget when I bought the Brooklyn Bedding Signature at about $850, and it felt like a major splurge (compare that to the Allswell Luxe Hybrid, which costs $675 for a queen).
If I was paying out of pocket, I probably wouldn't go for Nolah's $1,500 mattress, even though it's more comfortable than mine. On the other hand, if you are prepared to invest that much money and want a mattress that makes going to bed feel like a treat, I think you'll be happy with Nolah's Evolution 15.
Pros and cons
Like many other online mattress options, Nolah's Evolution 15 is made in the USA and ships for free. Here are some other benefits and drawbacks unique to Nolah to consider before buying.
Pros
So comfortable! You'll want to close your eyes and fall asleep as soon as you lie down on the Nolah Evolution 15.
120-night trial. Test it out for about four months to decide if it really improves your sleep. If you decide to pass, you can send it back for a full refund and Nolah will cover the cost of return shipping.
Lifetime warranty. Most mattresses come with a 10- to 25-year warranty, tops. Nolah will work with you to make things right if the mattress needs to be replaced or repaired due to a defect.
Ships quickly. Your Nolah mattress should arrive within five to 15 days. In the past, I've waited over a month for a boxed mattress to arrive.
Cons
Not noticeably cooler. I didn't notice a difference in sleep temperature between my regular mattress and Nolah, even with the fancy graphite foam layer.
Pricey. Nolah won't be a good fit for someone looking to spend less than $1000 on a mattress.
Difficult to unbox. If I hadn't had someone to help me, I would have been really frustrated with the unboxing process.
Nolah Evolution 15 vs. competitors
Review your options and compare mattresses by price, shipping, returns and financing. Select the Go to site button for more information about a particular product.
Bottom line
If Nolah's Evolution 15 fits into your budget, I say buy it. It's the most comfortable mattress I've ever slept on. But if you're a stomach sleeper or have viscous night sweats, I'd suggest comparing other options.
More guides on Finder