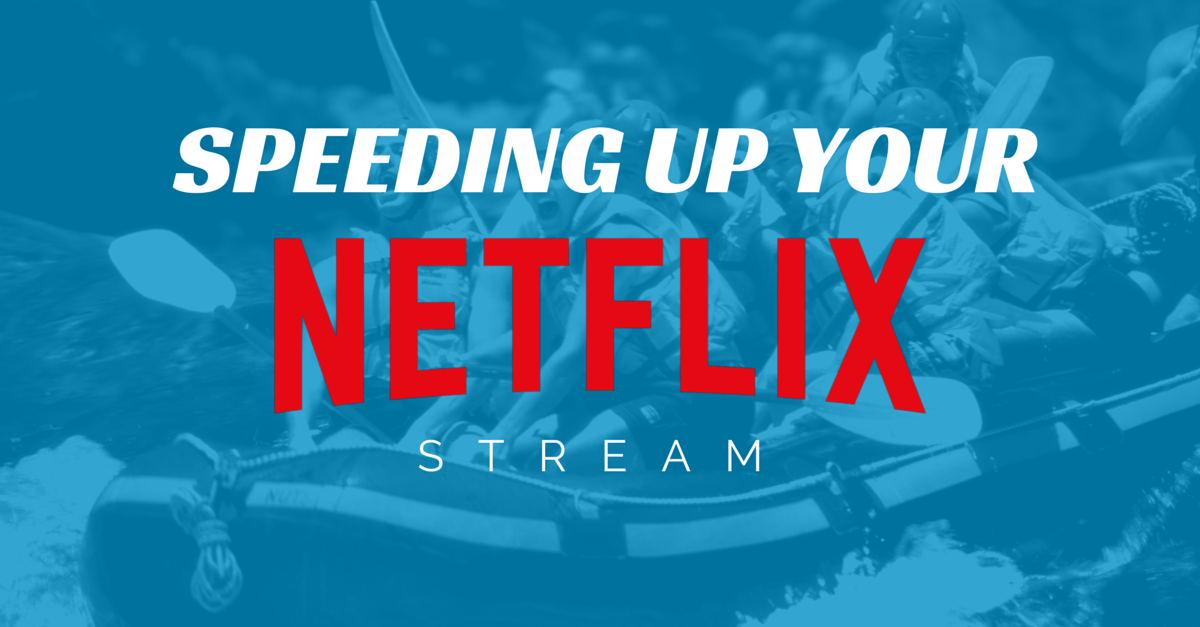 Have you been enduring horrendous buffering times? Speed up your Netflix stream today.
In just a few short years, Netflix has dominated the streaming market. The combination of a fresh range of content and low membership costs saw people sign up by the figurative truckload.
Sadly, some users have fallen victim to the scourge of poor Internet speeds, turning Netflix streaming into more of a laborious task than passive recreation. There's nothing more frustrating than Netflix buffering right when Frank Underwood is about to drop the bomb in House of Cards, so we decided that enough was enough and looked at all the ways that you can potentially speed up your Netflix stream.
General Wi-Fi Troubleshooting
First of all, you're going to want to assess the quality of your Wi-Fi environment. Netflix has recommendations on the minimum speed required for different packages, and they are as follows:
Basic Package
Standard Definition (Low Quality): 1.5Mbps
Standard Definition (Medium Quality): 3Mbps
Standard Package
High Definition (High Quality): 5Mbps
Premium Package
Ultra HD Quality (4K): 25Mbps
If your home Wi-Fi network can't hit the speeds required by your chosen Netflix package, you might want to look at upgrading to a better wireless router.
Check your Internet connection

There are a number of websites that measure your Internet speed, including our very own. Just head on over to our broadband speed test page for a quick and simple summary of your download and upload speeds. If the results don't live up to Netflix's requirements above, you have a few different options available.
The simplest option is to lower your plan to one that requires less bandwidth, or go into your Netflix account settings and reduce the video quality to a level your Internet connection can handle.
Of course, this is hardly an ideal solution, especially if you know your broadband service should be fast enough to deliver the quality you're paying for. In this case, you might want to check with your Internet Service Provider (ISP) for possible network interruptions or connection issues with your service. If everything is fine on your ISP's end you can also try restarting your modem – this is good practice any time you encounter an issue with your home Wi-Fi connection, and can often be a simple solution to your connection problems.
If even a reboot doesn't fix the issue, the last step is to connect to your router directly using an Ethernet cable (pictured). Most routers and modems come with at least one Ethernet cable in the box, but you can purchase one from most electronics stores if you need to. If a wired connection clears up your streaming problems, it's your Wi-Fi that's the fault, and you'll want to consider upgrading to a newer, stronger router or installing more powerful antennas on your existing one.
Looking for more content than Netflix has to offer?
Monitor your bandwidth
If you're on a public Wi-Fi (e.g. café, library or other public place) then there's a fair chance a lot of people on that same network are all trying to get their slice of that sweet, sweet bandwidth. Unfortunately, there's not much you can do in a situation like this as most public Wi-Fi networks have a bandwidth cap, which will slow the connection speed down if it becomes too crowded. Best save Netflix for home.
However, say you run into the same problem in your own home. That's when you have the power to do something about it – this is especially relevant if you've got multiple people downloading under the same roof.
Where possible, pause downloads on all other devices under the same Wi-Fi connection as your Netflix streaming device. If you're watching Netflix on your Smart TV, close your laptop, put your PS4 into rest mode, anything that will free up bandwidth for your Netflix stream. If you're already experiencing connection delays, this should show some improvements to speed almost immediately.
Consider upgrading to a faster Internet plan
Sure, it might not be the quickest or cheapest way to improve your streaming experience, but upgrading your broadband service is typically the most effective means of ironing out your Netflix woes.
Speeding up Netflix on your gaming consoles
Most consoles, like the PS4 and Xbox One, will benefit greatly when connected to directly to your modem (as mentioned above). Unfortunately, the Nintendo Switch doesn't feature an Ethernet port out of the box, though you can purchase a separate Ethernet adaptor that connects to the Switch dock's USB port and allows for a hard-wired connection.
Xbox One
If you've attempted connecting your Xbox One with an Ethernet cable and haven't noticed an improvement in your stream, try these easy steps.
How do I check the status of my Xbox Live?
You can do this straight from your browser through the official Xbox website. Like any online service, Xbox Live can experience interruptions and network issues with core services and particular applications. If Xbox Live is experiencing issues with Netflix (as pictured below), then try accessing Netflix from another device (if available).
How do I delete corrupted data from my Xbox?
Corrupted data can be a real thorn in your side. It can have detrimental effects across every aspect of the Xbox user experience. Here's how to clear corrupted data from your Xbox console.
Hit the "Guide" button on your Xbox controller (The big, flashing X button on your Xbox controller)
Select "Settings"
Then "System Settings"
Go to "Storage"
Proceed to select your storage device: either "Hard Drive" or "Memory Unit"
Select "Games and Apps" folder
Browse through each folder for corrupted data (identified with a yellow exclamation)
Select each corrupted data file and press "Delete"
Speeding up Netflix on your PC or Mac
Before we get too complicated, let's get the obvious stuff out of the way. First port of call when troubleshooting just about every computer issue is rebooting your computer. It may seem like an obvious solution, but it's one that is often forgotten and regularly gets results.
If that doesn't do the trick, try connecting your computer directly to your router with an Ethernet cable (as discussed above), and restart your computer once more.
Updating Microsoft Silverlight
Netflix uses either HTML5 or Microsoft Silverlight (which is similar to Adobe Flash) to play back video in a browser. Silverlight is an application framework for running (and writing) rich Internet applications.
Though it has other functions, in this context it supports the streaming on Netflix media. If plug-in's software is not up to date, your streaming speeds and quality can take a hit.
Updating Microsoft Silverlight couldn't be simpler. When you visit the official Microsoft website, you'll be notified if your software is up-to-date or if it needs updating. If so, then simply follow the direct download link for Windows or Macintosh and let it do its magic.
Speeding up Netflix on your mobile device
Speeding up the Netflix app on a mobile device may be as simple as closing down a few other apps to lighten the load on your device.
On an Apple device, double-tap the home button to view the multi-task screen. You should see every app you have open lined up side-by-side.
Swipe up on each app to force it to close. Once this is done, tap on the Netflix app to open it up again. It should be refreshed and will hopefully run a little smoother with fewer apps open.
You can perform the same action on an Android device. Depending on what Android device you have, you may need to hold down the home button or press the "Recent apps" button to make a list of active apps appear.
You can either swipe left or right to close down apps individually or close all apps at once by tapping "Close all". Reopen the Netflix app on your mobile device and you should experience much smoother streaming.
Try using a Virtual Private Network (VPN)
When you mention VPN and Netflix in the same sentence most people immediately think of bypassing geographically-restricted content. However, there are other reasons you might consider using a VPN when streaming Netflix. See, Netflix has an army of servers spread across the globe.
When we connect to Netflix, it's possible that we'll experience staggered streaming because of an overworked server. Using a VPN connects you to Netflix through an alternative route, or server, somewhere in the world. If that server is quiet, you'll likely experience a smoother stream, but a number of factors (such as server location) can also have the opposite effect on your stream.
If you try the VPN alternative and find that it's slower than before, simply close your VPN down and try connecting again.
Latest streaming headlines