Nike stock jumps 7% on earnings beat, leaves outlook unclear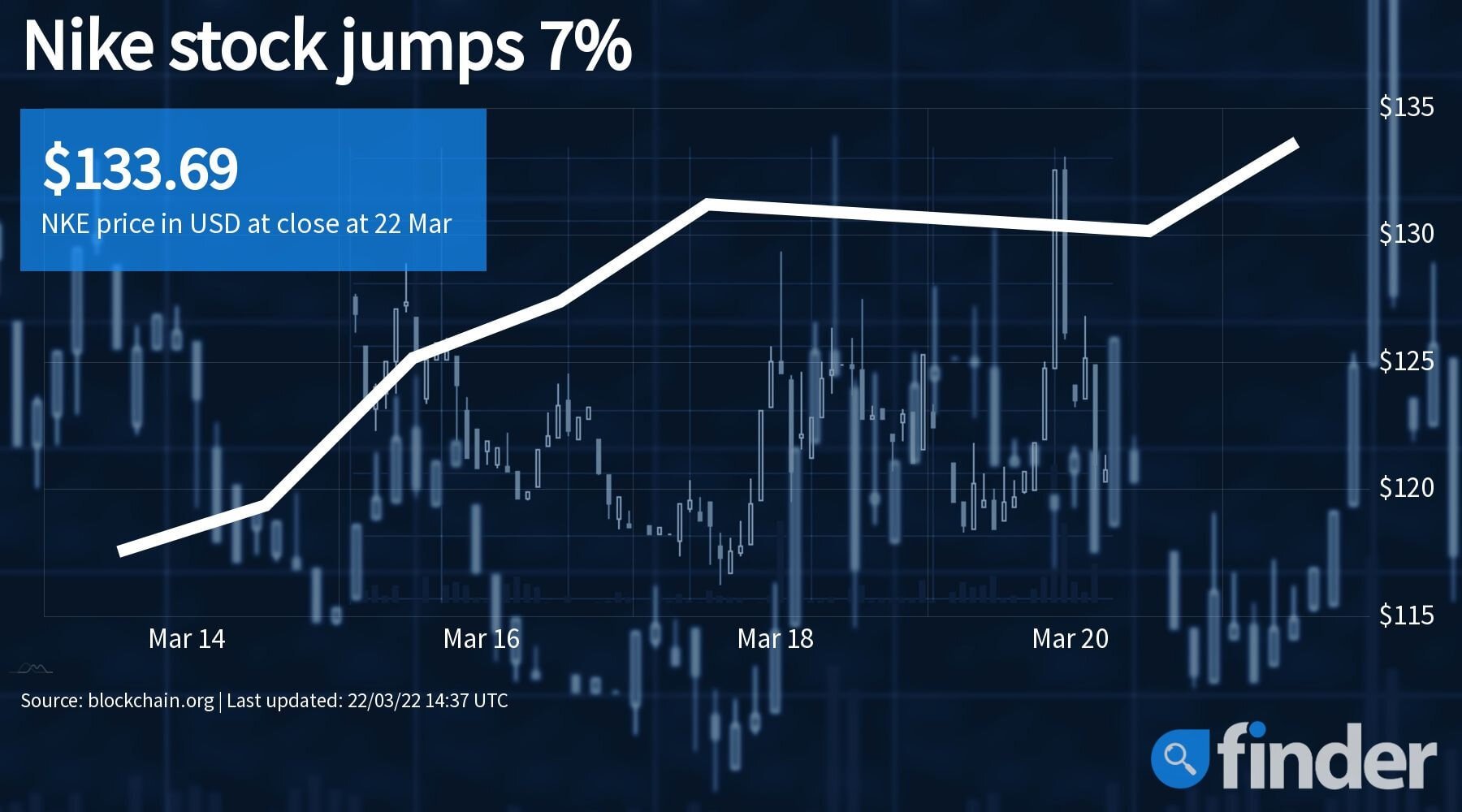 Demand has been strong, but the company is delaying giving its outlook until next quarter amid global unrest and supply chain woes. Should investors worry?
Shares of Nike (NKE) climbed by nearly 7% after the sportswear company reported fiscal 2022 third-quarter earnings and revenue that topped analysts estimates.
It did leave one thing out for investors considering the stock: citing inflation, supply chain woes and global conflict, it said it won't offer a financial outlook until the next quarter.
Nike stock closed Monday at $130.19 per share and jumped to a near-month high of $139 during extended trading. Shares opened Tuesday at $137.28, though they faded throughout the day. Nike stock was trading at $134.40 at the time of this writing.
Why shares of Nike are up
Nike reported fiscal 2022 third-quarter results Monday at market close that beat Wall Street consensus estimates, driven by strong growth in North America.
Revenue for the quarter rose 5% to $10.9 billion from $10.4 billion a year earlier and topped analyst estimates of $10.6 billion. Nike reported diluted earnings per share of $0.87, versus $0.71 expected.
The company said sales in North America climbed 9% in the third quarter. Revenue from its Europe, Middle East and Africa segment rose 6.5%, while sales in Asia Pacific and Latin America rose 11%. Sales in Greater China, the company's third-biggest market behind its Europe, Middle East and Africa segment, fell 5% from the prior year.
Nike's digital sales in the quarter rose 19% from the prior year, driven by 33% growth in North America. The company said during its earnings call with investors that its vision is to take its "best-in-class experiences in digital and build Web3 products and experiences" to scale its digital community.
Nike has been making its push into the metaverse in recent months, filing several new trademarks in November that indicate its intent to make and sell virtual Nike-branded sneakers and apparel. That same month, Nike launched NIKELAND on the online game platform Roblox. A month later, Nike announced that it had acquired virtual sneaker maker RTFKT to accelerate Nike's digital transformation.
Thinking of buying Nike stock?
Nike said it expects fourth-quarter fiscal 2022 revenue in North America to decline year over year but sees full-year revenue growing "mid-single digits" compared to the year prior. Wall Street is estimating revenue of $12.63 billion for the fourth quarter and full year 2022 revenue of between $46.23 billion and $47.71 billion.
For 2023, Nike is holding off on giving any sort of financial outlook until next quarter.
"We are focused on what we can control," said Nike CFO Matthew Friend on a post-earnings call with investors. "There are several new dynamics creating higher-levels of volatility."
Both the war in Ukraine and rising inflation have been gripping the apparel supply chain, and Nike is facing several hurdles on this front. The company said during its earnings call that it's seeing the benefits of its strategic pricing being partially offset by elevated product and supply chain costs. It's also trying to mitigate elevated transit times and product shortfalls, as demand outpaces supply.
But Nike said this demand will act as a springboard of sorts going into next year, as inventory supply begins to normalize. Wall Street estimates that Nike will generate between $50.37 billion and $55.78 billion in 2023.
While Nike stock is down about 25% from its 52-week high of $179.10, analysts are largely bullish on the stock. Of the 37 analysts covering the stock, 19 give it either a Strong Buy or Buy rating, versus 17 Holds and one Underperform. It has a 12-month average price target of $168.24, which is 26% higher than its current price.
For a five-year view of this stock's performance, see the graph in our
dedicated guide
.
For more on the industry, read our
guide to shoe stocks.
At the time of publication, Matt Miczulski did not own shares of any equity mentioned in this story.
Ready to open an account or considering a new broker? Find the best online brokers for your needs. Or check out fees and features in our comparison table to find a better deal today.
Information on this page is for educational purposes only. Finder is not an advisor or brokerage service, and we don't recommend investors to trade specific stocks or other investments.
Finder is not a client of any featured partner. We may be paid a fee for referring prospective clients to a partner, though it is not a recommendation to invest in any one partner.