New NFT gaming platform Balthazar raises $3 million in token sale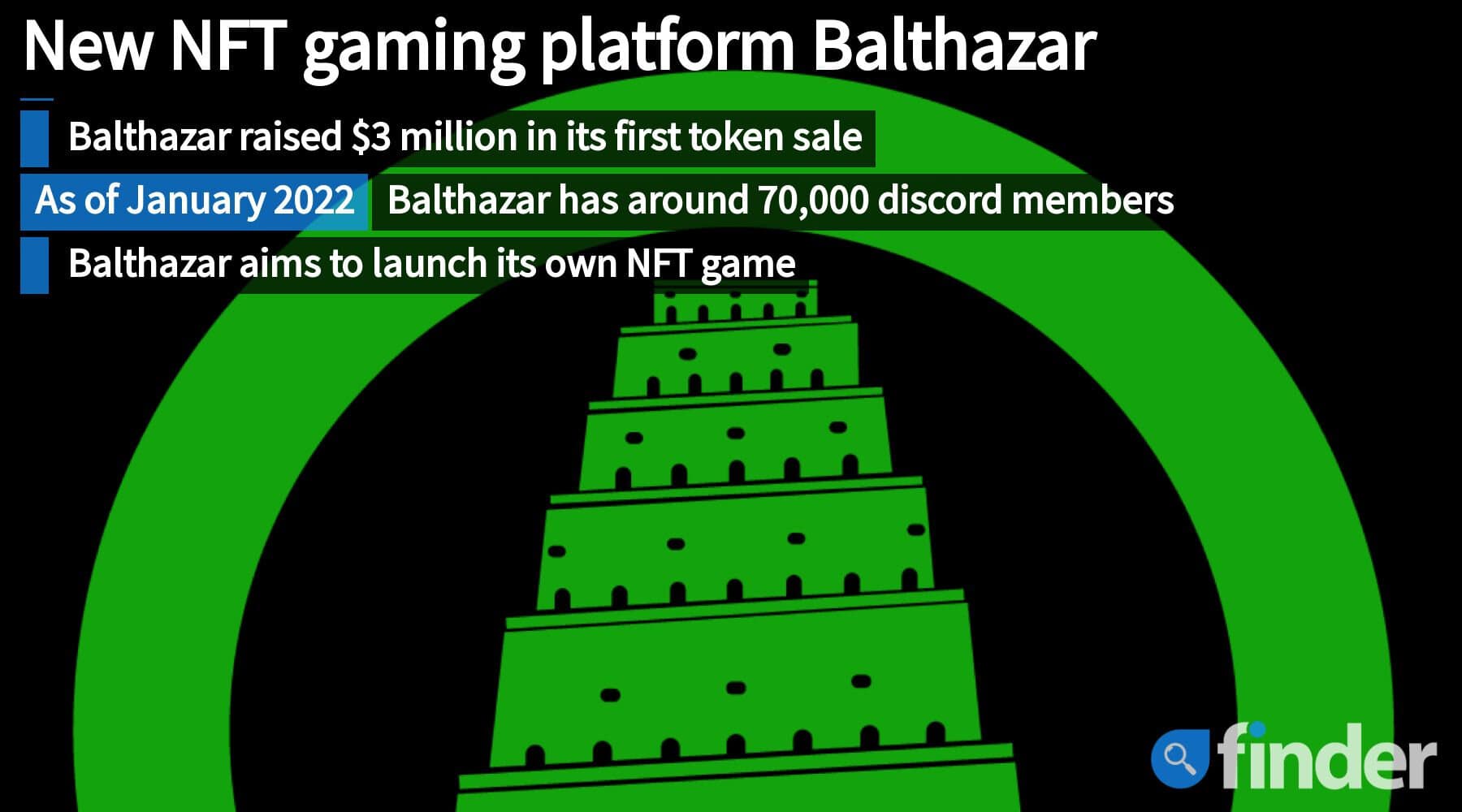 A disruptive platform enters the play-to-earn space that connects players who can't afford the cost of entry with NFT investors.
Balthazar, a young entry in the growing play-to-earn NFT game space, raised $3 million in its first token sale and opened a private token sale to raise $8 million, which closes in February.
The company's goal: to connect people who want to play but can't afford the price of entry with NFT investors who can, and let both profit.
Animoca Brands led the first token sale, one of the leading investors in the crypto space with more than 150 investments in NFTs and play-to-earn games.
"We are so thrilled to be backed by Animoca Brands and all of our supporters in helping to shape the metaverse and to continue assisting and expanding our community," said John Stefanidis, CEO of Balthazar.
Balthazar pairs would-be players with investors
This Decentralized Autonomous Organization (DAO) aims to empower gamers and create a self-sustaining, wealth-building ecosystem that will benefit players and gaming NFT investors.
Balthazar connects investors in NFT gaming assets and lets them rent their assets to players — called scholars, or wizards. Scholars use investors' assets to play games including Axie Infinity, Splinterlands and Thetan Arena, earn tokens and share their winnings with investors.
"I'm excited about the future of the play-to-earn space, in particular how it's spreading earning opportunities to those who need it most, as well as providing a new use-case for cryptocurrency," said Stefanidis.
Borrowing someone else's assets lowers the entry bar
Play-to-earn and NFT-based games are a rapidly growing niche. Axie Infinity, the most popular NFT game, generated more than $64 million in December alone, reaching over $1 billion in revenue for 2021.
But entering pay-to-earn games requires an upfront investment to buy NFTs. Depending on the game, entry can cost anywhere from under $100 to several thousand dollars. This entry costs can make it difficult for new players who can't afford to buy NFTs.
Balthazar solves this problem by letting players borrow NFTs from investors.
What's more, Balthazar's skilled gamers give expert advice to scholars to help them use the optimal winning strategy. The result in the popular Axie Infinity game is that Balthazar's scholars earn 227% more than the minimum yield of 75 SLP per day. This is beneficial for the players, the NFT investors and the Balthazar ecosystem.
Balthazar's treasury
Initially, the Balthazar team will maintain the platform governance, but once the governance utility is live, the community will decide via voting. Every DAO has a treasury funded through token sales. Balthazar's token is $BGG and token owners can vote on DAO governance in the future, or they can stake it for future rewards.
The treasury funded with the token sale will be primarily used to buy and manage NFT gaming assets, to manage undistributed tokens in circulation and to perform financial operations.
Balthazar has over 1,500 active scholars
As of January 2022, Balthazar has around 70,000 discord members and over 1,500 scholars who are actively playing games, including Axie Infinity, Splinterlands and Thetan Arena. There are 30,000 players on the waitlist.
Future plans
Balthazar's goal is to become the leading guild in the play-to-earn gaming space by having the most numbers of scholars deployed than any other guild.
Balthazar also aims to launch its own NFT game, to release a gaming console concept and let gaming studios launch games through the platform. At some point, platform members will be able to sell NFT game assets through Balthazar.
Finder's Fred Schebesta is an advisor
Finder Group is one of the investors through Hive Empire Capital, led by Fred Schebesta. Other investors include Zip co-founder Larry Diamond, Digital Asset Capital Management (DACM), Fantom, ZED Run, Darling Ventures, Pluto Digital, San Francisco-based VC Side Door Ventures, Algorand and Three Arrows Capital's TPS Capital.
Kliment Dukovski doesn't own Balthazar tokens as of the publishing date.
Information on this page is for educational purposes only. Finder is not an advisor or brokerage service, and we don't recommend investors to trade specific stocks or other investments.
Finder is not a client of any featured partner. We may be paid a fee for referring prospective clients to a partner, though it is not a recommendation to invest in any one partner.